February 7th, 2012
Someone is going to be very excited about this news.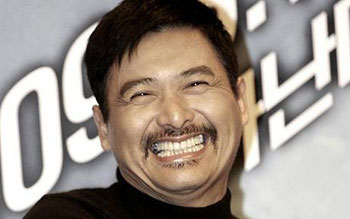 "Oh, I'm all a-tingle about this one!"
Sometime later this year, LoveHKFilm.com and Damn You, Kozo will run a Reader Vote for The Best 100 Hong Kong Films EVER. It's going to be the companion piece to the previous two Reader Votes for Top 50 Hong Kong Movies of the Aughts and the Top 100 Hong Kong Movies of the Nineties, and I have no doubt that it will be completely biased and not actually reflect the 100 Best Hong Kong Movies ever made. However, it should be fun.
Due to work, life, more work and more life, I figured that a Top Movies of the Eighties list would not be happening, but I changed my mind. After getting an email from a reader named Ryan, plus discussing it with some people near me, LoveHKFilm.com will attempt a reader vote dedicated to the Top 50 (or 100) Hong Kong Movies of the Eighties. The focus of this site is largely the 1980s and up, so running this reader vote will help to recognize some very key films that we always push, e.g., POLICE STORY, PEKING OPERA BLUES, plus it'll give some love to fan faves like PROJECT A and later Shaw Brothers films.
Finally, you can all recognize this 1986 movie: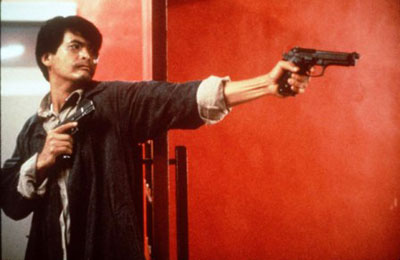 "Reloading is for pussies!"
Also, running a Top Movies of the 80s vote will give me some practice before the big showdown that will be The Best Hong Kong Films EVER. Warming up is good, and I'm curious what type of turnout vote one will get. In previous votes, we had between 130-180 respondents, so if this one gets anywhere near 100, that would be amazing. I'm guessing closer to 50 is more likely, considering reader attrition, but you never know.
Please note that the amount of response we get will determine if this is a Top 50 or a Top 100 list. If only a few people respond, we'll still run this thing but with fewer films in the final list. Of course, if more people respond that means more votes, more movies and more representation. As such, if you want a better list of movies, please participate and ask your friends and enemies who are Hong Kong Cinema fans to do so too. No need to vote for award-winners or critical faves, just go with what you've seen and what you like. This is all in good fun, so I hope people have just that: fun.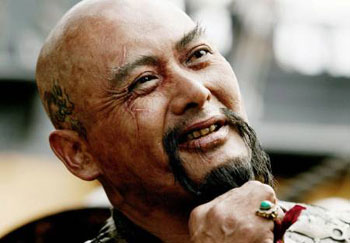 "Arrrrh! I be havin' fun already!"
So, here's how we'll do it. It'll be exactly like the nineties vote, which means I recycled some content below. Laziness FTW:
1. Use the LoveHKFilm.com Contact Form to send a list of your top films from the years 1980-1989.
2. You may list either 10 or 20 films* on your vote, and order them with #1 being the top-rated film and #10 or #20 being at back of the pack.
3. Please print in the subject line of your email "TOP 80s MOVIES".
4. It's optional, but you can write a few sentences or words about your faves. We may end up using them when the results are published.
5. Send in your votes by end of day on February 29th. I'm not pushing the whole GMT, PST, EST thing so there's some leeway. As long as I don't get your vote on March 2nd, you'll be fine.
*NOTE: A ton of movies came out during the eighties, but you may not have seen that many. Or maybe you have. As a way to benefit both types of Hong Kong Cinema fans, you can list either 10 or 20 movies. Please note that this WILL make a difference for the points that your films get. If you vote for only 10, then #1 gets 10 points and #10 gets 1 point. However, if you vote for 20 films, then #1 gets 10 points, #2 gets 9.5 points, and so on. To illustrate, a #10 film gets 5.5 points, and #20 gets 0.5 points. Voting for 20 films means 1/2 point steps between each films, as opposed to the 1 point step between each film.
Makes sense, right? Of course not! But either way, I'm sticking with this weird ranking system in hopes that it encourages people to list 20 movies, which means even more movies to consider. I hope.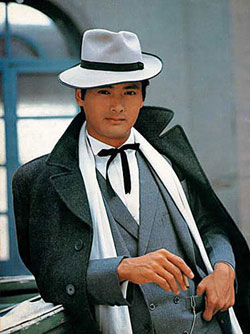 "Vote all you want,
you'll never be as cool as me."
Now, which films qualify? This is totally easy because we'll be doing things according to HK Cinemagic's database. Simply head over to HK Cinemagic's Movie Index and click the year you're looking for. When the results come up, you can click the "HK" link so that it lists only HK films. Look at the list of films and pick away. That's it. Yay!
Again, the most important thing is to HAVE FUN. You don't have to select "important" movies, you can just choose movies that you enjoy. Representation will likely be very spotty and I fully expect there to be many worthy or beloved films that don't make the cut. The eighties gave us many great Hong Kong movies, but many are now unavailable on home video. This will never be a perfect vote unless super cineastes or Hong Kong film scholars show up to participate, and you know that won't be happening. I'll just be happy if LONG ARM OF THE LAW and SHANGHAI BLUES make the final cut. And maybe this movie: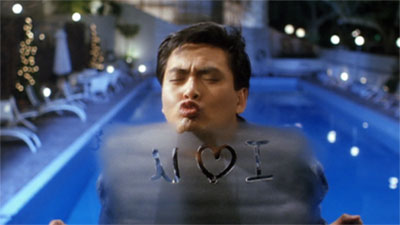 "Vote for this movie and you'll get CYF kisses! Mmwahhh!" 
Results will be up sometime in March! Unless something terrible happens. You never know.
Oh, one more thing: a Top Hong Kong Movies of the Eighties reader vote guarantees lots and lots of Chow Yun-Fat. And who doesn't want that?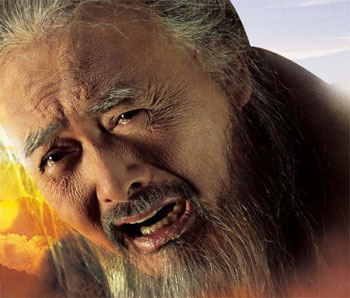 He's had too much Chow Yun-Fat