January 4th, 2013
It's Day 8 of the marathon TOP 200 HONG KONG FILMS EVER countdown, and guess what: we're nearly done! Well, sort of. Actually, we have a few days left since we always slow down tremendously to bring you the final picks because, you know, suspense is awesome. Even though everyone knows which films will show up. Really, you do. Just look within.
This guy knows that he's destined for some Top 10 love: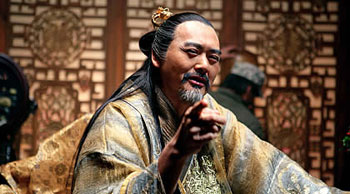 Chow Yun-Fat will see you at the Jumbo
Standard stuff: this list was put together by 166 readers or passerbys of LoveHKFilm.com, a website that inexplicably focuses on Hong Kong movies. Each person sent in a list of 10-20 choices, we tallied them and now we've spend a couple of weeks dishing out the results. If you want to see the countdown from the very the beginning, please click the below links to get started.
Previous Updates:
Numbers 200-171
Numbers 170-141
Numbers 140-111
Numbers 110-81
Numbers 80-61
Numbers 60-41
Numbers 40-21
Hit the jump and check out the first film, a little known movie called…
20. KUNG FU HUSTLE (2004), directed by Stephen Chow - 156 points, 1 first place vote - LoveHKFilm Review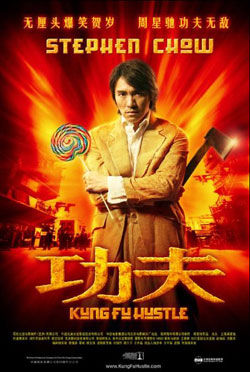 Stephen Chow created a certifiable Hong Kong Cinema classic when he took thirty-plus years of martial arts film history, Japanese anime influences, Looney Tunes gags, and more media references than you can count and mashed them up into one crazy entertaining ball of fun. KUNG FU HUSTLE was Chow's last great hurrah as an actor and filmmaker and the film that firmly placed him on the international cinema map. We're still waiting for the sequel — or hell, just a film that he'll direct and star in. It may actually never happen so we'll just have to cherish KUNG FU HUSTLE even more. This film ranked #4 on our list of TOP 50 HONG KONG MOVIES OF THE AUGHTS, so this #20 ranking could be considered insulting.
19. FALLEN ANGELS (1995), directed by Wong Kar-Wai - 162.5 points, 3 first place votes - LoveHKFilm Review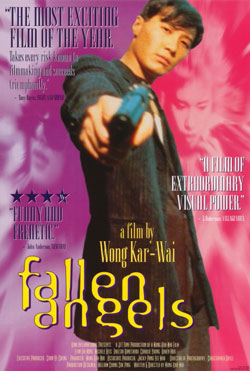 Wong Kar-Wai goes super lurid and to even darker and more absurd places with this baroque hitman-stalker-lover comedy-drama-something. Root opines "It may divide opinions among Wong Kar-Wai fans — especially lovers of CHUNGKING EXPRESS — but FALLEN ANGELS oozes raw emotion from every neon-lit pore and is by far one of Wong's most appealing works. All the gorgeous actors look like different creatures in this nighttime world, and the way it was lit, filmed and wandered through by the eclectic mix of characters made me fall completely in love with Hong Kong." Grady Hendrix echoes the love, saying "I'll always prefer Wong Kar-Wai in his Jeff Lau/pop artist mode, and this is that mode's ultimate realization. FALLEN ANGELS is sometimes embarrassing, sometimes transcendent, and that final shot wraps up all of pre-1998 Hong Kong Cinema and puts a bow on top." FALLEN ANGELS ranked #15 on our list of TOP HONG KONG MOVIES OF THE 90s.
18. ASHES OF TIME (1994), directed by Wong Kar-Wai - 163.5 points, 2 first place votes - LoveHKFilm Review, Review of ASHES OF TIME REDUX (2008)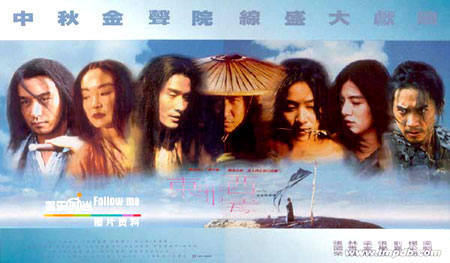 Meanwhile, ASHES OF TIME moves past FALLEN ANGELS. Whereas FALLEN ANGELS ranked #15 on our TOP HONG KONG MOVIES OF THE 90s, ASHES OF TIME ranked #17 — but they've switched places on this list! Criss-cross! Wong Kar-Wai's artsy, existential and somewhat maddening take on the wuxia pian is also one of the most gorgeously dense films ever made. Seriously, you need to watch ASHES OF TIME about three times to fully take it in, but once you get it, YOU GET IT. This is like the WATCHMEN of wuxias, except Wong Kar-Wai dispensed with plot and concentrated on his turned-on-their-head archetypes. Martin offers his take: "Complex (some would say incomprehensible), beautiful and filled with Wong Kar-Wai's obsessions, ASHES OF TIME is stunning filmmaking with probably the greatest cast in Hong Kong Cinema history. For the record I prefer the original 1994 cut over the REDUX version, and so should you." On that subject, this ranking should be considered cumulative for ASHES OF TIME and ASHES OF TIME REDUX, because we're sure Wong Kar-Wai considers both films two sides of the same masterpiece. Though nobody actually voted for ASHES OF TIME REDUX. Hurm.
17. ONCE UPON A TIME IN CHINA (1991), directed by Tsui Hark - 176.5 points, 2 first place votes - LoveHKFilm Review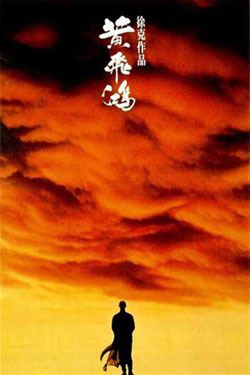 We're out of jokes about Aircraft Li and Kwan Tak-Hing-era films like WONG FEI HONG GOES TO A BIRTHDAY PARTY AT GUANSHAN (followed by the sequel WONG FEI HONG DOESN'T LIKE THE CAKE AND SHADOW-KICKS THE HOST'S BROTHER IN-LAW), so let's let others talk about Tsui Hark's ONCE UPON A TIME IN CHINA. Tim Chmielewski calls it "A landmark in Hong Kong movies still to be matched no matter how many 'China is great' propaganda movies studios seem to be turning out these days." James Donovan is less jocular, saying "Sure it has historical inaccuracies, plot holes and it gets a bit messy in more than a few places. But the action, the imagery and the overall story never fail to capture the imagination. Better than the sequel — I don't care what people say." What we say is that you should celebrate the greatness of Jet Li and Tsui Hark's Wong Fei-Hong movies by memorizing the English translated-lyrics of the iconic title song and using them the next time you karaoke! Here they are:
Vigorous when facing the beatings of ten thousands heavy waves / Ardent just like the rays of the red sun / Having courage like forged iron and bones as hard as refined steel / Having lofty aspirations and excellent foresight / I worked extremely hard, aspiring to be a strong and courageous man (a.k.a. a hero) / In order to become a hero, One should strive to become stronger every day / An ardent man shines brighter than the sun!
Next time you're at the mike, drop a beat and get your WFH hip-hop on!
ONCE UPON A TIME IN CHINA ranked #7 on our list of TOP HONG KONG MOVIES OF THE 90s, only one slot above the #8 ranked ONCE UPON A TIME IN CHINA 2. On this list, the original beats the sequel by a full six places! Take that you inferior follow-up co-starring Donnie Yen!
16. COMRADES, ALMOST A LOVE STORY (1996), directed by Peter Chan - 183.5 points, 1 first place vote - LoveHKFilm Review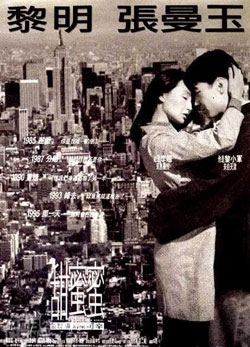 Despite meager home video distribution (Thanks a lot, Warner Brothers!) in the 21st century, Peter Chan's COMRADES, ALMOST A LOVE STORY still has plenty of diehard fans, and it absolutely should. It possesses plot contrivances, but this story of Mainlanders meeting in Hong Kong is so genuinely affecting that it blasts through its obvious screenwriting and takes on a life of its own. The story, the emotions and Jingle Ma's cinematography help, but let's give credit where credit is due: Maggie Cheung owns COMRADES like few actresses can and should own films. Leon Lai is also pretty good, though a tad more opaque than the wonderful Cheung, whose performance you can actually read just by staring at her face. Filipe calls COMRADES, ALMOST A LOVE STORY "One of my favorite films made anywhere at anytime. All these years later, its straightforward sincerity is still winning." Grady Hendrix is more urbane in his take, calling COMRADES "the other great Hong Kong romance. There is no way to hate this movie. Unless you are an asshole." Ranked #11 on our list of TOP HONG KONG MOVIES OF THE 90s, which is a crime because it should rank higher.
Day 8 is done and nobody died. We call that a win around here! We'll be back next time for numbers 15-11. Sorry to slow it down so much but it gives us time to work on it and also get some sleep. We've discovered the latter is necessary.