April 30th, 2008
Hey, I went to Italy. Yotsuba went too.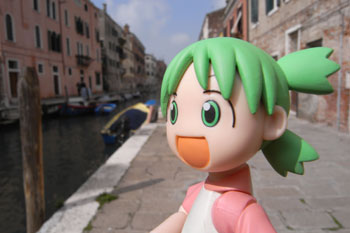 I took more pictures of this toy than I did of myself.
Back from the Far East Film Festival, and already my calendar is jam-packed. Aside from a pile of stuff at work,  some social obligations, many loads of laundry, and the potential time-sink of Grand Theft Auto 4, I now have a review backlog totaling 20 MOVIES. That's 20 films that I could potentially write about, starting with the HK independent movie The Way We Are all the way through Johnnie To's Sparrow. In between are movies from Japan, Korea, Thailand, Indonesia, and even more Hong Kong. I better get started writing. Right now.
Sadly, I'll likely write about only 10 of the 20 movies, and leave the others to never, as I'm not sure what my memory capacity is. I didn't take many notes, and am relying mostly on festival catalogs to refresh my memory. If I find that my impressions of any of the films have faded too far, I'll have to throw those to the wind. Hopefully Sparrow won't be one of them.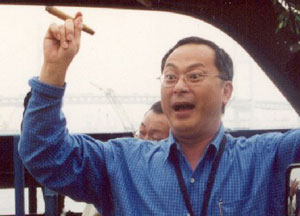 "LoveHKFilm.com can't remember my movie?
Yay! That's one less negative review!"

In any case, this is the other stuff I will do over the next two weeks.
- See Happy Funeral, Barbara Wong's sequel to Truth or Dare: 6th Floor Rear Flat
- See My Wife is a Gambling Maestro, the new Wong Jing-Nick Cheung epic
- Skip The Forbidden Kingdom, because it's leaving Hong Kong in a hurry and I know it'll be on video damn quick. With English subtitles.
- See Besieged City, the Lawrence Lau-directed film that I missed at HKIFF because I was sick.
- Get a haircut.
- Go on a diet to shed some of the 50 pounds of cheese and ham I ingested in Italy.
- Look at the possibility of two more LoveHKFilm Blogs.
- Get coffee with a friend who I put off getting coffee with for over one month.
- Solve one of those pesky content sharing deals I seem to get roped into all the time
- Arrange for the LoveHKFilm Awards Jury Dinner. Hot pot is a possibility.
- Sleep. Maybe.
- Write a review and update this blog.
I may publish a few photos from my trip to Italy, though I must warn people that they're not very Asian-film related. At the very least, I took this one: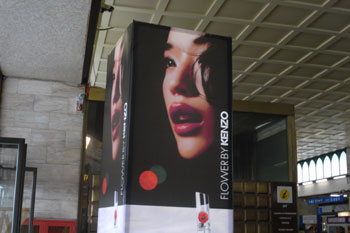 Man, those are some huge lips.