January 8th, 2009
Completely minor announcement: there will be no "End of 2008″ post on this blog anytime soon, and barring another self-serving edition of Kozo's Mailbag, I'll probably be stepping away from this blog for a few more weeks.
Someone is already unhappy about the news: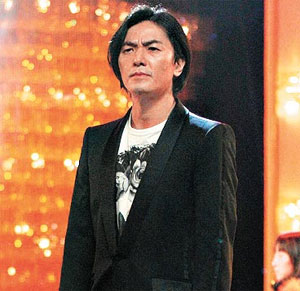 "Whaddya mean no 'End of 2008′ post?
What am I supposed to do now?"
Even though Ekin is unhappy, nobody else should be, because my inability to work on this blog has everything to do with this website. Since returning to Hong Kong from the USA this past week, I've decided to launch my own mini film festival, where I'll be going to the movie theater EVERY DAY for over one week in order to catch up on all the films that came out in HK theaters. The pain began yesterday with a screening of IF YOU ARE THE ONE, and will continue tonight with the Chinese government-mandated screening of IP MAN.
Donnie Yen and his brood is happy to hear about it.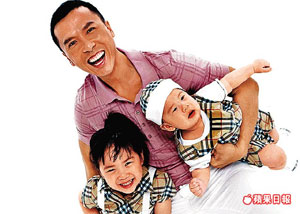 "Everyone should see IP MAN! It makes you happier and
ever-so patriotic! My pink shirt rules all!"
The nightmare continues tomorrow with a screening of TACTICAL UNIT: COMRADES-IN-ARMS, another one of those nifty PTU spin-offs starring Simon Yam, Maggie Siu, Lam Suet, and a bunch of other Milky Way people. On Saturday, I'm getting to FOREVER ENTHRALLED, which stars Zhang Ziyi, Zhang Ziyi, Zhang Ziyi, and Masanobu Ando of BATTLE ROYALE. I think the star is some unknown male actor.
Here's a picture of a clothed Zhang Ziyi: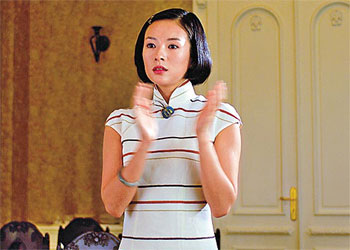 "I applaud your ability to waste my time with this blog.
Please don't look for naked pictures of me online."
Finally, on Sunday I should be seeing Tony Jaa in ONG BAK 2, which is the sequel to THAI WARRIOR. In the United States, they'll be calling it THE PROTECTOR 1.5 or THAI WARRIOR TWO. I would have preferred TOM YUM GOONG 2, but who can take that much spicy soup?
Sunday also wraps up with a screening of the long-awaited LADY COP AND PAPA CROOK, which has this for a poster: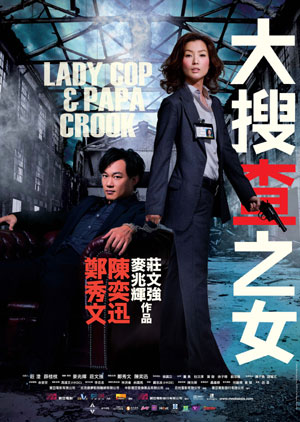 This movie will rock or I will eat a bug.
Since the film stars my previous number-one idol Sammi Cheng, and only marks the SECOND time she's made a movie in my FOUR years in Hong Kong, I should view this as some opportunity to reflect upon my time here. To compare, she appeared in TWELVE movies during the four years previous to my Hong Kong arrival. That's an average of 3 movies a year to only 1 every two years since. What exactly went wrong?
I suppose her scarcity during my time here could be construed as some sort of cosmic sign that life is not turning out as planned. Somewhere along the way, I must have erred, leading to this depressing and unfortunate circumstance where life does not bend itself to my every whim and desire. Coming to Hong Kong should have been the greatest thing to ever happen to me, but what occurred instead? I discovered that I can't make the friends I want, can't make the money I want, can't buy the toys I want, and most important of all, I can't see as many Sammi Cheng movies as I want. Why have God, Obama, and Eric Tsang forsaken me?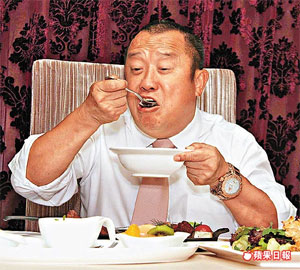 "Were you asking me something? I'm sorry, I'm too
busy sampling this fine bouillabaisse. Afterwards, I'm
going to eat a whole turkey."
Actually, there is no correlation between the scarcity of Sammi Cheng movies and my current life status. Like they say: sometimes you win and sometimes you lose. Sometimes life gives you lemons, and when it does you should make lemonade. Sometimes you have to see the forest for the trees. And sometimes you must step on the gas and sometimes you must step on the brake. These are the life lessons I've learned and choose to impart upon anyone dumb enough to think that I'm being serious.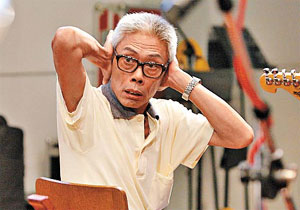 "Damn you, Kozo! Stop polluting my air
with your nonsensical prattling!"
Really, there is no deeper meaning to the lack of Sammi Cheng movies - except perhaps it'll sour me so much on Hong Kong film that I'll drop my hobby and go back to school as a rhetoric major. If I did that, it would mean I'd be much better at arguing my points, and hopefully people would be more persuaded by my writing. That would be great because then they'd write in less telling me how much they disagree with me.
So yeah, no blog and (maybe) no site updates in the meantime. But hey, I'll  be spending my minor break at the cinemas, which means more reviews of Hong Kong movies. Better yet, I'll drag Kevin Ma with me and he can write those reviews. If anything changes this year at LoveHKFilm.com, it'll be that: fewer reviews of Hong Kong movies by me. Every year requires change, and this year, that's the change. Maybe I'll compensate by actually posting more on this blog. Either that, or I can finally finish GRAND THEFT AUTO IV.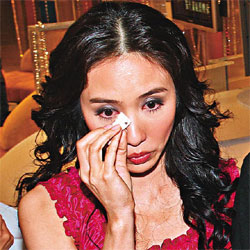 "This post makes me so sad."
Anyway, see you in 2009. Or not. You never know.