Friday, August 28th, 2009
Charlene Choi has a little message for everyone: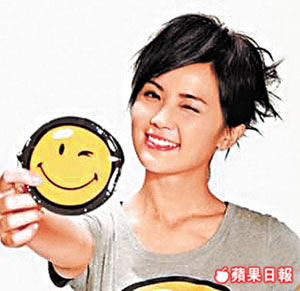 "Yay, I'm on happy pills!"
Charlene is in a good mood, so we all should be too. The State demands it.
Kevin Ma of the Golden Rock pointed me in the direction of the following YouTube clip. It's a RTHK (Hong Kong's resident public broadcasting organization) segment about a young man from the U.K. named Nick, who decided to come to Hong Kong to break into the film industry. His inspiration: INFERNAL AFFAIRS, which he's seen 30 times. You can watch the embedded segment below. It's in Cantonese but Nick speaks mostly in English.
SHAMELESS SELF PROMOTION ALERT: Check out both the 2:40 and the 6:34 mark of the embedded RTHK video featuring Nick.
After viewing this segment, my respect for both Nick and RTHK just went up a few notches - all because of their choice of web destinations.
Seriously, I wish Nick the best of luck. The film biz is thankless and difficult, and not for anyone who thinks opportunities and acclaim should be handed to them on a silver platter. He seems humble and hardworking, and if he does make it I'm sure he'll have earned it.
Good luck, Nick! If you're reading this, contact me and I'll buy you a drink someday. I would show you a location from INFERNAL AFFAIRS but I'm sure you've found them all.