August 17th, 2009
Yay, Asian actors are working in Hollywood! It's so awesome that Snake Eyes wants to shoot someone.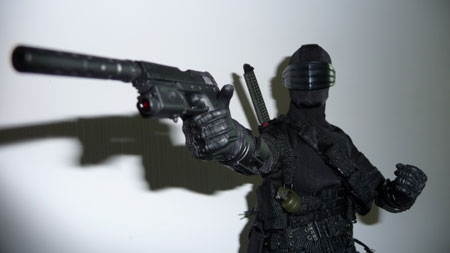 "……….."
Just a week ago, Korean actor Lee Byung-Hun made his Hollywood debut in G..I JOE: THE RISE OF COBRA. In celebration of Lee Byung-Hun - or LBH as we like to call him in these parts - joining an exclusive club including Ken Watanabe, Hiroyuki Sanada, Chow Yun-Fat, Donnie Yen, Jackie Chan, Jet Li, Daniel Henney, Rain and Park Jung-Hoon (You all saw THE TRUTH ABOUT CHARLIE, right?), I'm going to talk about G.I. JOE. Well, Lee Byung-Hun's part in it anyway.
Jackie Chan supports Lee Byung-Hun: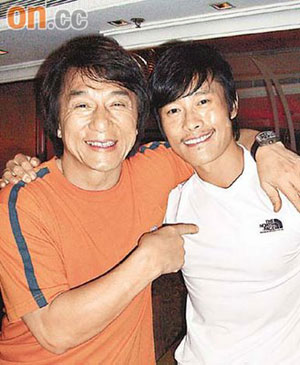 "This guy makes an awesome ninja!"
Yep, Lee Byung-Hun plays a ninja in G.I. JOE. Just like Sho Kosugi in ENTER THE NINJA and Rain in the upcoming NINJA ASSASSIN. Like movies based on toys, casting Asian megastars as ninjas is the new trend.
Here's a shot of Rain: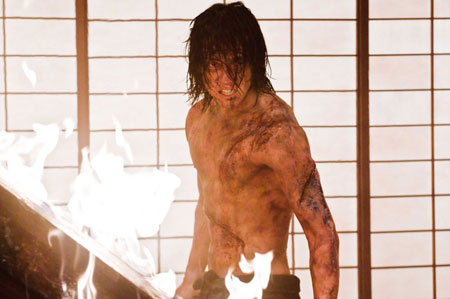 Rain after hearing about SPEED RACER's opening weekend numbers.
In G.I. JOE, LBH plays Storm Shadow, ninja assassin and arch-enemy to the G.I. JOE team's mute commando Snake Eyes, who's played by Ray "Darth Maul" Park in a rubber mask and accessorized rubber muscles. LBH really has only a few scenes in the film, and they mainly require him to fight, glower in a threatening manner, and lean against metal props while someone else drones on and on about their evil plans at world domination.
He also wears a cool white outfit: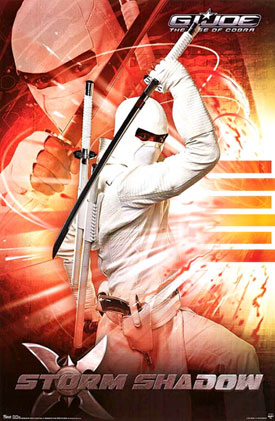 It's Lee Byung-Hun. Really.

Actually, despite playing a character that's A) a henchman to the bad guy, B) knows martial arts, and C) is probably a whiz at math, LBH's casting in G.I. JOE is fairly noteworthy because A) he gets plenty of face time, and B) he takes off his shirt.
Proof: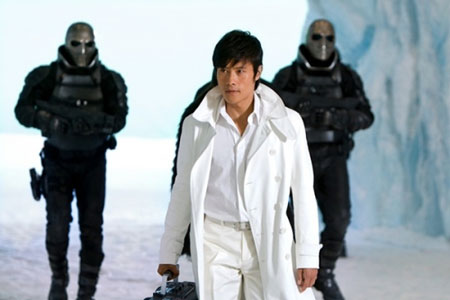 He's not wearing a mask! However, he's carrying someone else's luggage.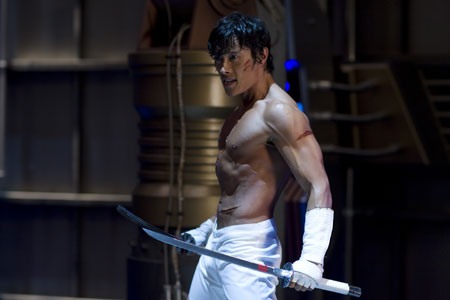 Woohoo! Korean beefcake!
Overall, G.I. JOE is probably not going to win any awards, but my female friends all left the film saying, "Wow, Lee Byung-Hun was great! I couldn't stop drooling!" In fact, they thought he was so great that they neglected to notice that he was fighting super-cool ninja assassin commando Snake Eyes. Conversely, my brother thought Snake Eyes kicked ass, but did not notice LBH at all.
Considering that G.I. JOE is a super-mega Hollywood production that tries to appeal to multiple demographics, the filmmakers probably are happy to hear the above. Basically, by having LBH rip off his shirt during the final Snake Eyes vs. Storm Shadow duel, they provided something for both male and female viewers. The guys get a silent badass in black, and the women get a totally ripped, slightly metrosexual hunk of manflesh who himself is somewhat of a badass. Everybody wins.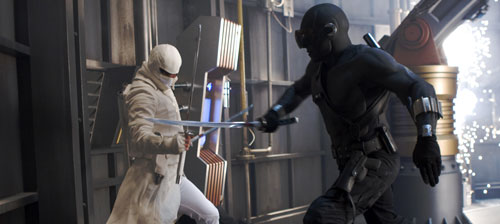 The high point for everyone in G.I. JOE.
Time will tell if LBH gets more Hollywood work, though one would hope he could do something no Asian male has done since who knows when - play a romantic lead. Sure, the Asian guys in action movies get the girl from time to time, but it's been ages since there was actually an Asian male starring in a romantic film. Chow Yun-Fat sort of qualified in ANNA AND THE KING, though it seems that the whole point of that movie was that romance between its leads was not possible. Anyway, LBH won't be seeing any romance in G.I. JOE 2 because Storm Shadow would be about the 156th G.I. Joe character in line for a romantic interest.
This guy probably won't get any nookie in his Hollywood debut either: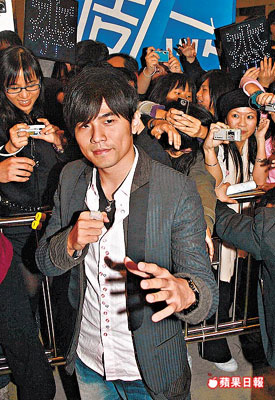 "I can take on anyone in this crowd!"
Last week to the shock and dismay of fanboys all over North America, Jay Chou was cast as Kato in the upcoming GREEN HORNET movie. Comments about his casting pretty much went like this: "He looks gay!", "Stephen Chow would have been better!", "They should have got Jet Li or Donnie Yen!" or "Hell, Chow Yun-Fat would be better than this guy!"
Andy Lau thinks its funny: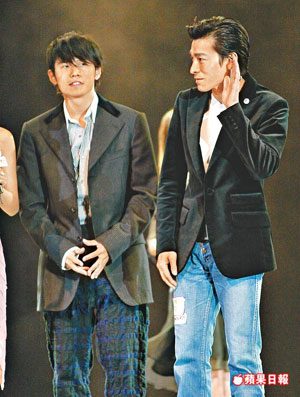 "You hear that Jay? They'd rather cast me as Kato!"
Some people probably would prefer to cast Andy Lau as Kato, which would be terrible. I'm also not for the previously cast Stephen Chow because A) he's too old, B) he's too old, and C) he's too old. Stephen Chow would have worked as Kato if original rumored star George Clooney were still up for the Green Hornet role, but since they're casting the guy from KNOCKED UP as GH, pretty much anyone over the age of 35 is too old to play Kato.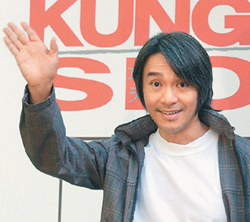 "Remember me? I'm the producer of DRAGONBALL: EVOLUTION!"
Jay Chou should be fine as Kato. Besides being of appropriate age, he's got the right comic chops to fit into a GREEN HORNET as re-imagined by Seth Rogen and Michael Gondry. His lead role in the otherwise execrable KUNG FU DUNK showed that he possesses a sheepish comic charisma that's similar to that owned by the early nineties Stephen Chow.
Some of Stephen Chow's earlier works would work fine if recast with Jay Chou - though the films themselves would probably have to be directed in a more subtle manner. Jay Chou could probably play the lovable, clueless loser played by Stephen Chow in LOVE ON DELIVERY, and even the concepts behind SHAOLIN SOCCER or FROM BEIJING WITH LOVE could work with Jay Chou in the lead. Still, there are some Stephen Chow roles, like in OUT OF THE DARK or GOD OF COOKERY, that Chou is probably not ready for.
However, Jay Chou can compose and sing, and Stephen Chow isn't really hot at either. And can Stephen Chow do this?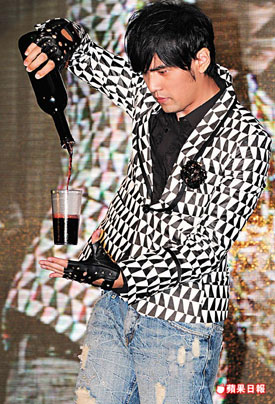 Oh my god, the cup is floating! IT'S FLOATING!
Hopefully, they won't make Kato a ninja.