December 28th, 2009
Continuing our coverage of the reader-decided Top 50 Hong Kong Films of the Decade, here's numbers 40-31. Click here to see numbers 50-41. Yesterday, we dealt with the revelation that THE EYE and LOVE UNDERCOVER pretty much got nixed from the Top 50.
Even scarier, MY WIFE IS 18 ranks higher than HOOKED ON YOU and ISABELLA. By the way, it has yet to appear on this Top 50 list. Will MY WIFE IS 18 make it past #30? Scroll down and you'll know.
Moving on:
40. MY LEFT EYE SEES GHOSTS (2002), directed by Johnnie To and Wai Ka-Fai - 48 points - LoveHKFilm Review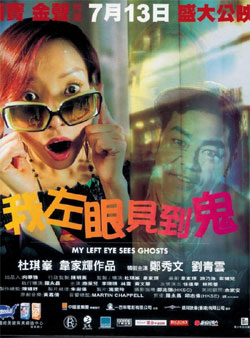 The poster is wacky, and the movie sometimes wackier, but MY LEFT EYE SEES GHOSTS has surprise within its silly commercial exterior. Sammi Cheng delivers one of her most broad and best performances as an insufferable widow who gains Sixth Sense-like abilities, while Lau Ching-Wan offers perfect support as the childhood friend who returns to guide her. Formula dictates that Cheng's character undergo a significant change, but - in a smart Wai Ka-Fai-esque subversion - she really doesn't. Instead, it's the audience who learns to change their tune.
39. PROTÉGÉ (2007), directed by Derek Yee - 48 points - LoveHKFilm Review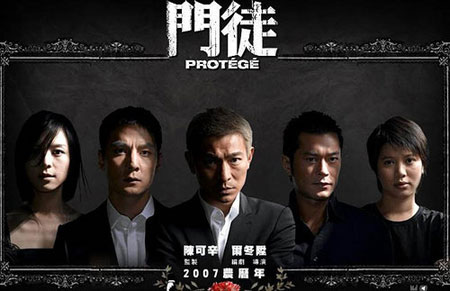 PROTÉGÉ may possess an obvious and even labored anti-drug message, but it's a powerful, compelling work with some very good performances. Director Derek Yee makes exposition into entertainment, with undercover cop Daniel Wu's initiation into the drug trade proving both educational and enthralling. Yee knows when to amp the violence too, which he does during the film's most famous moment, when cop Liu Kai-Chi pitches in a hand to help his fellow cops raid druglord Andy Lau's "kitchen". No pun intended.
38. JUST ONE LOOK (2002), directed by Riley Yip - 50 points, 1 first place vote - LoveHKFilm Review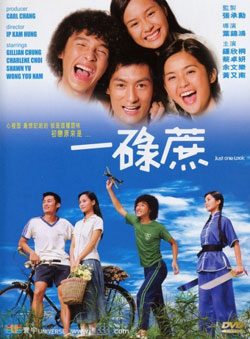 What's great about JUST ONE LOOK? Director Riley Yip's dramedy is a sweet little Valentine to first loves, fathers, coming of age, and that most priceless of all things: cinema. It also has Gillian Chung, still young and innocent; Wong Yau-Nam, still full of promise; and Anthony Wong being Anthony Wong. JUST ONE LOOK also gets bonus points for its location - charming, unmistakable Cheung Chau - plus its final cameo, which would only be spoiled by someone who hates movies. Or maybe a film critic.
37. LOVE ON A DIET (2001), directed by Johnnie To and Wai Ka-Fai - 51 points - LoveHKFilm Review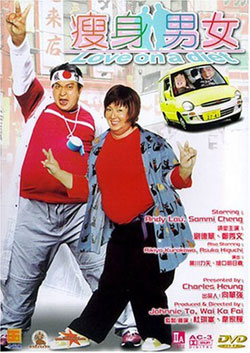 Johnnie To plus Andy Lau and Sammi Cheng in fat suits probably spelled the death of Hong Kong Cinema for some, but this super-popular comedy had local audiences wrapped around its plus-sized finger. LOVE ON A DIET is many things: a wacky comedy, a pre-packaged star vehicle, a winsome little romance, and a clever genre deconstruction. Above all, this is an entertaining, funny blockbuster with more star power than any film requires. The award-winning Sammi Cheng theme song helps too.
36. CRAZY 'N THE CITY (2005), directed by James Yuen Sai-Sang - 53 points - LoveHKFilm Review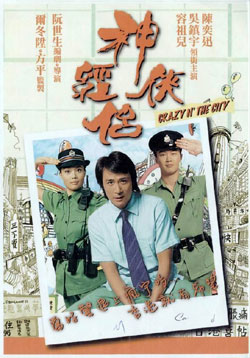 2005's first Hong Kong film turned out to be very nearly its best thanks to James Yuen's CRAZY 'N THE CITY. A "cop soap opera", the film takes a routine premise and spins surprising gold, going for emotional highs and lows and sudden, gear-shifting changes from farce to life-and-death drama. Producer Derek Yee's touch is evident too, with the film's loving look at Wanchai proving accurate and affecting. Francis Ng steals scenes as the righteous village idiot, but it's Eason Chan who anchors the film with grouchy and lovable grace.
35. MY WIFE IS 18 (2002), directed by James Yuen Sai-Sang - 58 points, 2 first place votes - LoveHKFilm Review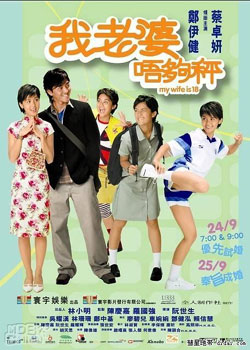 MY WIFE IS 18 ranked higher than JUST ONE LOOK on this list? What the–? Incredulity aside, this high concept comedy has its legacy. It produced an inferior Korean remake, plus started the Ekin Cheng-Charlene Choi pairing that would continue through the decade. Also, there's something about this movie - an odd, amusing, even irresistible vibe - that gives it strangely lasting appeal. Is it Charlene Choi's toothy smiles or her cheongsam-attired IN THE MOOD FOR LOVE impression? Or Ekin Cheng's self-effacing turn as an arrested development dope? As reader Peach wrote in, "It's a guilty pleasure, I'm not proud." We're not proud, either. But here it is.
34. NEW POLICE STORY (2004), directed by Benny Chan - 61 points - LoveHKFilm Review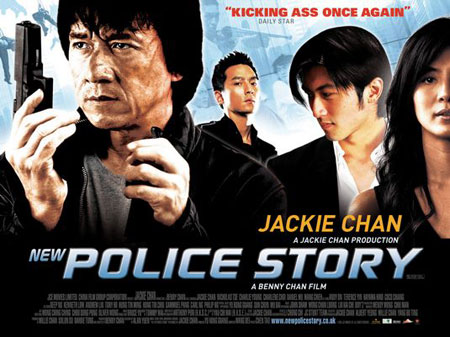 What would a Top 50 Hong Kong film list be without Jackie Chan? Chan's best action vehicle of the decade is a return to his POLICE STORY roots, but it also slyly passes the torch to an EEG-appointed group of youngsters, most especially Nicholas Tse, who shows terrific comic charm as Chan's sidekick. Tse would go on to show his own action chops in 2007's INVISIBLE TARGET, also directed by NEW POLICE STORY's Benny Chan. Daniel Wu won a Golden Horse Award for his turn as the villain, so people in Taiwan liked it too.
33. JULIET IN LOVE (2001), directed by Wilson Yip - 62 points, 2 first place votes - LoveHKFilm Review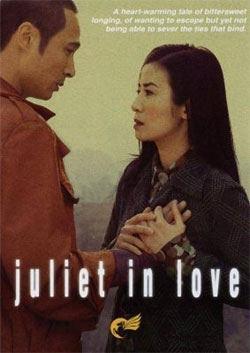 Reader Se-Jin Park wrote in to say, "I actually don't remember much about JULIET IN LOVE except that it really touched my heart." Filling in the blanks, this uncompromising drama may represent the last truly personal work by Wilson Yip before his budgets ballooned and Donnie Yen became his best friend. A genre film about normal, downtrodden people, JULIET IN LOVE is one of the best adult romances to appear out of Hong Kong this decade. Francis Ng and Sandra Ng star, which should be enough said.
32. JULY RHAPSODY (2001), directed by Ann Hui - 63 points, 1 first place vote - LoveHKFilm Review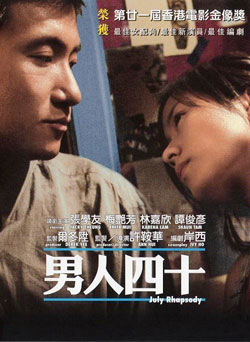 Ann Hui is one of Hong Kong's best local filmmakers, and her 2001 one-two punch of VISIBLE SECRET and JULY RHAPSODY showed that in spades. This look at a man reaching middle age is uncommonly strong, with an opaque, involving and accomplished story by Ivy Ho that's realized to low-key perfection by Hui. The acting is beyond reproach - Jacky Cheung and the late Anita Mui give their characters' marriage years of lived-in frustration, and then-newcomer Karena Lam rightly deserved each and every one of her awards. Ten years on, JULY RHAPSODY only looks better and better.
31. SPARROW (2008), directed by Johnnie To - 64 points - LoveHKFilm Review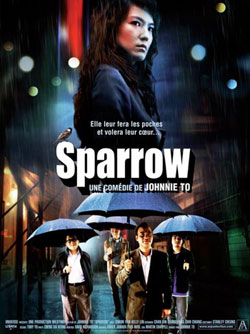 On craft alone, SPARROW could make any Top 50 list. This stylish, cinematic, and undeniably seductive caper comedy is Johnnie To's love letter to cinema, Hong Kong and THE UMBRELLAS OF CHERBOURG, and it features Milkyway regular Simon Yam at his most dapper and gentlemanly. The romantic car ride between Yam and Kelly Lin lovingly recalls Cary Grant and Grace Kelly, and Xavier Jamaux and Fred Avril's score is the perfect, playful accompaniment. Best moment: the single take crane shot early on following Yam and his pickpocket crew lifting the locals.
Score three films for Johnnie To! Check back tomorrow to see how many more he adds to his running total.