July 5th, 2011
Complain all you want, he still can't hear you.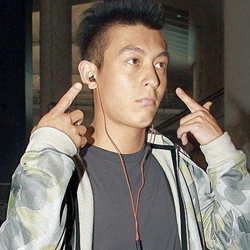 "It's all pops and buzzes from here, dawg."
Edison is a bad role model. If we did things his way, we would gladly ignore any and all criticism, and would classify those who criticize us as "haters" a.k.a. "people who don't agree with me, and thus are terrible or awful because of it." When you think about it, Edison is actually a prime example of the Internet generation: poor English standards, bad perspective and overwhelmingly in love with himself. At least he's good with a camera.
Bringing this back a bit, LoveHKFilm.com and the powers-that-run-it have received a fair amount of criticism over the years. I try to look at the good side: going on ten years online, LoveHKFilm.com has long outlived what I thought would be its usefulness. It's done a great deal for me, and supposedly it's done a good deal for others too. At least, that's what the email I get tells me.
At the same time, my email also tells me that the site has annoyed and even offended some, and I do take those complaints seriously. Still, I eventually have to decide if the complaints are fair and have merit, or if they come from people who are operating from a limited if not selfish perspective. It would help if I could read minds, but I don't seem to be able to do that. Yet.
The last time I updated Damn You, Kozo was over a year ago. In that time, LoveHKFilm.com has taken numerous vacations and the site blogs have become rather quiet. Something needs to change. LoveHKFilm.com has a focus, limited and unpopular though it may be. Damn You, Kozo needs a focus too. As soon as I figure out what it is, I'll do it.
In the meantime, this blog will reopen with occasional posts. Michael Wells of the Everyone Likes Movies blog will be contributing some guest posts on the latest New York Asian Film Festival plus we may do one of those Top 100 Hong Kong Movies reader polls again. We might also post some pictures.
It's good to be back.