March 12th, 2012
Wow, I never thought I'd get this TOP 100 HONG KONG MOVIES OF THE EIGHTIES list started. Some people have been waiting awhile.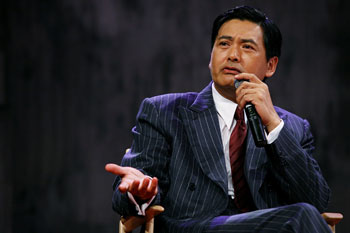 "What's taking you so long? I have to start DRAGONBALL 2 next week!"
Chow Yun-Fat has a lot invested in this list, because it's the eighties and he worked on a lot of Hong Kong films. That all ended in the nineties, when he left Hong Kong to make THE CORRUPTER and REPLACEMENT KILLERS. You know the rest of the story.
For those just joining us, this is LoveHKFilm.com's Top 100 Hong Kong Films of the Eighties, as voted upon by actual site readers. Each sent in a list of 10-20 favorites, after which we tallied the votes according to some needlessly complex numerical formula. The cold stats: 135 readers voted, 239 films were nominated and 226 films made the final list. The 13 film differential is due to nominated films that were disqualified, e.g. A CHINESE GHOST STORY 2, which came out in 1990 and does not count in the vote.
From here on, we'll be counting down all the films from Number 100 down to Number 1. This is the first installment of our countdown, meaning I'll be updating this blog every 1-2 days to deliver the next 10-20 movies on the list. I figure we'll get the whole thing done in about a week. If you're impatient, you can always travel forward in time to see how it turns out. When you get back to the present, let us know.
Afterwards I'll print the full list so you can see just how popular or unpopular the films you selected are. No matter what, I guarantee that Jackie Chan's THE PROTECTOR didn't make the list.
A note: This list has 101 films because two films ended in a dead heat for #100. There are tie-breakers built into the scoring system, with first-place votes and number of total votes helping separate films that receive equal points. However, in the case of #100 and #101, both films have the same amount of points, the same amount of first-place votes (i.e., zero), and the same amount of total votes. Yep, math is hard.
Let's get this thing going!
100 (TIE). ROYAL WARRIORS (1986), directed by David Chung Chi-Man - 14 points - LoveHKFilm Review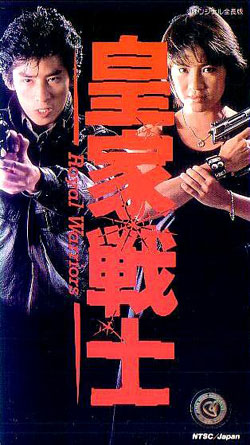 Michelle Yeoh ties for #100 with this classic female fighting flick co-starring Hiroyuki "Henry" Sanada and a baby-faced Michael Wong. Plot: Michelle beats up some bad guys with athletic martial arts prowess and the men either assist or get out of the way. Way better than SILVER HAWK. Obviously.
100 (TIE). KILLER CONSTABLE (1980), directed by Kuei Chih-Hung - 14 points - HKMDB Page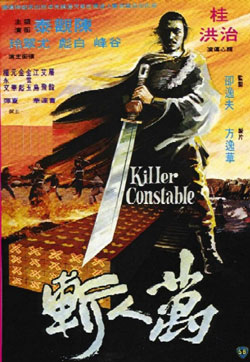 Chen Kuan-Tai hunts for stolen gold as the eponymous KILLER CONSTABLE, a merciless seeker of justice who would rather kill on the battlefield than worry about all that pesky "trial" business. A terrific jiang hu character and plenty of violence make this a Shaw Brothers gem.
98 (TIE). THE INSPECTOR WEARS SKIRTS (1988), directed by Wellson Chin - 14 points - LoveHKFilm Review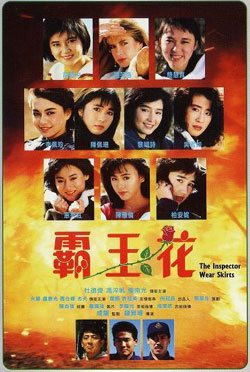 According to Jennifer Ng, "Chinese women CAN be crass, kick butt, do physical comedy and get the guy of her choice." At least, that's what she learned from this fighting females meets POLICE ACADEMY hybrid that launched an entire series. Site reader Guppieluv says, "It's got Sibelle Hu, Cynthia Rothrock and Kara Hui kicking ass…need I say more?" Not really.
98 (TIE). HOLY FLAME OF THE MARTIAL WORLD (1983), directed by Tony Liu - 14 points - HKMDB Page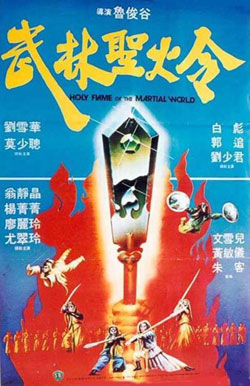 When special effects were still primitive and cheesy, the Shaw Brothers gave us HOLY FLAME OF THE MARTIAL WORLD, starring Max Mok as an orphan who must avenge his parents and recover the legendary Holy Flame sword. Also starring Philip Kwok (Mad Dog from HARD BOILED), this fantasy wuxia pushes the SFX-enhanced craziness to eleven and never really lets up. Also, it's only 85 minutes! Surely you can spare that much time for HOLY FLAME OF THE MARTIAL WORLD.
97. MAGNIFICENT WARRIORS (1987), directed by David Chung Chi-Man - 15 points - LoveHKFilm Review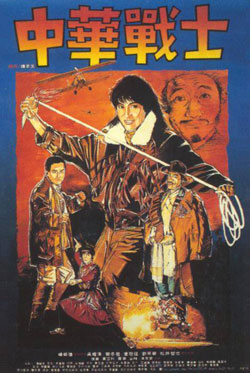 Michelle Yeoh apes Indiana Jones in this enjoyable eighties adventure alongside actor-and-someday-acclaimed-director Derek Yee and also Richard "Father of Carl" Ng. "Massively underrated," says site reader Snowblood, and we're inclined to agree.
96. HUMAN LANTERNS (1982), directed by Sun Chung - 15 points - HKMDB Page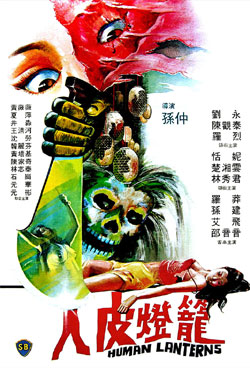 The inestimable Grady Hendrix calls HUMAN LANTERNS "the ultimate Shaw Brothers movie from the early eighties when they were desperately trying anything to get kids back into theaters," and cites "great kung fu, lots of gore, lush production values and a deeply twisted story" as the carrot on the end of Shaw Brothers' stick. They had us at "deeply twisted story."
95. THE CRAZY COMPANIES 2 (1988), directed by Wong Jing -15.5 points - HKMDB Page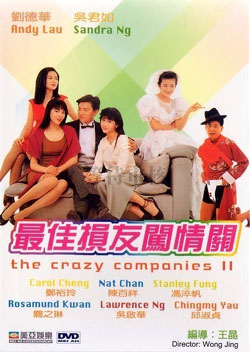 Andy Lau and his workplace buddies return for more office shenanigans in this sequel to, duh, CRAZY COMPANIES, also directed by the notorious Wong Jing. Maksim explains the appeal thusly: "Andy Lau was so suave and handsome, and it also has Chingmy Yau and Rosamund Kwan. The story is silly and stupid but I don't care. It's amusing and fun, and the crude jokes and beautiful people make it a favorite."
94. OPIUM AND THE KUNG FU MASTER (1984), directed by Tong Gai -15.5 points - HKMDB Page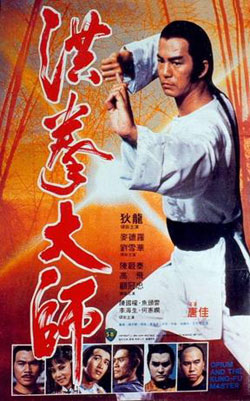 Ti Lung takes on Chen Kuan-Tai in this kickass martial arts actioner cum afterschool special. Ti plays one of the leaders of the Ten Tigers of Kwantung, who struggles with opium addiction before realizing that it's bad and taking on a bunch of Opium-dealing villains. Only one of three films directed by veteran action choreographer Tong Gai.
93. THE ROMANCING STAR (1987), directed by Wong Jing - 16.5 points - HKMDB Page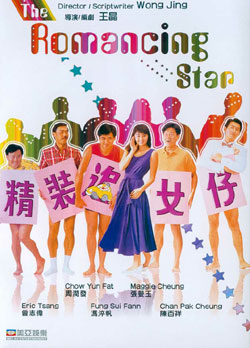 "Chasing Girls" wackiness that gets an extra lift from the presence of the world's coolest actor Chow Yun-Fat. Mr. Chow plays a car repairman who heads to Malaysia with his buddies Eric Tsang and Nat "Ah Leck" Chan, where he meets Maggie Cheung. Predictably, Maggie charms Chow, but will their romance be destroyed by insane wackiness from director Wong Jing? A big hit, which explains the ten zillion sequels and ripoffs of the same formula.
92. THE BOXER'S OMEN (1983), directed by Kuei Chih-Hung - 17 points - HKMDB Page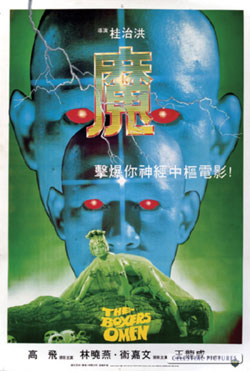 Hong Kong Cinema has a proud tradition of wild, gruesome horror films and THE BOXER'S OMEN is one of the standard bearers, complete with sickening gore effects, icky bodily fluids and flying body parts. Shot in Hong Kong, Nepal and also Thailand, Hong Kong's Cinema's go-to location for bad black magic. Philip Ko Fei stars and Shaw Brothers' master of exploitation Kuei Chi-Hung directs.
90 (TIE). HER VENGEANCE (1988), directed by Nam Lai-Choi - 17 points - HKMDB Page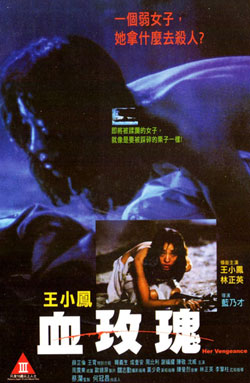 Pauline Wong Siu-Fung is raped and brutalized before swearing bloody vengeance in this disturbing and under-appreciated Category III revenge thriller co-starring Lam Ching-Ying - who thankfully does not play one of the bad guys. Dark, brutal, nasty and very much a Hong Kong movie.
90 (TIE). BASTARD SWORDSMAN (1983), directed by Tony Liu - 17 points - HKMDB Page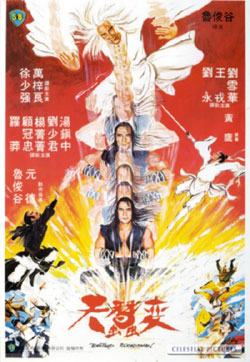 From the director of HOLY FLAME OF MARTIAL WORLD comes this equally wild martial arts fantasy starring Norman Tsui Siu-Keung as an unfortunate warrior striving to learn the "Silkworm Style." Expect lousy special effects, over-the-top wire-fu craziness and pure four-color awesomeness.
89. MARTIAL CLUB (1981), directed by Lau Kar-Leung - 17.5 points - HKMDB Page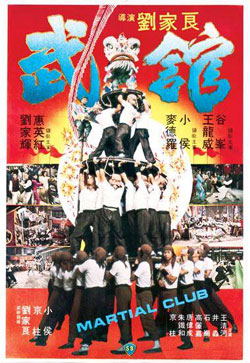 Lau Kar-Leung and Gordon Liu deliver their version of the Wong Fei-Hong legend with MARTIAL CLUB, which besides showing up on this list recently made the Hong Kong Film Archive's list of 100 Must-See Hong Kong Films. What sells this one? Bad guys that are bad and good guys that are very good, plus action, action, action, from fun training sequences to an inventive alleyway duel. Chris Wolter has his own favorite set piece: "The opening scene lion dance…are you kidding me?" Evidently not. Don't confuse this film with MARITAL CLUB, which has absolutely no martial arts.
88. NINJA IN THE DRAGON'S DEN (1982), directed by Corey Yuen - 17.5 points, 1 first place vote - HKMDB Page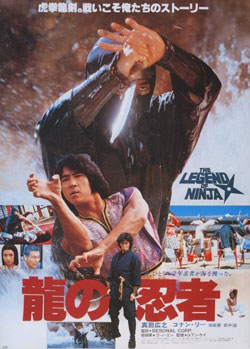 In the 16th century, a rogue ninja (Hiroyuki "Duke" Sanada) heads to China to seek his father's murderer, and comes into conflict with an irascible martial artist (Conan Lee). Co-starring Korean martial artist Hwang Jang-Lee, NINJA IN THE DRAGON'S DEN has a HK-typical thin story but creative and awesome action. Says Richard about NINJA "It's dumb and it's simply great. You simply gotta love the ingenious main theme and the ridiculously cool main characters." The first directorial effort from Corey Yuen, who would go on to make a bunch of other films on this Top 100 list.
86 (TIE). IT'S A MAD, MAD, MAD WORLD (1987), directed by Clifton Ko - 18.5 points - HKMDB Page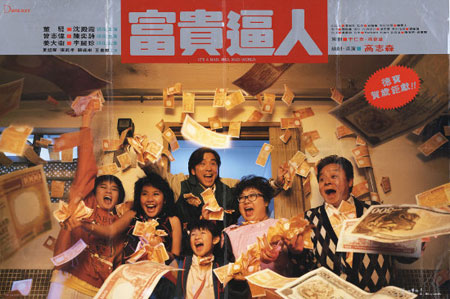 Lydia Shum, Eric Tsang, Bill Tung and Loletta Lee anchor Clifton Ko's hit Lunar New Year comedy, which was so popular with audiences that it launched a slew of sequels with very much the same plot. The working class Pui family (led by Shum and Tung) win the lottery, hjinks and tomfoolery ensue, and the audience enjoys warm fuzzies while munching on dried cuttlefish snacks. Add an extra "MAD" to the title and you get the 1963 Stanley Kramer film, which is obviously inferior because it doesn't have Eric Tsang.
86 (TIE). ANGEL(1987), directed by Teresa Woo -18.5 points - LoveHKFilm Review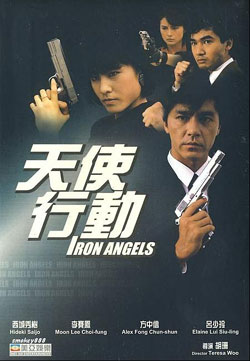 Extreme Hong Kong action lives with Moon Lee, Yukari "The Osh" Oshima and Japanese popstar Hideki Saijo wearing laughable eighties tracksuits and accessories while battling with guns and fists. It's the action climax that makes this one a classic. KL says, "The final showdown between Moon Lee and Yukari Oshima is worth more than the entire film: a girl-on-girl fight with total brutality and insanity. Brief, but after more than twenty years the impact it creates still lingers on."
85. WORKING CLASS (1984), directed by Tsui Hark - 18.5 points - LoveHKFilm Review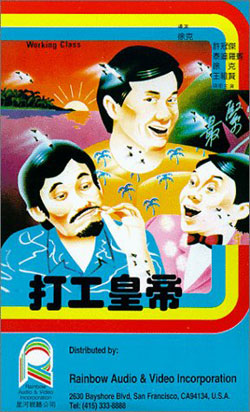 One of Tsui Hark's lesser-known titles, this workplace satire features a rare acting appearance from The Master himself, plus a flower vase role for Joey Wong. Sam Hui and Teddy Robin play lowly employees at an instant noodle factory who must rise up against upper management to strike a blow for the Proletariat, basic values and the common man! Also featuring comedy.
84. WE'RE GOING TO EAT YOU (1980), directed by Tsui Hark - 18.5 points - HKMDB Page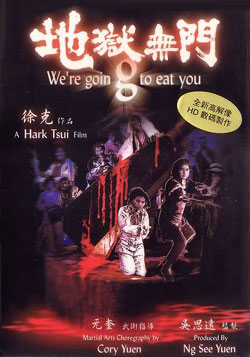 Early Tsui Hark film bears plenty of The Master's trademark gonzo creativity - black humor, breathless pacing, copious action - all mashed together into a kung-fu horror comedy. About a remote village of cannibals, WE'RE GOING TO EAT YOU stars Normal Tsui Siu-Keung as law enforcer Agent 999, who discovers said cannibal village while chasing a master thief named "Rolex." A whole lot better than MISSING.
83. THE IMP (1981), directed by Dennis Yu - 19 points - HKMDB Page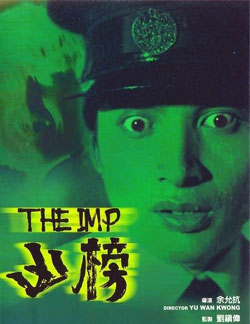 Directed by Dennis Yu, this seminal early eighties horror flick plays it straight - a rarity for Hong Kong horror - and succeeds in chilling fashion. Charlie Chin plays a security guard with a pregnant wife who's starting to act a little loopy. Also, his colleagues begin dying, and it may have something to do shopping mall they're all working at. Says Grady Hendrix: "Dennis Yu could have changed the world, but instead he went into advertising. Still, this strangely surreal ghost story is one long, strange trip."
82. PAINTED FACES (1988), directed by Alex Law - 19 points - HKMDB Page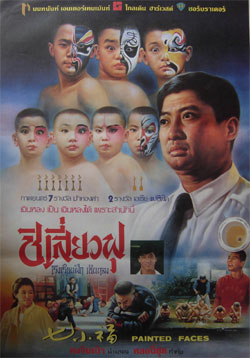 A fictionalized but still very based on reality drama about the "Seven Little Fortunes" - Sammo Hung, Jackie Chan, Yuen Biao, Corey Yuen Kwai, Yuen Wah, Yuen Tak and Yuen Mo - and their childhood as indentured students at a Peking Opera School. Sammo Hung won a Best Actor Hong Kong Film Award for his portrayal of the school head. Sadly unavailable on DVD.
81. THE VICTIM (1980), directed by Sammo Hung - 21 points - HKMDB Page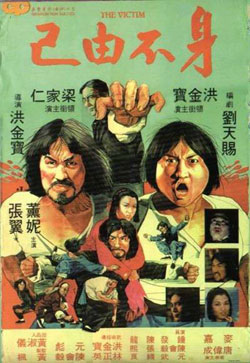 Early Sammo Hung work that's just as good as his later, more heralded stuff. The big fella stars as a young fighter looking to an even better martial artist (played by awesome Leung Ka-Yan) to be his master, before coming into conflict with his would-be master's enemies. The plot is no great shakes, but it's the action that naturally sets this one apart, with Sammo's fight choreography (arranged along with Yuen Biao, Lam Ching-Ying and Billy Chan Wui-Ngai) proving to be some of his most memorable.
Next time: Numbers 80-61. Will PEKING OPERA BLUES show up this low? And can Wong Jing actually get a third film to show up on this list?