March 13th, 2012
Hey there, welcome to the second installment in our 47-part look at the Top 100 Hong Kong Films of the Eighties. This is a list determined by actual readers of LoveHKFilm.com, who decided it would be cool to contribute to a group vote rather than run around claiming that their personal Top 10 constitutes a definitive list of quality eighties movies. We thank them for not being self-centered like the rest of the Interwebs.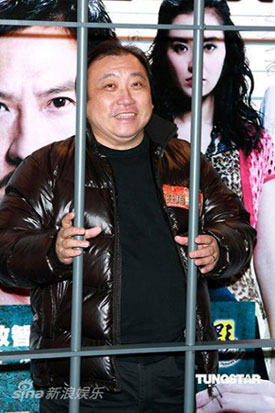 "Hey, I got two movies so far in this Top 100!
Can I get out of Movie Jail now?"
Yep, Wong Jing is doing pretty good. His films THE CRAZY COMPANIES 2 and THE ROMANCING STAR have appeared in the Top 100, tying him for the lead with directors like Kuei Chi-Hung, David Chung, Tony Liu and Tsui Hark. There's both good and unremarkable company there. Can Wong Jing keep it up and pull out a win?
By the way, if you're just joining us, you may wish to go back and read about Numbers 100-81. You know, because it's interesting.
Previous updates:
Numbers 100-81
Let's hit the jump to see what's next!
80. THE MIRACLE FIGHTERS (1982), directed by Yuen Woo-Ping - 22 points - HKMDB Page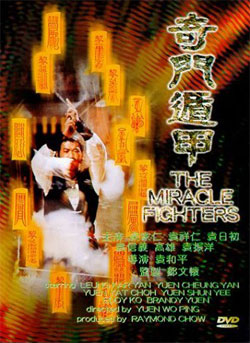 Yuen Woo-Ping makes his first appearance on the list with THE MIRACLE FIGHTERS, working with his brothers in the esteemed Yuen Clan on this zany creation filled with magic, martial arts and more than a few bizarre elements. Says Nick Orwin: "I don't think anyone other the Yuen Clan could have conceived of this film, let alone made it. Full of ideas, jokes, wonderful strange performances and surprises." And guys named Yuen.
79. HEROES SHED NO TEARS (1986), directed by John Woo - 22 points - HKMDB Page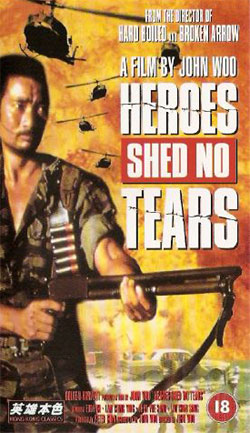 Melodramatic John Woo war actioner shot before A BETTER TOMORROW but released in the wake of his seminal gangster film's insane box office run. Site reader Stride can handle this one: "Rambo is a pussy compared to Eddy Ko in this film, as Eddy tries to lead a ragtag bunch and family out of Vietnam through the Vietcong led by Lam Ching-Ying. Absolutely brutal film. By the end, it is difficult not to shed a tear or snap out of a catatonic state." Also, if you both shed a tear AND snap out of a catatonic state then you instantly die.
78. THE SEVENTH CURSE (1986), directed by Lam Nai-Choi - 22 points - LoveHKFilm Review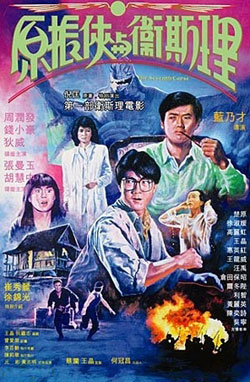 Site reader ThingsFallApart calls THE SEVENTH CURSE "Hong Kong weirdness on a budget," and that's a pretty apt description. A spin-off of the popular Dr. Wisley (or Wesley) novels, SEVENTH CURSE stars Chin Siu-Ho as Wesley's kung-fu-wielding pupil, who heads to Thailand to stop a "blood curse" while battling an evil witch doctor (Tsui Kam-Kong in lipstick) and sparring with an annoying reporter (Maggie Cheung before she was an actress). Why you need to see this: Chow Yun-Fat in a glorified cameo as Dr. Wisely, who smokes a pipe and carries a rocket launcher! He uses it too. The rocket launcher, that is.
77. THE TRUTH (1988), directed by Taylor Wong - 23.5 points - HKMDB Page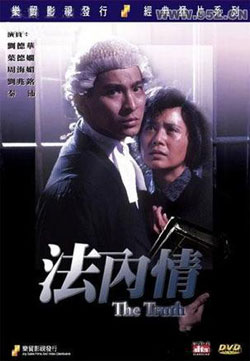 Crowd-pleasing courtroom drama starring Andy Lau and Deannie Ip waaaay before they won over international audiences with Ann Hui's A SIMPLE LIFE. Andy plays a lawyer assigned to protect his long-lost mom (Deannie Ip), who's accused of killing a cop. Not exactly a realistic trial movie, THE TRUTH nevertheless won over Hong Kong audiences with its strong melodrama and courtroom theatrics. Reader b3n1 describes the film as a "Tear-jerking movie that made the whole audience in the cinema cry." Followed by a sequel called THE TRUTH - FINAL CHAPTER.
75 (TIE). MAN ON THE BRINK (1981), directed by Alex Cheung - 26 points - HKMDB Page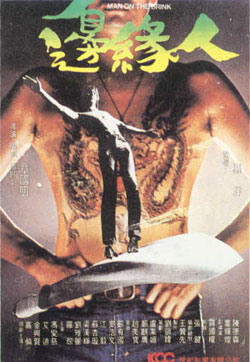 Another film that ended up on the Hong Kong Film Archive's list of 100 Must-See Hong Kong Films, MAN ON THE BRINK is a key film of the Hong New Wave and one long-overlooked by genre fans worldwide. Says Tim Youngs, "Star Eddie Chan is exceptional as the tormented protagonist in Alex Cheung's bleak undercover-cop flick. A superb follow-up to Cheung's earlier COPS AND ROBBERS and a clearly influential entry in its genre, yet out of print on home video for far too long." I know someone who owns the VCD. By the way, if it weren't for MAN ON THE BRINK you would not have undercover cop films like INFERNAL AFFAIRS, HARD BOILED, ON THE EDGE or LOVE UNDERCOVER 3. Well, maybe not that last one.
75 (TIE). KIDS FROM SHAOLIN (1984), directed by Cheung Yam-Yin - 26 points - HKMDB Page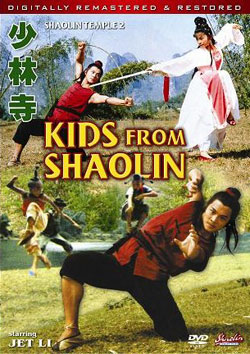 Martial arts comedy starring Jet Li as a Shaolin pupil who lives with a bunch of other Shaolin boys on one side of the river. On the other side: Wu Tang girls, leading to a rivalry and then some numerically-matched Wu Tang girl-to-Shaolin guy romance. Comedy, musical numbers, playful sparring and Jet Li in drag(!) highlight this eighties family entertainment.
74. THE LUNATICS (1986), directed by Derek Yee - 26 points - HKMDB Page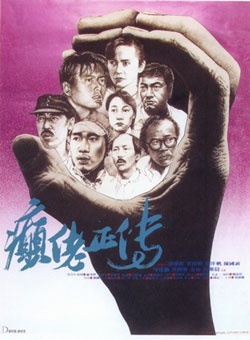 Stanley Fung and Deannie Ip turn in superlative performances in this unexpected drama about Hong Kong's mentally ill and the sacrifices made by those who dedicate their lives to helping them. Featuring supporting performances from Tony Leung Chiu-Wai, Chow Yun-Fat and also Paul Chun, who won a Best Supporting Actor Hong Kong Film Award as a dangerously unstable but hopefully rehabiliated patient. Derek Yee's directorial debut melds acute social drama with the kind of heightened emotions and unexpected darkness that Hong Kong Cinema is known for.
72 (TIE). TWINKLE TWINKLE LUCKY STARS (1986), directed by Sammo Hung - 27 points - LoveHKFilm Review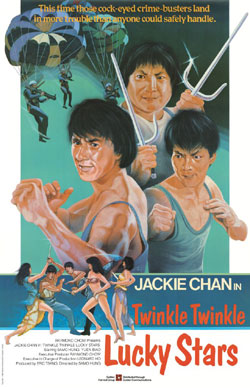 Countless cameos, some terrific fighting, the occasional stunt and three thousand metric tons of super-wacky hijinks highlight this third in the Lucky Stars series. The whole gang is back for more, except Miu Kiu-Wai gets dropped in as a Lucky Star, plus John Sham, Rosamund Kwan and Andy Lau join the mix. Plot: something happens so the Lucky Stars go someplace and sometimes there's fighting. Plus comedy and Richard Ng. Monkeys could write a better movie, but does it really matter? Not one bit! The Lucky Stars movies ARE eighties Hong Kong Cinema.
72 (TIE). HEART OF DRAGON (1985), directed by Sammo Hung - 27 points - LoveHKFilm Review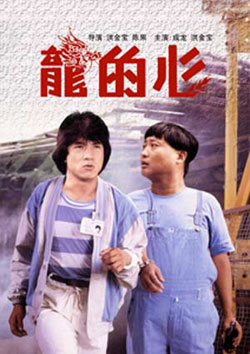 Action meets drama meets Hong Kong hijinks in this true multi-genre effort from Sammo Hung. Jackie Chan plays a cop who must take care of his mentally challenged brother (Sammo, in an award-nominated performance ) while also busting the bad guys. Site reader Richard calls HEART OF DRAGON "A movie you could only expect to come from HK. It makes no sense at all, but who cares? This is one powerful movie you won't forget for neither of its two elements."
71. LOVE MASSACRE (1981), directed by Patrick Tam Ka-Ming - 27.5 points - HKMDB Page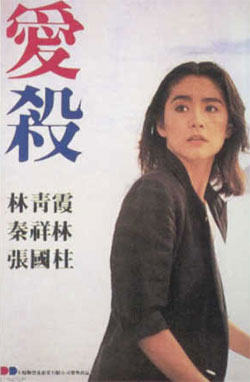 New Wave maestro Patrick Tam directed this romantic and increasingly violent thriller about a woman (Brigitte Lin) who's found far from the perfect man. Film fest consultant Tim Youngs sums up LOVE MASSACRE thusly: "Stunning compositions, precise art direction and a great central performance by Brigitte Lin make this one a winner. Patrick Tam escalates tension at a steady, deliberate pace, and the bloody, color-coded climax is one of Hong Kong cinema's most striking finales." There's also a head and a door but you'll have to see the movie to get the reference.
70. LOVE IN A FALLEN CITY (1984), directed by Ann Hui - 28 points, 1 first place vote - HKMDB Page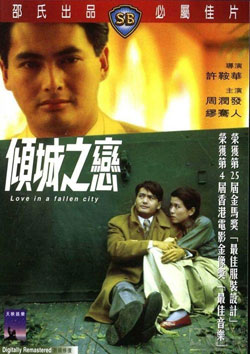 Ann Hui takes on the work of Eileen Chang in LOVE IN A FALLEN CITY, a romantic drama naturally taking place in Shanghai and also Hong Kong. Cora Miao is a divorcee who's matched with a Hong Kong playboy (Chow Yun-Fat), the ebb and flow of their romance playing out against the greater backdrop of turbulent 1940's Hong Kong. Ann Hui would return to Eileen Chang's works with the 1997 film EIGHTEEN SPRINGS.
69. THE SWORD (1980), directed by Patrick Tam Ka-Ming - 28.5 points - HKMDB Page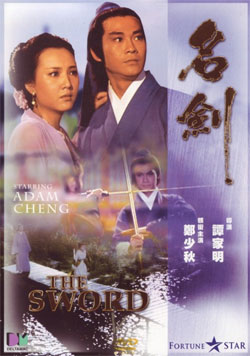 The swordplay genre meets the Hong Kong New Wave with Patrick Tam's THE SWORD, starring Adam Cheng as a glory-seeking swordsman looking to become the best by beating the best. His journey brings him in contact with a cursed sword, an old flame and a number of rivals also seeking jiang hu supremacy. Long underrated, THE SWORD is now a rarity: an excellent genre film that's also a sterling example of thoughtful and accomplished filmmaking.
68. DRAGON LORD (1982), directed by Jackie Chan - 28.5 points - LoveHKFilm Review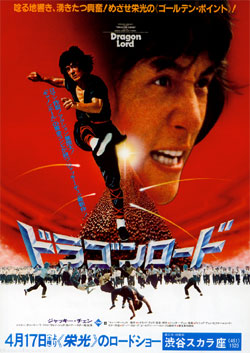 Jackie Chan's last period film before he made all those PROJECT A, POLICE STORY and ARMOUR OF GOD films, DRAGON LORD is pure early Chan, a mishmash of action, stunts and meandering story punctuated by occasional hit or miss jokes. As usual, the key here is Jackie Chan's creative choreography plus a bone-crunching finale where he takes on Korean hapkido guru Whang In-Sik. Jackie would not make another period film until a movie called DRUNKEN MASTER II, but this one would tide audiences over for quite a while.
67. A FISHY STORY (1989), directed by Anthony Chan Yau - 31 points - HKMDB Page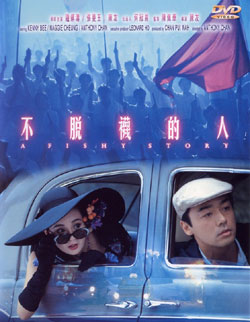 Set against Hong Kong's social unrest of the sixties, A FISHY STORY is a romantic comedy/drama that remains eminently watchable today for one major reason: Maggie Cheung. Hong Kong's most decorated actress won her first Best Actress award as an aspiring starlet who arrives in the Fragrant Harbor with dreams of becoming a star, while striking up a friendship with a wannabe cabbie (Kenny Bee) who lives in the same apartment building. Directed by Kenny Bee's Wynners bandmate Anthony Chan Yau.
66. YES, MADAM! (1985), directed by Corey Yuen - 34 points - LoveHKFilm Review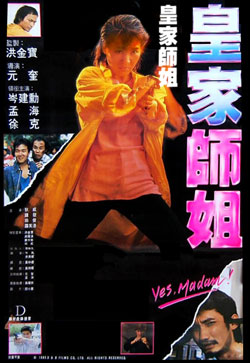 Michelle Yeoh and Cynthia Rothrock join an eighties girl group and get into shenanigans with the triads! Actually, the two play police inspectors but given their trashy eighties hairdos and outfits, one could easily mistake them for a cross-cultural version of the Go-Go's. Bad hair or not, YES, MADAM! is one super-charged dose of glass-breaking female fighting action thanks to Corey Yuen's fast and powerful choreography. The supporting cast of Dick Wei, Mang Hoi, Tsui Hark, John Sham, Sammo Hung, Billy Lau, Wu Ma, David Chiang, Richard Ng, Chung Fat and James Tien make this a who's who of familiar Hong Kong Cinema faces.
65. RIGHTING WRONGS (1986), directed by Corey Yuen - 36 points - LoveHKFilm Review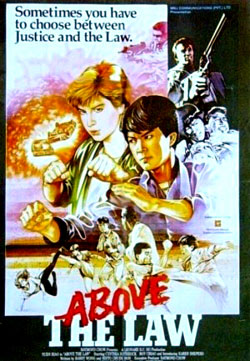 It's Corey Yuen again, but instead of going for fun glass-breaking action like YES, MADAM he heads to darker places with RIGHTING WRONGS (a.k.a. ABOVE THE LAW). Yuen Biao stars as a righteous barrister who turns vigilante when his star witness and entire family get killed. Then it's one violent set piece after the next as Yuen teams with Cynthia Rothrock to exact justice - no matter the cost. Yuen Biao: has there ever been a more underrated martial arts actor?
64. LEGEND OF A FIGHTER (1982), directed by Yuen Woo-Ping - 36 points, 1 first place vote - HKMDB Page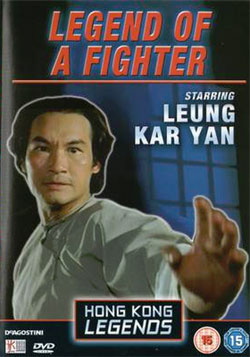 Yuen Woo-Ping directs this beloved martial arts pic about Huo Yuanjia a.k.a. Fok Yuen-Gap a.ka. that guy that Jet Li played in FEARLESS. The plot is the same: Chen Zhen's master Huo Yuanjia (played by Leung Ka-Yan) rises to become one of the great nationalists before succumbing to the treachery of the imperialist Japanese. Snowblood calls LEGEND OF THE FIGHTER "The only kung-fu film to make me cry. Killer ending." Hint: it's the same ending as FEARLESS.
63. THE ICEMAN COMETH (1989), directed by Clarence Fok - 39.5 points - LoveHKFilm Review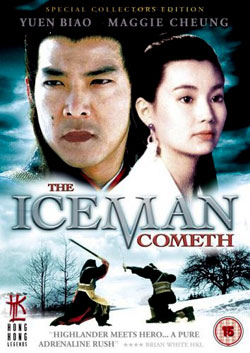 Before you sample Donnie Yen's 21st century take, you should definitely see THE ICEMAN COMETH, starring Yuen Biao as a Ming Dynasty warrior who travels through time to battle his former friend and sworn enemy Yuen Wah. Also starring Maggie Cheung as the love interest, ICEMAN COMETH is a fine mix of action, comedy and even romance. Glenn Griffith calls it "A perfect introduction to why HK films are so much fun. Everything I like about HK cinema in one fun package." Hey, about that Yuen Biao: has there ever been a more underrated martial arts actor?
62. PEOPLE'S HERO (1987), directed by Derek Yee - 42 points - LoveHKFilm Review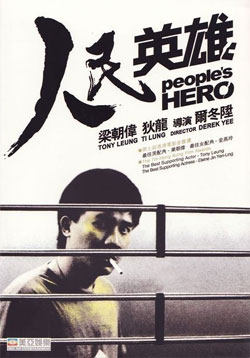 About an ex-con (Ti Lung) caught in a bank robbery perpetrated by some inept kids (Tony Leung Chiu-Wai and Wong Ban), this early Derek Yee crime drama holds up pretty well twenty-plus years later. Yee nails the intensity, ratcheting it up until the climax, which site reader "2046″ proclaims is "like a kick to the crotch." Grady Hendrix calls PEOPLE'S HERO "Ti Lung's finest hour, Derek Yee's best early film, and one of the first filmic eruptions of little Tony Leung. It's a remake of DOG DAY AFTERNOON but, frankly, it's better."
61. THE BIG HEAT (1988), directed by Johnnie To and Andrew Kam - 42 points - LoveHKFilm Review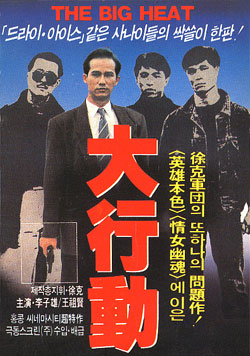 This early Johnnie To foray into the crime genre is better known for insane over-the-top violence than cool irony, pronounced brotherhood or Buddhist leanings. Directing alongside Andrew Kam, To delivers this seemingly routine cop thriller about a nerve-damaged cop (Waise Lee) who goes after the bad guys leading to a shocking abundance of blood flowing, heads rolling, cars zooming through the air and Joey Wong looking pretty. Wong is pretty much a flower vase, but if you watch THE BIG HEAT, you're not here for deep acting or characters. You're here for the creative, excessive and absolutely admirable bloodshed and mayhem. It's not Milkyway Image but that doesn't matter, right?
Well, we're 40% done with this thing! Wong Jing is still stuck at 2 films, unless you count the Wong-produced THE SEVENTH CURSE. Looks like Sammo Hung and Maggie Cheung are coming on strong though, with each notching four films so far, not counting cameos. The big winner: the Shaw Brothers, with 8 films out of the first 40. And hey, no PEKING OPERA BLUES yet!
Next time: Numbers 60-41. We guarantee more Chow Yun-Fat!