November 4th, 2012
Hey everyone, it's time for the next and final reader vote here at LoveHKFilm.com. Who's ready?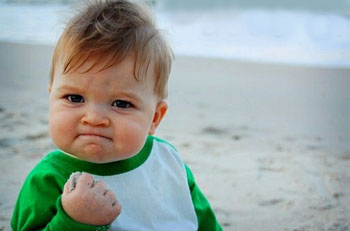 "This time FUTURE COPS wins for sure."
As it's the 10th year of this site's existence, I figured it would be nice to run one last winner-takes-all reader vote for The Best 100 Hong Kong Films Ever. It'll work the same as it always has: readers vote, I tally up the picks and them announce them countdown-style. Each time I've done this, it's provided entertaining results that help to alleviate the boredom of at least a handful of people. So why not again?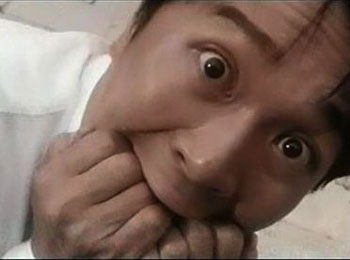 "My films never come in first place! Why am I such a failure?"
When compiled, the Best 100 Hong Kong Films Ever list will join our Top 50 Movies of the Aughts, Top 100 Hong Kong Movies of the Nineties and Top 100 Hong Kong Movies of the Eighties lists as compendiums of what LoveHKFilm.com readers and passerbys consider essential Hong Kong Cinema. Please note that the participants of these votes are not all Hong Kong Cinema scholars, nor have they seen every single Hong Kong film ever, so the results will likely be skewed towards certain films and genres. We do this for fun, so please try to have fun with it.
Also, as a bonus we'll be doing an extra side vote for Best Hong Kong Film Performances Ever. What that means is that readers can nominate actors and their specific roles, after which I'll tally the mentions for a countdown simliar to the Best 100 Hong Kong Films Ever.
I figure to see a lot of roles by this guy in there: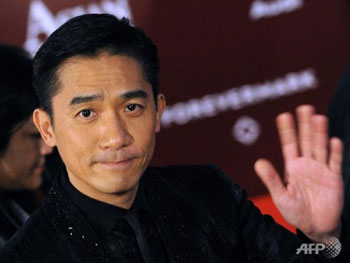 "Hi there, you may know me from all your favorite films."
Sadly, this guy is quite often ignored: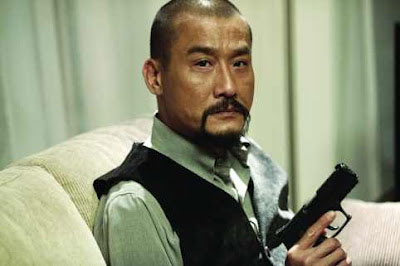 "Vote for me. Seriously, don't make me come through the monitor."
Like last time, the length of both lists (i.e., 50 films or 100 films, 30 or 50 actors) will depend on how many people respond. Right now I'm assuming that we'll do a Top 100 for films, but I won't know for sure until I get enough responses. Somewhere above 130 participants would be good. More respondents means more votes and hopefully more movies and actors mentioned. So, if you'd like to see a better countdown and list, please help publicize the vote on your favorite Hong Kong Cinema-related forum, blog, Facebook page or bathroom wall. Twitter is also a good way to spread the word.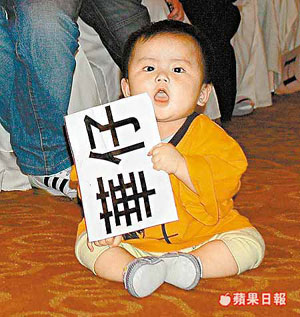 Babies like Andy Lau. They have to like somebody.
By the way, if I get enough nominations in the Best Hong Kong Film Performances Ever category, there is the possibility that it will be split into a Best Actor and Best Actress category. This is a best case scenario, of course, and it all depends on if you vote. So please do AND TELL YOUR FRIENDS AND ENEMIES TO VOTE TOO.
There's no need to vote for award-winners or critical faves. Just go with what you've seen and what you like - not to mention who you like. A good guideline is the similar A Hero Never Dies: Favourite Hong Kong Movies feature that recently completed its run in October. That feature is about favorites, and if you want to share those, please do. If you want to choose according to subjective "merit" you can do that also. Hey, it's up to you. Just try to have fun.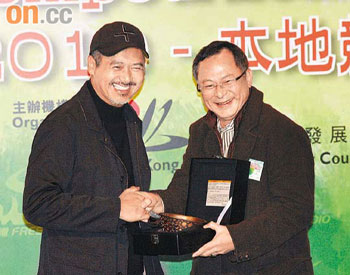 "We'll have fun all right…fun kicking everyone's asses!"
That said, I do plan on instituting a few rules that limit the fun that you can have. Some people think I'm fair but they're totally wrong.So, here's how we'll do it. It'll be mostly like previous votes, but there are separate votes for each of the categories (i.e., movies and also actors):
VOTING ON MOVIES:
1. Use the LoveHKFilm.com Contact Form to send us a list of your Best Hong Kong Films Ever.
2. You may list either 10 or 20 films* on your vote, and order them with #1 being the top-rated film and #10 or #20 being at back of the pack.
*As in previous votes, you can vote for either 10 or 20 movies. Please note that this WILL make a difference for the points that your films get. If you vote for only 10, then #1 gets 10 points and #10 gets 1 point. However, if you vote for 20 films, then #1 gets 10 points, #2 gets 9.5 points, and so on. To illustrate, a #10 film gets 5.5 points, and #20 gets 0.5 points. Voting for 20 films means 1/2 point steps between each film, as opposed to the 1 point step between each film that you would get when voting for 10 films.
I've explained the above point system in the past, so I won't do it again here. Trust me, it works.
3. Movies that qualify: pre-1997, please select Hong Kong films only. That is, if it's directed by Zhang Yimou, Chen Kaige or Zhang Shichuan and was made before 1997, do not vote for it. No love here for JU DOU, RAISE THE RED LANTERN and other stuff.
However, if it's a post-1997 China or Hong Kong film, you can vote for it provided that it received some form of release (video or theatrical) in Hong Kong. The easiest way to handle this qualification: Was it made after 1997 and did it get a Hong Kong DVD release? If so, it's fair game.
You can check year of production and HK DVD availability a number of ways. I suggest a combo of the Hong Kong Movie Database, HK Cinemagic and YesAsia.com.
4. You can only vote for individual films and not full series of films, e.g., no voting for the entire YOUNG AND DANGEROUS series as a single film. The only exceptions to this rule that I will currently allow are A CHINESE ODYSSEY and RED CLIFF, because both were also released as a single film besides being split into two movies. Though it has a long cut, INFERNAL AFFAIRS does not count because its longer cut did not play theatrically.
5. Please print in the subject line of your email "BEST MOVIES EVER".
6. It's optional, but you can write a few sentences or words about your selections. We may end up using them when the results are published.
7. Send in your votes by end of day on November 30th, 2012. I'm not pushing the whole GMT, PST, EST thing so there's some leeway. As long as I don't get your vote on December 3rd, you'll be fine.
Now for the voting on actors part. It's pretty much the same as the movies, i.e., vote for your faves. However, there are some limitations that I've thrown in to make it a slightly less user-friendly. Sorry about that, but we do wish to avoid crazy ballot-stuffing. Just be thankful we don't ask for your ID.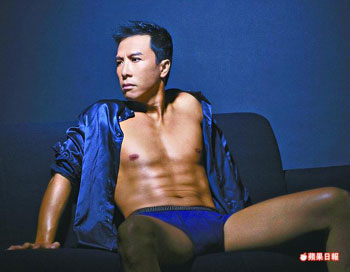 Donnie Yen appeals for your votes through indirect marketing.
VOTING ON ACTORS:
1. You can vote for Best Hong Kong Film Performances Ever on the same email as the Best Hong Kong Films Ever, using the same subject line and also the LoveHKFilm Contact Form. If you end up voting for just films and not actors, that's your prerogative and I'll adjust the tally accordingly.
2. If you must vote separately for Best Hong Kong Film Performances Ever, please type, "BEST PERFORMANCES EVER" in the subject line of your email.
3. When voting for a performance, please indicate the actor, the role they played, and also the film. If I can't figure if out from your description, I may have to discount the vote. The performances can come from any of the films that qualify above. Sadly, this means that Leslie Cheung cannot be nominated for FAREWELL, MY CONCUBINE. This is my saddest omission of all.
4. Performances must be noted PER FILM. That means that if you vote for Ekin Cheng as Chan Ho-Nam, you MUST select one of his 7 appearances as Chan Ho-Nam. There is no voting for a "Series." Notable exceptions to this rule are films produced as 2-3 parts of the same series simultaneously, like RED CLIFF and A CHINESE ODYSSEY.
5. You may vote for anywhere between 5 to 10 Performances for Best Hong Kong Performances Ever. Each vote gets 1 point towards that Performance. You do not have to rank the Performances.
6. CONDITION 1: If you vote for 5 Performances, YOU MAY ONLY VOTE ONCE FOR AN ACTOR. That means only 1 in your 5 votes can single out Stephen Chow. The other 4 have to be someone else.
Example: If your list has 5 performances on it, you an list Charlene Choi as Yoyo Ma in MY WIFE IS EIGHTEEN, but you cannot also list her for her roles in SIMPLY ACTORS, THE TWINS EFFECT or HOT SUMMER DAYS. You have to fill the rest of your list with names like Edison Chen, Shawn Yue, Leo Koo or Tin Kai-Man.
HOWEVER, if you vote for 10 performances, YOU MAY VOTE THREE TIMES FOR AN ACTOR. That means, of your 10 selected performances, 3 can be Stephen Chow, 3 can be Maggie Cheung, etc.
Example: If you list has 10 performances on it, you can list Charlene Choi for her roles in MY WIFE IS EIGHTEEN, THE TWINS EFFECT and SUPER FANS. However, you can't list a fourth performance from Charlene Choi and must list actors like Ti Lung, Lam Chi-Chung, Siu Yi or Yuen King-Tan. However, on the same list as Charlene Choi, you can also list Gillian Chung for her roles in THE SPY DAD, NARAKA 19 or HOUSE OF FURY. Just no fourth film for either, got it?
The goal here is to recognize different performances and not to concentrate them at the obvious 10-15 actors/actresses. Please help us out here.
7. It's optional, but you can write a few sentences or words about your picks. We may end up using them when the results are published.
8. Send in your votes by end of day on November 30th, 2012. I'm not pushing the whole GMT, PST, EST thing so there's some leeway.
And, that's it for all the rules. Sorry for the complexity, but without some framework it will be chaos, which could lead to an EEG Zombie insurrection - and nobody wants that. As mentioned before, please have fun with this. Vote for your faves and your other faves - don't worry about deserving films or those with "artistic merit" or even those with pre-disposed film geek bias (SPL, I'm looking at you.). Seriously, vote for what you want (within reason) and the world will be a better place.
I'm personally looking forward to the Best Performance Ever vote because it allows for some new competitions and hopefully a few surprises. Who wouldn't want to see these people gain some recognition?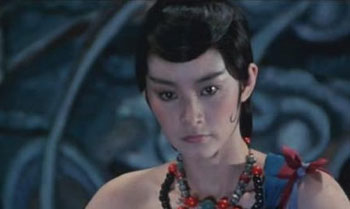 Surely you will place your vote for the narrator of BISHONEN.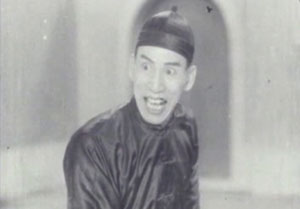 "Jet Li? Who the hell is this Jet Li guy?"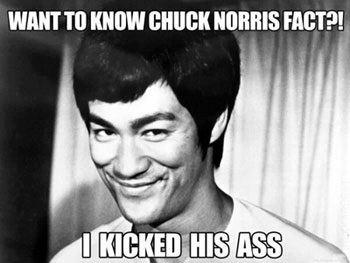 'nuff said
And again, I must stress this: PROMOTE THIS VOTE to your Hong Kong film friends and enemies. Besides making the vote a more interesting and fun exercise, more votes equals more films, more performances and a better list for everyone to nitpick and/or enjoy. Also, this vote will be the VERY LAST TIME that LoveHKFilm.com does something like this - though conceivably, some other cool website out there could pick up this torch and carry it forward. Yes, that means you, [Random Website or Blog Owner]. You can do it too!
The final word: I expect many crossovers between this and previous vote-winners, so for me the ultimate throwdown is between A BETTER TOMORROW, INFERNAL AFFAIRS and CHUNGKING EXPRESS. Will one of these films triumph again, or will something else rise above them all to take the BEST HONG KONG MOVIE EVER title? Really, your vote has everything to do with it.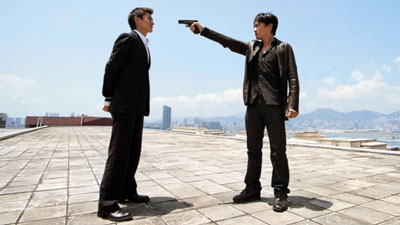 Prediction: A Top 2 finish. And if I'm wrong, I'll rig the whole thing.
Results happen in December. Merry Christmas!