March 23rd, 2010
Hello and welcome to the final episode of the Top 100 Hong Kong Films of the Nineties, as decided upon by LoveHKFilm Readers who had far too much time on their hands. This countdown has dragged on for a week now, so people must be ready to find out what's in the Top 5. You're all excited, right?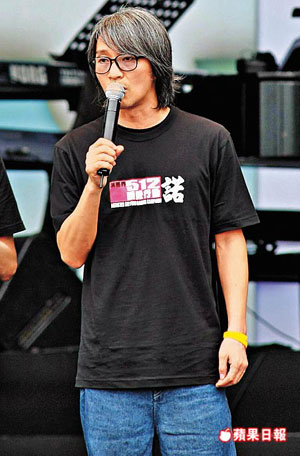 "I can't have any more movies on this list, so what do I care?
These people are morons if they can't rank me higher than #10!
I call shenanigans! Screw this! I'm going home!"
Well, maybe not everyone is that excited.
Anyway, it was necessary to drag this thing out for so long because A) we needed to manufacture suspense, and B) we needed to delay things to finish writing the blurbs, resizing the photos, and attending to that thing called a day job. But hey, we made it. We can finally return to our regular life, which involves sleep, some hopeful PS3 time and maybe some attention paid to the main LoveHKFilm website. Last we checked, it still existed.
We're always required to always say this: if you've just joined us, check out the earlier entries so as not to ruin the experience of reading the countdown from the very first entry. We urge you to punish yourself and start from the beginning:
Numbers 100-81
Numbers 80-61
Numbers 60-41
Numbers 40-31
Numbers 30-21
Numbers 20-11
Numbers 10-6
Okay, let's finish this thing! Then we can forget that it ever happened.
5. DRUNKEN MASTER II (1994), directed by Lau Kar-Leung - 350.5 points, 6 first place votes - LoveHKFilm Review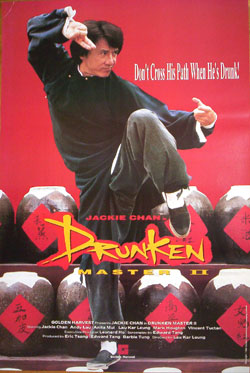 Jackie Chan's highest ranking film on this list is arguably the last truly great fightfest of his career, with later works weighed down by gimmicky plots or clumsy attempts at meaning. Grady Hendrix can close this one out: "Jackie Chan turned in three great films in the 90's and five second string films, but it's DRUNKEN MASTER 2 that will stand the test of time. Chan has always been generous to his co-stars as long as they're willing to stand up to him, and in DM2 he gives Anita Mui the spotlight, while Lau Kar-Leung and Ti Lung make the most of their limited screentime. Most importantly, this is a typical Hong Kong period martial arts movie done right: the nationalist angle works, the comedy is (mostly) funny, the production values are slick and the action is truly magnificent. Watching the three-stage climax sees character, story and action all come together into a seamless whole that kicks you in the face."
4. BULLET IN THE HEAD (1990), directed by John Woo - 370 points, 7 first place votes - LoveHKFilm Review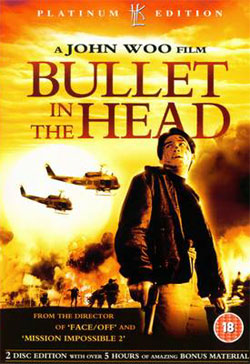 BULLET IN THE HEAD is heroic bloodshed taken to its most exhausting, compelling and gut-wrenching extreme. John Woo takes his usual themes (brotherhood, honor, loyalty, friendship, troublesome women), subtracts the romantic heroism, and then jacks everything up to an over-the-top, punishing eleven. The result is neither subtle nor polished, but it is exceptionally felt, with the overacting, bombastic music and obvious symbolism (the guy blocking the tank is NOT a reference to Vietnam) ultimately adding to and not detracting from the experience. In the lead, Tony Leung Chiu-Wai displays a ferocious inner emotion, while Jacky Cheung goes hilariously and then frighteningly over-the-top as the pal who gets the eponymous bullet in the head. John Woo brandishes a directorial hammer for BULLET IN THE HEAD, but instead of just hitting you over the head, he swings it with such force that it lodges deep in your skull, probably damaging you irreparably. Message to John Woo: thanks for the trauma! And the movie.
3. THE MISSION (1999), directed by Johnnie To - 412.5 points, 7 first place votes - LoveHKFilm Review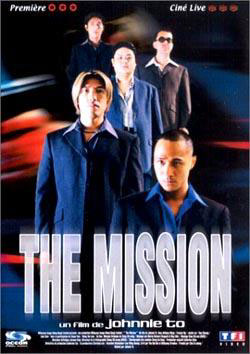 Johnnie To's filmmaking skills grew exponentially in the nineties, and with his last film of the decade, he pretty much claimed his position as Hong Kong's top filmmaker. The film in question: the oddball gangland thriller THE MISSION. Looking like just another one of To's rushed genre gems, THE MISSION proved to be his unexpected masterpiece, the director revealing a mastery of spare yet complete storytelling where inaudible grunts and subtle nods reveal more than whole pages of dialogue could. The action sequences here are surprising in their stripped-down stillness, with deliberate inaction proving far more exciting than bullet ballet or gooey squibs. To's five character actors — Francis Ng, Anthony Wong, Roy Cheung, Lam Suet and Jackie Lui — complement one another beautifully, creating strong, believable relationships through body language and wordless action. Ten years on, To has perhaps surpassed THE MISSION, with his ELECTION films showing us us a revered master who makes it look effortless and all-too-easy. THE MISSION, however, heralded the ascension of that master, and for an audience, that rush of discovery is impossible to recapture.
2. HARD BOILED (1992), directed by John Woo - 547.5 points, 9 first place votes - LoveHKFilm Review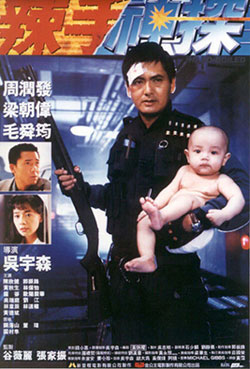 Site reader Mut said, "Considering it's possibly the greatest action film of all time, this was a no-brainer." That is correct, because this is HARD BOILED. John Woo's seminal actioner easily qualifies as one of the five Hong Kong films seen by every Hong Kong Cinema fan, and determining the other four films would probably lead to endless argument. But agreeing on HARD BOILED? No problem. BULLET IN THE HEAD is better thematically and emotionally, but can it match the pyrotechnic prowess or balls-to-the-wall insanity of this film? Of course not — we're talking about HARD BOILED! Chow Yun-Fat, Tony Leung Chiu-Wai and Anthony Wong are great actors and none won awards for this film. But they're awesome here because hey, they just appeared in HARD BOILED. And it's useless for me to try to justify why this movie belongs in a list of the Top 5 Hong Kong movies of the nineties. That's because — say it with me — THIS. IS. HARD BOILED.
1. FUTURE COPS (1993), directed by Wong Jing - 13864 points, 453 first place votes - LoveHKFilm Review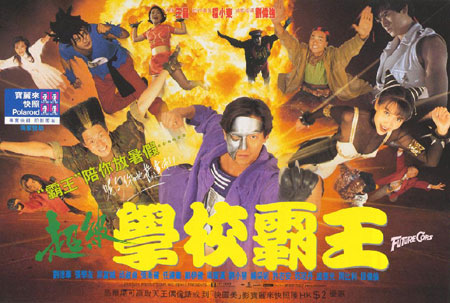 Few films are as beloved in Hong Kong Cinema history as Wong Jing's FUTURE COPS, a dazzling cinema concoction that could be considered one of the most entertaining films of this, or any other, decade. The shockingly original concept: a cabal of deadly villains goes back in time to assassinate a future judge, so the Future Cops follow to protect the judge's younger self. Along the way, the group question their identities and come to ask themselves a startling question: Truly, what is justice? The character designs and action are one-of-a-kind, as is Aaron Kwok's soul-searching performance as Ryu. Simon Yam rocks as Dhalsim, and Yuen King-Tan kicks ass as Chun-Li's mom. However, it's Dicky Cheung who cements his superstardom as Goku, a truly original character creation that has nothing to do with a property called DRAGONBALL, which also has a main character with spiky hair called Goku and was excessively popular in Hong Kong when FUTURE COPS was released. No, Wong Jing would never steal an idea from anyone else. Truly, the only thing that would have made FUTURE COPS any better is if they had somehow added Dan Hibiki to the film. If Wong Jing could go back in time, I'm sure he would.
Well, that's it for our Top 100 Hong Kong Films of the Nineties! See you next time!
…
…
…
…
…
…
…
…
…
…
…
…
Sorry, only kidding. The Number One Hong Kong film of the Nineties, as voted upon by LoveHKFilm.com readers is actually:
1. CHUNGKING EXPRESS (1994), directed by Wong Kar-Wai - 673 points, 24 first place votes - LoveHKFilm Review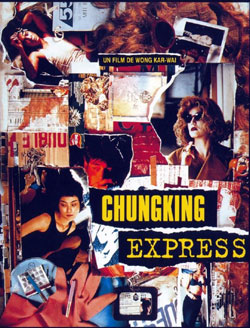 If this website had to choose one representative film, it would be this one: Wong Kar-Wai's CHUNGKING EXPRESS. As a nineties Hong Kong film, it's emblematic of why the industry was so wonderful at the time — except for the fact that it lacks any sort of martial arts or kung-fu. What does it have instead? Artful existentialism, urban alienation, postmodern self-analysis, the city as character, beguiling sitcom romance, cop soap opera, MTV-inspired visuals, Cantopop montage, plus unique Hong Kong locations and some of the most charismatic stars the industry had to offer. Tony Leung Chiu-Wai won multiple Best Actor awards for his coolly charming turn as lovelorn cop #663, while Takeshi Kaneshiro, Faye Wong and Brigitte Lin are impressive despite their lack of jury-given hardware. Romantic, breezy and gorgeously accomplished, CHUNGKING EXPRESS is a movie that makes love and its myriad, unexpected chances seem absolutely, wondrously possible. Grace Chow asks, "What isn't there to love about this movie?" Pretty much nothing.
And that's really it. Sorry for the lame fake-out, but it's the most comedy I can muster at this late hour. Thanks to everyone for providing their votes and quotes, and to all the image sources for the film posters and DVD covers. Perhaps we'll be back in a bit with a full list of voted-upon films and some minor statistics. Hope this was fun for everyone. It was for me, but now I need sleep.
Yotsuba and Batman say bye: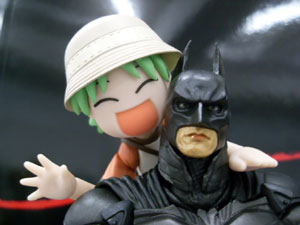 "Bye!"