March 21st, 2010
It's put up or shut up time as we enter the Top 20 of our Top 100 Hong Kong Films of the Nineties. Basically, everything that appears from here on out had better be a nearly-unassailable classic, or we'll have a lot of explaining to do. Already people are jockeying for position: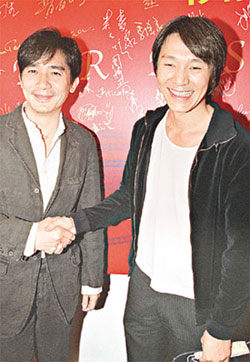 "Man, we are so going to own this Top 20!"

For the record, right now Tony Leung Chiu-Wai has 5 films in the Top 100, and Stephen Chow has 14. Tony does have some hole cards, though.
As explained in every single entry in this series, this list was selected by actual LoveHKFilm readers who took the time to send in their picks for their favorite Hong Kong films. Judging by the results, you can learn a lot — not only about who reads this site, but also about the general state of international Hong Kong Cinema fandom. Generally, we all watch too much Stephen Chow, plus we have stopped appreciating such fine artists as Carol Cheng, Ekin Cheng and Sammo Hung. Everyone out there, where is your sense of history?
Oh yeah, if you're just joining us, please check out the previous entries first so you don't ruin the surprise of finding out that the number one film is INFATUATION:
Numbers 100-81
Numbers 80-61
Numbers 60-41
Numbers 40-31
Numbers 30-21
Enough talk, it's time to see what shows up for numbers 20-11!
20. IRON MONKEY (1993), directed by Yuen Woo-Ping - 180 points - LoveHKFilm Review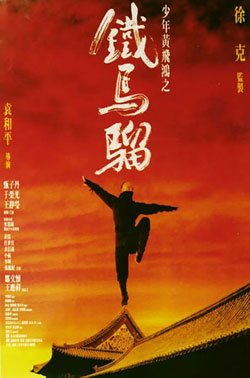 As perfect a definition of a Hong Kong film as you'll find, IRON MONKEY is one of the most enjoyable martial arts flicks of the early nineties not starring a guy named Jet or Jackie. Directed by Yuen Woo-Ping, produced by Tsui Hark and starring Yu Rong-Guang and Donnie Yen before he officially became DONNNNNIEEEE. Sadly, the arrival of the super elegant overproduced martial arts epic has made the chances of more movies like IRON MONKEY very rare. That's another reason why we should cherish this one.
19. FIST OF LEGEND (1994), directed by Gordon Chan - 187.5 points, 2 first place votes - LoveHKFilm Review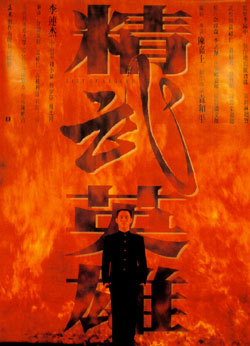 Lee Rankin calls FIST OF LEGEND "simply one of the best martial arts movies ever made," and enough people agreed to get the film into the Top 20. This remake of Bruce Lee's classic FIST OF FURY casts Jet Li in the Chen Zhen role, and gives him ample opportunity to own others - either one-on-one or one-on-many - and the destruction he wreaks is powerful, impressive, and sometimes more than a little unfair. Gordon Chan directs, but really, this is Jet Li and Yuen Woo-Ping's show.
18. KING OF COMEDY (1999), directed by Stephen Chow - 190.5 points, 1 first place vote - LoveHKFilm Review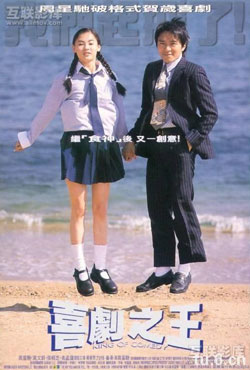 This layered laffer finds Stephen Chow as Wan Tin-Sau, a dense actor whose dedication to his craft is both a curse and a blessing. Struggling to win respect or even jobs, he finds purpose when he trains a young prostitute how to act more "professional". At one point she beats him up with a folding stool. LoveHKFilm reader Charles calls KING OF COMEDY "Stephen Chow's masterpiece - a movie about movies that plays with genres as often as he (the director) plays with the audience." The film also introduced audiences to some actress named Cecilia Cheung - which makes it more or less essential viewing for any Hong Kong Cinema fan.
17. ASHES OF TIME (1994), directed by Wong Kar-Wai - 200.5 points, 4 first place votes - LoveHKFilm Review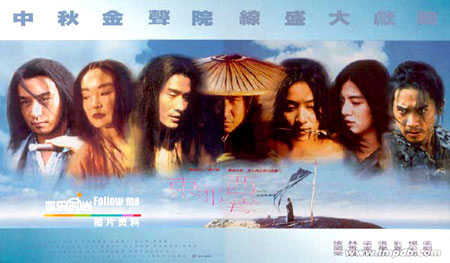 The late Barry Long saw Wong Kar-Wai's ASHES OF TIME during its theatrical run in 1994, and his reaction was, "I have no idea what's going on, but this movie rocks!" ASHES OF TIME was ahead of its time, but also a product of its times. The bombastic synthesizer soundtrack and over-stylized fight sequences confirm the film's nineties-era origins, but putting postmodern existentialism into a film based on a classic martial arts novel? That's something audiences weren't ready for. Fifteen years later, after the failure of THE BLADE and the success of CROUCHING TIGER, HIDDEN DRAGON and HERO? ASHES OF TIME can be called what it is: a masterpiece.
16. A CHINESE ODYSSEY PART I: CINDERELLA (1995) and A CHINESE ODYSSEY Part II: PANDORA'S BOX (1995), directed by Jeff Lau - 212.5 points, 4 first place votes - LoveHKFilm Review 1, Review 2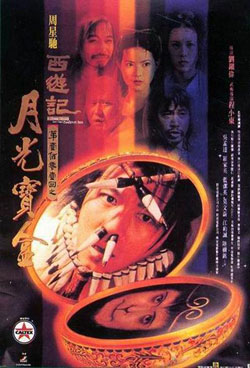 LoveHKFilm reader Garvin says that A CHINESE ODYSSEY is "the ultimate Hong Kong movie. A great blend of everything you would expect — mo lei tau comedy, crazy action, and surprisingly deep, heart-breaking drama (yes, really!). All capped off with a great performance from Stephen Chow, maybe his best ever." Garvin is right on the acting. Just check out the final scene of Part II, where Stephen Chow plays two characters, the mortal Joker and the the immortal Monkey King. They're the same guy at different times in their life, and Chow sells it through the light in his eyes and not just the Monkey make-up. Jeff Lau's comedies are sometimes too smart for their own good, but the CHINESE ODYSSEY films mix low brow shenanigans, cerebral gags and ardent emotions with delirious, affecting abandon. Ng Man-Tat as Piggy? A cast of females that includes Yammie Nam, Karen Mok, Ada Choi and Athena Chu? Icing.
15. FALLEN ANGELS (1995), directed by Wong Kar-Wai - 218 points, 3 first place votes - LoveHKFilm Review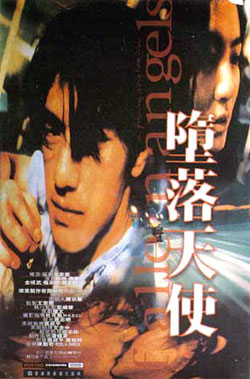 It's been called the "coolest movie in the world", but FALLEN ANGELS can also be called CHUNGKING EXPRESS pushed to lurid, excessive, over-the-top romantic genre extremes. Grady Hendrix sums this one up thusly, "Wong Kar-wai has made better movies, but I prefer him in his pop-tastic mode, and FALLEN ANGELS sees his nineties mannerisms pushed to high art. Resolutely a product of Hong Kong genre filmmaking with embarrassing slo-mo musical montages and improbably badass action scenes, its highs are higher (and lows, lower) than anything else he would ever make. Free of the artsy self-consciousness that would infest his later movies, it gets on this list for having the world's most perfect final shot, if for nothing else."
14. C'EST LA VIE, MON CHERI (1993), 227.5 points, 3 first place votes - LoveHKFilm Review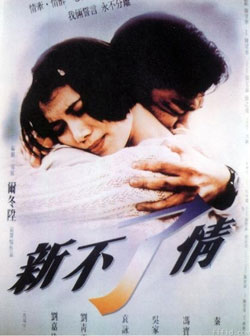 Basically LOVE STORY told Hong Kong-style, C'EST LA VIE, MON CHERI demonstrates how to tell an age-old story in sublime style. Derek Yee's tearjerker delivers expected emotions, but refuses to narrate or spoonfeed, instead selling situations and subtle growth in characters that we learn to deeply care about. Also, Chris Babida's music is amazing. Anita Yuen deservedly won her first of two consecutive Best Actress Awards, and the film's portrait of local Hong Kong culture and clashing classes is as fascinating and affecting as its terminal illness plotline. Yet another classic Hong Kong film that is now hard to find on DVD.
13. HAPPY TOGETHER (1997), directed by Wong Kar-Wai - 232 points, 3 first place votes - LoveHKFilm Review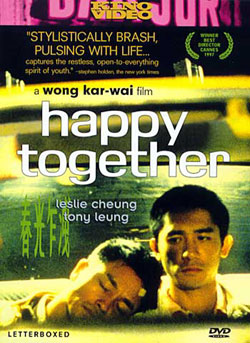 Grace Chow says, "The melancholy, suppressed, alienated atmosphere in this movie is painful and familiar at the same time." HAPPY TOGETHER so deeply enters the emotions and psyches of its protagonists that it easily rises above its dismissive label as "gay cinema", becoming something universal that can be understood and appreciated by just about anyone. Replace either Leslie Cheung or Tony Leung Chiu-Wai with a female actor and you'd still have an amazing film. Still, then you'd miss out on seeing probably the most handsome couple in Hong Kong Cinema history. Leung won the acting awards, but Cheung's performance is the more heartbreaking.
12. FONG SAI YUK (1993), 242 points, 1 first place vote - LoveHKFilm Review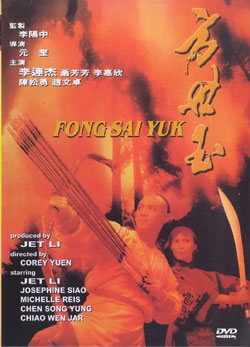 FONG SAI-YUK should be considered one of the finest examples of nineties Hong Kong Cinema. It's got comedy, switched genders, mistaken identity, chaste romance, and exciting, creative kung-fu action plenty. Like many nineties Hong Kong films, its certainly uneven, but its shifting tones and disparate genres are what makes it a classic. Adam Laidig says, "Every time one of its flaws crops up on screen there's someone right there to gloss over it with two coats of charm." Jet Li is one of those someones, but there's also the beautiful Michelle Reis and the legendary Josephine Siao, who pretty much owns FONG SAI-YUK with her divine comic turn as Fong Sai-Yuk's too-cool-for-school mom. And Zhao Wen-Zhou as the villain? Awesome. Possibly the most fun movie Jet Li ever made.
11. COMRADES, ALMOST A LOVE STORY (1996), 276 points, 7 first place votes - LoveHKFilm Review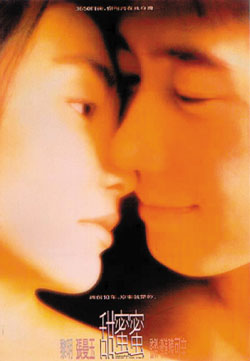 The big winner at the 1996 Hong Kong Film Awards, Peter Chan's COMRADES, ALMOST A LOVE STORY is easily the Hong Kong romance of the nineties, referencing the city's romantic history while also touching upon the Chinese diaspora and such nifty ideas as identity, serendipity and predestiny. It's impossible to talk about COMRADES without talking about Leon Lai, who's great here, and Maggie Cheung, who's more than just great — she raises the film to a complete other level. Says reader KL, "Without Maggie Cheung, this is just a good film. With Maggie Cheung, this is a wonderful film. Her radiant face and heartfelt performance are a real pleasure to behold." In the 21st century, Chan has busied himself with expanding the financial viability of Hong Kong and Asian film through projects like PERHAPS LOVE, WARLORDS and BODYGUARDS AND ASSASSINS. But wouldn't it be great if he could make just one more personal romance? If he could coax Maggie Cheung back to the screen for a starring role, it would be the Hong Kong film of that year. Hard to find on DVD now. My copy is in a safe deposit box somewhere.
Woohoo, that's it for the Top 100 Hong Kong Films of the Nineties! Thanks for tuning in everybody! Next time we do this, we'll do something like the Best Punches to the Face in a Hong Kong Film or maybe Best Hong Kong Films Involving a Fart Joke – you know, something important that shows people what an authority we are on the online Asian Cinema scene. Trust me, it'll be awesome.
Oh whoops, we still have 10 left to go. I'll figure out what they are by tomorrow.