March 22nd, 2010
Welcome to the latest entry in our Top 100 Hong Kong Films of the Nineties, yadda yadda yadda, blah blah blah. You know the drill, so let's get to it, okay? We're not getting any younger.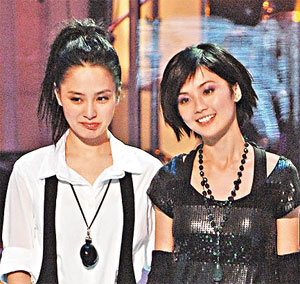 "God, that Webmaster Kozco is so rude, Charlene!
And what's this comment about not getting any younger?
Thanks to digital photography, I'll be 23 forever!"
Today's entry introduces you to Numbers 10-6, as usual determined by actual LoveHKFilm readers. We're down to ten left, but because we enjoy dragging this thing out until the very end, we're splitting the final ten into two posts with five films apiece. You can do math with that information.
Standard boilerplate: If you have yet to start reading this Top 100, we highly suggest you go back to the beginning so that you don't inadvertently reveal to yourself that the #12 movie on this list is RUMBLE AGES. Earlier entries:
Numbers 100-81
Numbers 80-61
Numbers 60-41
Numbers 40-31
Numbers 30-21
Numbers 20-11
Let's get this thing going!
10. GOD OF COOKERY (1996), directed by Stephen Chow and Lee Lik-Chee - 293 points, 2 first place votes - LoveHKFilm Review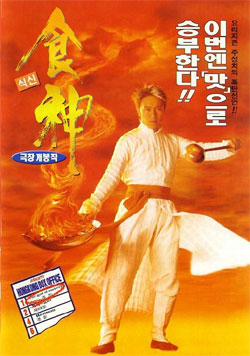 GOD OF COOKERY is a masterpiece of mo lei tau that would probably own the distinction of being Stephen Chow's most popular film if not for all those fanboy faves that came out during the 21st century. It's one of his most accessible and funniest films, but also has a striking emotional edge, largely thanks to Karen Mok's Sister Turkey. Tats Lau as the Shaolin Monk named Wet Dream is also a big highlight, as is Ng Man-Tat in a rare villain turn. The rest of the cast is also aces: Vincent Kok, Law Kar-Ying, Nancy Sit, Christy Chung — and hey, isn't that Lam Suet? As Jennifer Ng says, "Squirting beef balls you play tennis with and a fat guy running on the beach — this one ranks higher than SHAOLIN SOCCER for me. Sorry, guys." Hey, no apology necessary.
9. DAYS OF BEING WILD (1991), directed by Wong Kar-Wai - 304.5 points, 4 first place votes - LoveHKFilm Review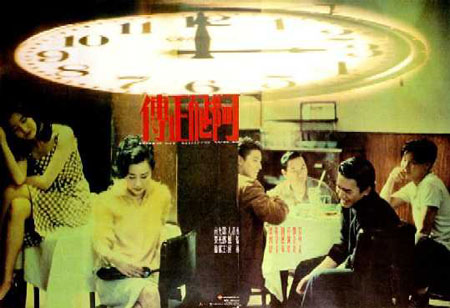 Holy cow, look at that cast! If not for ASHES OF TIME, DAYS OF BEING WILD would be Wong Kar-Wai's most star-jammed film, but the cast is arguably put to better use here. Not only does this film contain Andy Lau's best acting of the early nineties, but it features perhaps Leslie Cheung's best acting ever – if you ignore that FAREWELL MY CONCUBINE film. Also, that last scene with Tony Leung Chiu-Wai is mesmerizing, despite containing no dialogue and essentially leading nowhere until 2000, when the character reappears (maybe) in IN THE MOOD FOR LOVE. Probably not Wong Kar-Wai's most enjoyable look at romance, but DAYS OF BEING WILD captures love's insecure, interminable state of limbo like no other film. At one time or another, everyone has felt like one of the love-paralyzed characters in DAYS OF BEING WILD. Even if that character is the one played by Rebecca Pan.
8. ONCE UPON A TIME IN CHINA II (1991), directed by Tsui Hark - 306 points, 2 first place votes - LoveHKFilm Review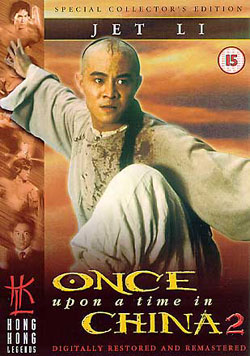 The debate over which ONCE UPON A TIME IN CHINA film is better rages eternally, and many choose ONCE UPON A TIME IN CHINA II. It's not hard to see why, what with the addition of action director Yuen Woo-Ping, who choreographed the awesome fight sequences between Wong Fei-Hung and the White Lotus Cult, plus Jet Li's classic duel with Donnie Yen. The appearance by David Chiang as Sun Yat-Sen is also cool, helping to enrich these folk hero stories with more nationalist themes and actual history. Tsui Hark's OUATIC movies pretty much defined epic martial arts movies for the nineties, and were the defining form until CROUCHING TIGER, HIDDEN DRAGON came along and made it all so elegant. Apologies to Jackie Chan, but Jet Li was the martial arts star of the nineties. Among the many films that showed that Tsui Hark was the best commercial film director of the Hong Kong New Wave.
7. ONCE UPON A TIME IN CHINA (1990), directed by Tsui Hark - 335.5 points, 4 first place votes - LoveHKFilm Review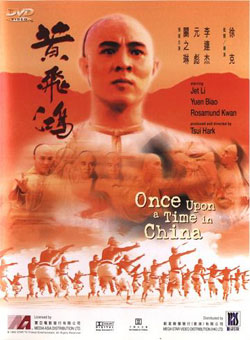 Of course, then there are those who think that the original ONCE UPON A TIME IN CHINA is the best OUATIC movie — and they have a pretty damn good case, too. Grady Hendrix describes OUATIC I as "The alpha of Tsui Hark's period martial arts movies. A lot of people prefer OUATIC 2, but for me this is the one to watch. The foreigners are more devious, Iron Robe Yim is more tragic, Jacky Cheung is a great Bucktoothed So and Yuen Biao is a better Leung Foon than Max Mok any day." The first entry in this classic series, OUATIC was more obvious in its political themes than its sequels, which trended more towards big-screen entertainment as they progressed. Regardless, it's an undeniable classic and Jet Li's take on folk hero Wong Fei-Hong makes it extremely difficult to imagine anyone else taking on the role. Given the upgraded elegance of this genre (see FEARLESS or TRUE LEGEND to get an idea of that), seeing a new Wong Fei-Hong epic is only a matter of time. But will it ever be as good as ONCE UPON A TIME IN CHINA? I'm betting no.
6. RUNNING OUT OF TIME (1999), directed by Johnnie To - 342.5 points, 5 first place votes - LoveHKFilm Review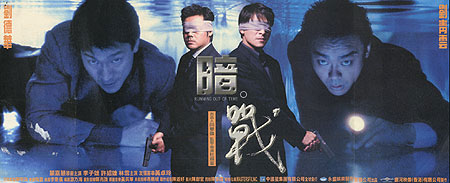 If RUNNING OUT OF TIME teaches us anything, it's that Andy Lau needed Johnnie To. The master director took Lau's showy screen persona and molded it into his RUNNING OUT OF TIME character, resulting in Lau's first Hong Kong Film Award for Best Actor and the first of three awards overall. However, often overlooked amidst the praise for Andy Lau is Lau Ching-Wan, whose performance here is only typical for the actor — meaning it's a charismatic, rock-solid performance that perfectly supports his co-stars and the movie. Milkyway Image hit a new high with RUNNING OUT OF TIME, suddenly becoming a hitmaking production house and soon the toast of the genre film fest circuit. Oh yes, the movie is also pretty damn good. Really, it's hard to find anyone who'll say anything negative about RUNNING OUT OF TIME — it's just that popular. The sequel? Originally hated and now underrated.
And that's it for this time! Tune in tomorrow when we'll throw out Numbers 1-5 and end our unbelievably interminable coverage of the Top 100 Hong Kong Films of the Nineties. I hope you had fun. I did, but it's hard to tell from the lack of sleep plus my constant griping.