Thursday, April 8th, 2010
NOTE: If you're just staring to read this Top 100 list, please go back to the very beginning to experience it from #100. Starting here will spoil the fun, plus result in the death of kittens.
On the list of things that I should be doing at this very minute, putting up a complete list of our recent Top 100 Hong Kong Films of the Nineties is not one of them. But it's been nearly two weeks since the results went out so I figured I should finally get to it.
These guys were happy with the results: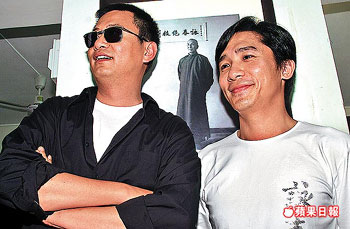 "We have triumphed again, Tony.
Wilson and Donnie have nothing on us!"
Can't wait for the scene in Wong Kar-Wai's IP MAN where Ip Man kicks ass and then smokes in slow motion for about half-an-hour.