February 5th, 2008
Hong Kong is so boring and cold. Nothing is happening at all right now.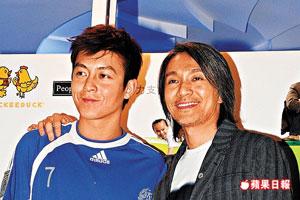 Stephen, you'd better wash your right hand.
Actually, unless you've been hiding under a rock, you do know that something's up, namely the ire of the populace and the local media thanks to the appropriately named Edison-Gillian-Bobo-Cecilia Scandal. I have been asked my opinion on this subject by about three people…so I'm going to post it on my blog!
To be honest, my response is a rather pedestrian one that really means nothing. Indeed, this whole fiasco really doesn't bother me that much. I'm more bothered by the fact that it has delivered tons of useless traffic to my website, in the form of people desperately searching out photos of Edison and his conquests. I live in a small world.
But in the meantime, I'd like to say that this is an invasion of privacy and probably one of the stupidest things I've ever been witness to.
No, I'm not talking about the pictures themselves, which are someone's private business and were taken by a bunch of consenting, but rather foolhardy individuals. Really, nothing is that shocking here, unless you're so prudish that sex is a complete turnoff. So, young women have sex? Yes, they do. So, a dope kid like Edison takes pictures of his conquests and saves them on his hard drive? Hardly a surprise, considering the "I'm from the streetz" stereotype Ed seems determined to embody with every phrase or action that he's party to. At least he never claimed to be a role model.
Basically, we've learned three things from this:
1. Edison Chen is someone who you would like to stay away from your sister.
2. Famous women can have bad taste in men, and can sometimes do stupid things just like regular women.
3. Hong Kong is full of people who should know better.
I say this last thing because some people seem to act like they have a right to own these photos. Currently, webmasters of forums that hosted the photos are being arrested, leading to outrage from the local citizenry. Results of a current Apple Daily poll are frightening. According to the poll, 76% of all respondents think the blame for this fiasco actually lies with the photographer, and not with the people who chose to illegally distribute the offending photos without said photographer's permission. There's even talk of some sort of protest or march in support of people who posted Edison's private photos on their websites. Say what?
Sometimes I wish people would just learn to leave these things alone. Did we really have to see and share these photos? Artists are people, too. They don't belong to us. We can make fun of them if they trip up publicly, but this is a case of criminals taking private property that belonged to someone and using it to damage them. The artists are the victims here. Even Edison.
I still wouldn't want him to date my sister, though.
Let's close this with a photo: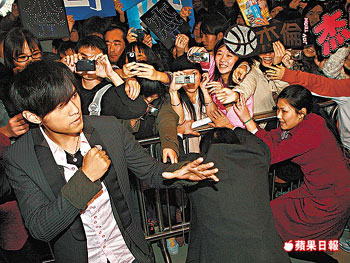 "I'll beat up anyone who says anything bad about Ryosuke."