July 21st, 2009
Wong Cho-Lam believes that we can save Hong Kong Cinema: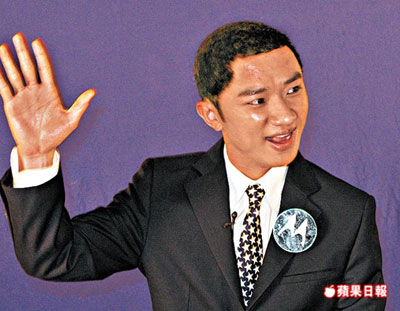 "Hong Kong Cinema fans, yes we can!"
If it's not clear from his outfit and slightly darkened skin, that's Wong Cho-Lam doing an Obama impression. Score another one against Political Correctness. I found myself so offended by the above that I immediately went to see TRANSFORMERS: REVENGE OF THE FALLEN.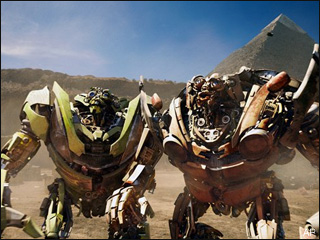 Setting the art of cinema back two decades.
After seeing TF:ROTF, a friend asked me if I found the film to be racist, and I would have to say that I did. The film was racist, sexist, juvenile and immensely stupid. It also had awesome visual effects so I can't say that I didn't get a little of what I paid for.
Was I offended by Michael Bay's fist-pump into my grill? Not really. To be fair, Hong Kong Cinema, which I regularly champion, has long been xenophobic and culturally insensitive too. TRANSFORMERS 2 was disturbing in its 2.5 hour onslaught of general immaturity, but if the Internet and beer commercials have taught us anything, it's that the true measure of conventional taste can be found on a junior high school playground.
Anyway, I'm sure there's something offensive about this picture too: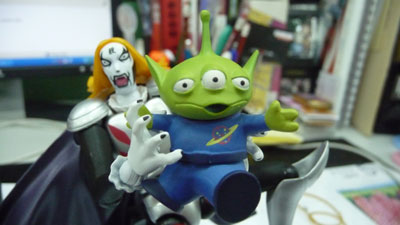 This picture makes fun of death metal aficionados and illegal aliens
On to the topic actually described in our post slug…
2009 is now half over and predictably, Hong Kong Cinema isn't doing so hot. Up until June 30th, Hong Kong has barely seen over 20 locally-produced films, co-production or otherwise, so choosing a Top 10 at this juncture is a bit ridiculous. The top three or four films are justifiably good ones, but once you hit number 8 through 10, you're dabbling in average if not lesser stuff.
But what the hell, I'll post a Top 10 list anyway.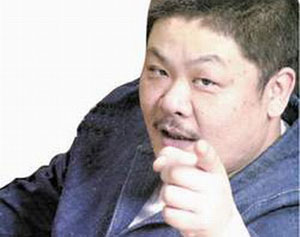 "Yessss! You are the man, Kozo!"
Hey, thanks. I try.
By the way, I have to preface this list by saying that I have yet to see three films from the first half of 2009: I CORRUPT ALL COPS, A VERY SHORT LIFE and TEAM OF MIRACLE: WE WILL ROCK YOU. Kevin Ma reviewed the first two and I'll catch all three on DVD eventually. The second one is already available, but somehow I'm not going nuts trying to squeeze it into my viewing schedule. I'd rather play more STREET FIGHTER IV on my new Samsung LCD television.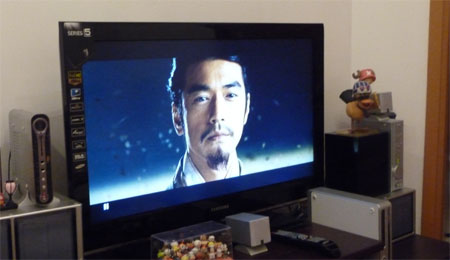 My credit card…maxed out again.

Anyway, here's my list of notable Hong Kong movies from the first half of 2009:
RED CLIFF 2
NIGHT AND FOG
CLAUSTROPHOBIA
THE FIRST 7TH NIGHT
TACTICAL UNIT - COMRADES IN ARMS
SHORT OF LOVE
SHINJUKU INCIDENT
THE SNIPER
PERMANENT RESIDENCE
BASIC LOVE
Yes, BASIC LOVE and PERMANENT RESIDENCE made my Top 10 list for the first half of 2009. In equally disturbing news, I ate a bug.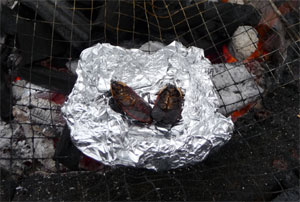 Hmmm…protein.
By the way, if you're following along, the above is a reference to a blog post from a loooooong time ago, where I said I would eat a bug if LADY COP AND PAPA CROOK sucked. Well, it did and I ate a bug. I probably would not have gone through with my glib promise, but people actually mentioned this to me through email AND in person, so I somehow felt I had to keep my word. I only missed three days of work, too. The lesson I learned: word your promises carefully, so nobody can claim that you are a liar.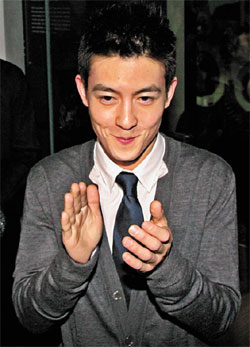 "I'm going to eat a bug too…
…after an indefinite period of time
which I will not define publicly."
Some notes: Both THE FIRST 7TH NIGHT and CLAUSTROPHOBIA are actually 2008 films, but since they weren't counted at LoveHKFilm.com's annual awards-fest, I'm throwing them into the ring this year. Some films I dropped from consideration were Media Asia's CITY OF LIFE AND DEATH, which I would count as a China film due to co-production status and subject matter, and Edko's BLOOD: THE LAST VAMPIRE, which is largely Hong Kong-produced, but should never be considered a Hong Kong film because of, well, pretty much everything about it outside of Corey Yuen. It's also really bad.
Last year, Donnie Yen said, "There is no more Hong Kong Cinema." I'm inclined to agree. 2009's top Hong Kong film so far, ALL'S WELL END'S WELL 2009, deferred so much to mainland China that it's hard to classify as a Hong Kong film. Sure, it was a virtual remake of the 1992 ALL's WELL END'S WELL, but with mainland locations and actors, it ended up not having much of a Hong Kong identity. Back in the eighties and nineties, this wasn't the case, as movies could survive handily despite targeting only local audiences. Nowadays, it's all about pleasing the people up north.
This guy knows which side his bread is buttered on: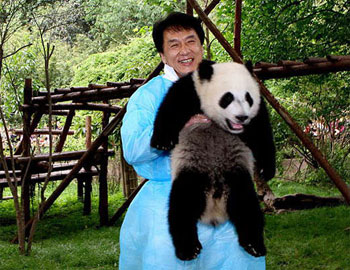 In an effort to annoy even more of Asia,
Jackie Chan has turned to harrassing pandas
Hong Kong Cinema's eroding identity is a problem that's probably never going to see a solution, as the local film industry is no longer self-sufficient. Hong Kong's former status as "Hollywood East" was completely illogical anyway, since a territory this small should never have been able to support an industry with an output of 300-400 films yearly. The movie industry of the eighties and early nineties really was lightning in a bottle. Hong Kong Cinema had it all: charismatic stars, a paying public, modest budgets, populist genres, and creative filmmakers. Which of those five factors still remains strong today? I'm betting not more than one or two.
Thankfully, 2009 gave us this movie, which had the best near-kiss of the year: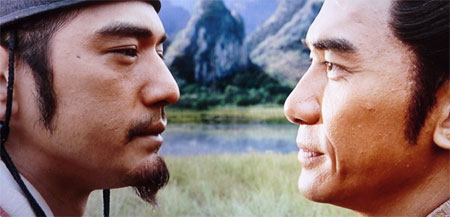 "Come closer, you handsome devil."
Yep, after about 2 minutes of consideration, I'm giving the Best Film of 2009 - Early Edition Award to John Woo's RED CLIFF 2 because it's probably the most entertaining and satisfying motion picture I've seen this year. Is it really a Hong Kong film? That's somewhat questionable, but at least local audiences actually went to see it. Besides, the rules of the LoveHKFilm Awards allow it.
What's the big lesson from this whole discussion? Probably that most of the films currently on the above Top 10 list will not be present come January 2010. This year still has a slew of promising stuff coming out. Sure, not MURDERER, but WRITTEN BY already leapfrogs over most of the Top 10 list, and I'm hoping stuff like OVERHEARD, BODYGUARDS AND ASSASSINS, ON HIS MAJESTY'S SECRET SERVICE, VENGEANCE or the new MCDULL movie may end up knocking BASIC LOVE off this list.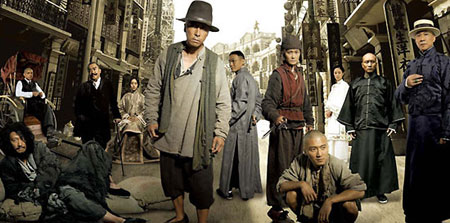 If this movie is not better than PERMANENT RESIDENCE,
I'll take an indefinite leave of absence from the Hong Kong Entertainment circle
I've got high hopes for Ivy Ho's CROSSING HENNESSY too: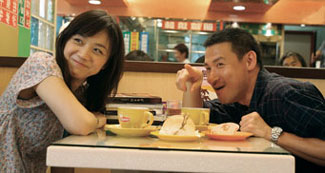 I'm betting that Tang Wei and Jacky Cheung
will break the post-MURDERER Edko Films curse
We also have STORM WARRIORS to look forward to, and between them Dante Lam and Herman Yau have about thirty movies in production.  There's also another Wong Cho-Lam movie, plus the return of Stephy, so 2009 still has some promise. Maybe.
I just hope that audiences turn out to see these movies - yes, including the one starring Stephy. If there's actually a paying audience for these flims, it may one day pave the way for Hong Kong Cinema to release, oh, 60 films per year if not a whopping 70. All it takes is some box office support and a little less downloading or bootleg buying. Actually giving a crap would help too.
Just remember: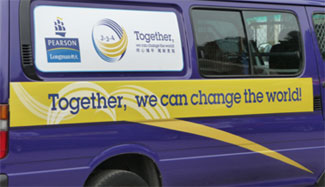 The best advice is always found on the side of a van