Monday, December 21st, 2009
Voting for the Top 25 Hong Kong Films of the Decade ends this Friday, and response has been good. I was hoping to get 100 respondents and we're getting there - no small feat for a dinky blog/site like this one.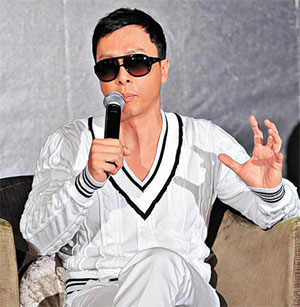 "Your website is so small,
that I could easily crush it with my left hand."
The best thing about the votes so far is that the films have been so diverse that I can expand this list to a Top 50. Hopefully, a Top 50 would help people discover more key films of the 'aughts than this site's up-and-down reviews do. Also, a Top 50 allows for lots of films aside from the "usual suspects" to make the list - if you get my meaning.