December 31st, 2009
We're getting there. Numbers 10 through 4 of our LoveHKFilm reader-appointed Top 10 Hong Kong Films of the decade list can be found after the jump. Are there any more Johnnie To movies left to add to this list? The man made 23 films during the Aughts and 14 remain unaccounted for, so the 10 slots left are not enough for them all. I guess that means no love for LINGER.
Previous updates:
Numbers 50-41
Numbers 40-31
Numbers 30-21
Numbers 20-11
Let's get to it:
10. RUNNING ON KARMA (2003), directed by Johnnie To and Wai Ka-Fai - 220 points, 5 first place votes - LoveHKFilm Review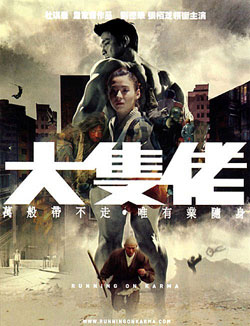 As if Andy Lau in a fat suit wasn't enough, in 2003 Johnnie To and Wai Ka-Fai gave us Andy Lau in a muscle suit. However, RUNNING ON KARMA couldn't be more different than LOVE ON A DIET. Johnnie To and Wai Ka-Fai take their Buddhist obsessions to a surprising extreme, challenging the safe notions of commercial cinema while simultaneously shocking, delighting and confounding their audience. Grady Hendrix says that RUNNING ON KARMA is "everything that is good and kind and accomplished and ridiculous and stupid and grotesque and head-scratching and over-the-top and insane and amazing and surreal and powerful about Hong Kong movies rolled up into one." Well said.
9. INFERNAL AFFAIRS II (2003), directed by Andrew Lau Wai-Keung and Alan Mak Siu-Fai - 229 points, 4 first place votes - LoveHKFilm Review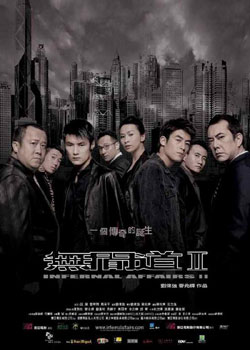 Some people say its better than the first one, and it's genuinely hard to disagree. Whereas INFERNAL AFFAIRS was thrilling and overtly commercial, INFERNAL AFFAIRS II is measured, intelligent and subtly rewarding, taking the first film's iconic characters and developing them in surprising and spectacular ways. Francis Ng adds to his lengthy list of award-caliber performances, and Shawn Yue shows that he's got more going on than media-appointed status as a hot young thing. There are some debits that are understood for a quickie sequel, but INFERNAL AFFAIRS II is as quality as Hong Kong commercial cinema gets. If only INFERNAL AFFAIRS III was half as good.
8. ONE NITE IN MONGKOK (2004), directed by Derek Yee - 232 points, 1 first place vote - LoveHKFilm Review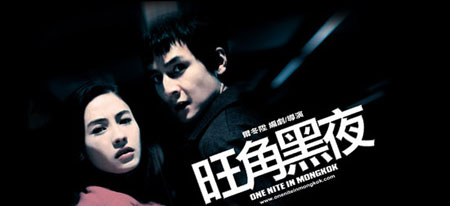 Derek Yee's ONE NITE IN MONGKOK is the decade's classiest crime thriller, going for smart dialogue, solid dramatic performances, and much less style and "aren't we clever" irony than a decade of Johnnie To has conditioned us to. This is film storytelling at its finest, with strong, clear themes and a cinematic atmosphere that portrays the choked streets of Mongkok with claustrophobic accuracy. The eclectic and very deep cast delivers, with Daniel Wu and Cecilia Cheung providing the star power, but it's Alex Fong Chung-Sun as the pursuing cop who gives the film its hard, compromised soul.
7. HERO (2002), directed by Zhang Yimou - 251 points, 3 first place votes - LoveHKFilm Review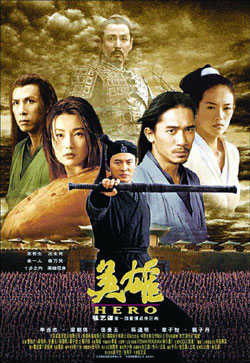 Iffy politics aside, HERO is a masterpiece - and shouldn't it be? It's got China's best director, Hong Kong's best actor and actress, arguably Asia's top martial arts star, China's hottest ingenue, plus DONNNNNIEEEE. More important, HERO has color, which is brilliantly used to shade each perspective of the film's perfect Rashomon-like structure. HERO is a gorgeous swordplay film about the true nature of heroism, and a stunning, artful advancement in the big budget wuxia sweepstakes that began with CROUCHING TIGER HIDDEN DRAGON. Given Zhang Yimou's subsequent and lesser HOUSE OF FLYING DAGGERS, HERO may also be the pinnacle of this genre.
6. ELECTION (2005), directed by Johnnie To - 267 points, 2 first place votes - LoveHKFilm Review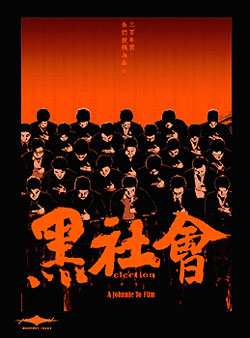 Looking to join the triad? If so, then ELECTION is required viewing. Johnnie To's deadpan brilliant crime thriller consistently enthralls while also playing like a real-world primer on triad politics, with the "dos" and "don'ts" highlighted for those aspiring to one day lead their own gang. DO: suck up to the "uncles". DON'T: behave like a rabid pit-bull and kick your brothers down Lion Rock in wooden crates. DO: threaten your rivals calmly, while also extending one hand in forgiveness. DON'T: start fights that you can't win, like you versus everyone. DO: invite your former rival to go fishing while packing a shovel. DON'T: accept an invitation to go fishing with your former rival EVER. Hell, these tips work pretty well in the workplace too. Thanks for the life lessons, Johnnie!
5. EXILED (2006), directed by Johnnie To - 276 points, 6 first place votes - LoveHKFilm Review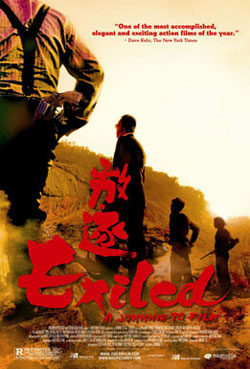 A gangland actioner supreme, EXILED is the film that everyone wanted Johnnie To to make. He'd already reached the top of his game with the ELECTION movies, so why not call up some old friends, light up a couple of cigars and reminisce about the good 'ol days a.k.a. THE MISSION? That's pretty much what EXILED is - THE MISSION with richer production values, newer Milkyway Image players, super-pronounced bromance, and a self-referential streak that borders on parody. There's some stuff in EXILED that's arguably necessary, but when it's sandwiched between thirty-seven layers of coolness, who the hell cares? EXILED is one for the fans. Aren't we lucky bastards.
4. KUNG FU HUSTLE (2004), directed by Stephen Chow - 281 points, 1 first place vote - LoveHKFilm Review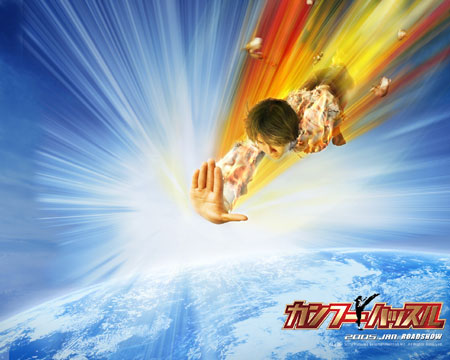 The Buddha's Palm owns all, and so does KUNG FU HUSTLE. An exciting, hilarious and stunning Hong Kong film, KUNG FU HUSTLE was groundbreaking and revolutionary back in 2004, and yet Hong Kong Cinema still hasn't figured out what made the film so damn good. Maybe that's because it takes a mad genius like Stephen Chow to even attempt a combination of kung-fu, Looney Tunes, the Shaw Brothers, Stanley Kubrick, and state-of-the-art CGI. Chow did that and more, creating a make-or-break box office behemoth that would enchant and entertain audiences worldwide. After KUNG FU HUSTLE, there was talk of a KUNG FU HUSTLE 2. We're still waiting. If necessary, we'll wait forever.
Only 3 left to go! Can you guess them? HINT: CJ7 is not among them.