March 15th, 2012
Hello and welcome to the third installment in our Top 100 Hong Kong Movies of the Eighties countdown. As explained countless times, this list was determined by over 130 people who sent LoveHKFilm.com their lists of eighties faves. Still following along? Good, because this guy is too: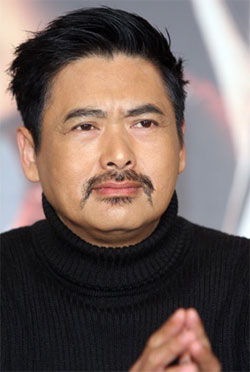 "Not enough of my films have shown up yet.
Who do I have to kill to get results?"

Chow Yun-Fat shouldn't worry. He's got a number of popular, quality features that will surely show up on this list. I mean, lots of people out there voted for FRACTURED FOLLIES, SCARED STIFF and A HEARTY RESPONSE, right?
By the way, if you're just joining us, you should definitely head back to Number 100 (or 101, actually) to start this countdown from the very beginning. It's much more fun, plus you get to see where all Michelle Yeoh's movies ranked. Yes, she could not break #60 in a Reader Vote of the Top Eighties Movies. SILVER HAWK will do that to your legacy.
Previous updates:
Numbers 101-81
Numbers 80-61
Hit the jump below to see what shows up at Number 60! And the movie is…
60. FINAL VICTORY (1987), directed by Patrick Tam Ka-Ming - 42.5 points, 1 first place vote - HKMDB Page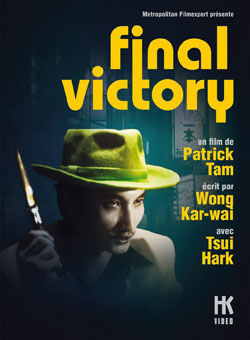 Film geeks have three very big reasons to see FINAL VICTORY: Patrick Tam, who helmed some film called AFTER THIS OUR EXILE, directs; Wong Kar-Wai, who made a bunch of films nobody cares about, wrote the screenplay; and Tsui Hark, who directs and produces some movies with a guy named Jet, plays the film's heavy. Beyond that, you have Eric Tsang and Loletta Lee as the mismatched pair who find love while navigating Hong Kong's underworld. Tim Youngs calls FINAL VICTORY "A wild, ever-so-eighties concoction of intense performances, oddball comedy, nimble camerawork, off-kilter editing and so much more. Watch once to try to take in the story, then repeat to savor Tam's filmmaking excesses and successes."
59. LEGENDARY WEAPONS OF CHINA (1982), directed by Lau Kar-Leung - 43.5 points - LoveHKFilm Review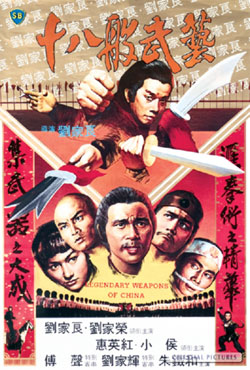 The MARTIAL CLUB trio of Lau Kar-Leung, Gordon Liu and Kara Hui make a reappearance on this list aided by Hsiao Ho, Lau Kar-Wing and other martial arts luminaries in the Shaw Brothers production LEGENDARY WEAPONS OF CHINA. An evil cult seeks to expel all foreigners from China, but must deal with former member Lei Gung, who trains using the legendary weapons of China to strike back at his former comrades. Lau Kar-Leung does double duty as director and protagonist Lei Gung, while Gordon Liu plays a baddie. The action is good. When doesn't a Lau Kar-Leung movie have good action?
58. MY HEART IS THAT ETERNAL ROSE (1989), directed by Patrick Tam Ka-Ming - 45 points - LoveHKFilm Review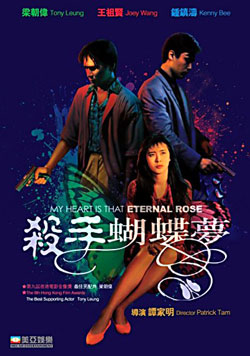 FINAL VICTORY's Patrick Tam adds another feather to his versatile filmmaking cap with MY HEART IS THAT ETERNAL ROSE, a gangland action-romance-thriller with a super supporting turn from Tony Leung Chiu-Wai. Little Tony is the low-level triad who pines for gangster moll Joey Wong, and he ably steals the show from the film's true star Kenny Bee, as a weary hitman. Chan Wai-Man, Gordon Liu and a nasty Ng Man Tat also figure in, and who can forget Christopher Doyle's cinematography? Still, this movie belongs to Tony.
56 (TIE). MARTIAL ARTS OF SHAOLIN (1986), directed by Lau Kar-Leung - 45.5 points - HKMDB Page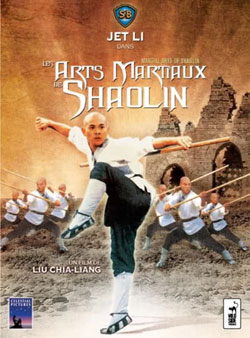 Jet Li and many of his co-stars from THE SHAOLIN TEMPLE and KIDS FROM SHAOLIN team for the third entry in Jet's SHAOLIN series, only this time Hong Kong action maestro Lau Kar-Leung is at the helm as director. MARTIAL ARTS OF SHAOLIN features dynamite action choreography and a tried-and-true vengeance storyline, with Jet Li playing a Shaolin-raised orphan seeking his parents' killer. Plenty of action, a variety of fighting styles and a fine mix of drama, comedy and ass-kicking make this a winner.
56 (TIE). A BETTER TOMORROW III (1989), directed by Tsui Hark - 45.5 points - LoveHKFilm Review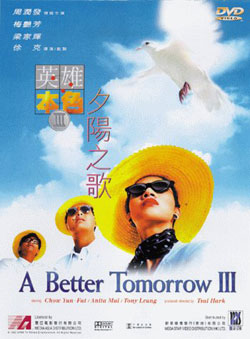 Tsui Hark's BETTER TOMORROW prequel brings back only Chow Yun-Fat while adding Anita Mui and Tony Leung Ka-Fai, and it's obviously much less popular than the John Woo movies (Proof: neither of those films has appeared on this Top 100 yet). Still, BETTER TOMORROW III has its own unique power. Site reader KL says, "This Tsui Hark-directed effort has action scenes that look like kid toys compared to John Woo's elegant gun-fu, but the sight of Anita Mui doing her thing in sexy diva mode put me in such a trance that I almost wished I could be either Chow Yun-Fat or Tony Leung Ka-Fai standing next to her. A BETTER TOMORROW III is all about bittersweet reminiscence. It also boasts one of the most beautiful and poignant endings I've ever seen."
55. THE HAPPY GHOST (1984), directed by Clifton Ko - 46 points - HKMDB Page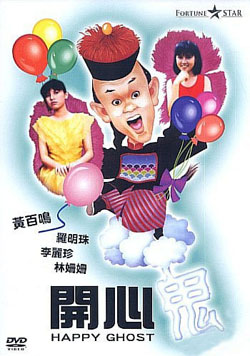 It all started here. THE HAPPY GHOST kicked off a five-film series lasting into the nineties before returning in the 21st century as EIGHT GIRLS AND A GHOST (with Edison "Photobug" Chen) and finally MAGIC TO WIN, which doesn't have ghosts but what the hell - you expect this all to make sense? The set-up: a Manchu-era ghost (Raymond Wong) shows up to haunt a young girl (Bonnie Law), but instead of cursing her to die, the ghost hangs around for wacky hijinks and spectral shenanigans! HAPPY GHOST is obviously a product of its day, but its family fun-filled legacy has had undeniable impact. Young stars (Loletta Lee, Fennie Yuen), new directors (Johnnie To!!!), etc. - many cut their teeth on the HAPPY GHOST series, and for that we should be grateful. Really.
54. SECURITY UNLIMITED (1981), directed by Michael Hui - 49 points, 1 first place vote - HKMDB Page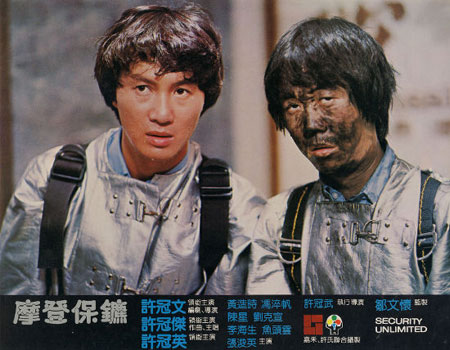 The seventies belonged to Michael Hui, but the master comedian-director-actor made some pretty good movies in the eighties too. Case in point: SECURITY UNLIMITED, the last Michael Hui-directed film starring all three Hui Brothers (Michael, Sam and the late Ricky). The three Huis play security officers in a private company who get into all sorts of misadventures. Like other Michael Hui films, SECURITY UNLIMITED is funny but also satirical and smart, with keen observations about Hong Kong, Hong Kongers and just people in general mixed among the hee-haws.
52 (TIE). MISMATCHED COUPLES (1985), directed by Yuen Woo-Ping - 49.5 points - LoveHKFilm Review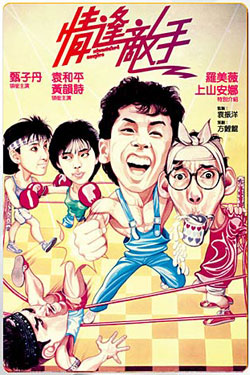 To know MISMATCHED COUPLES is to love it. Prolific and popular Yuen Woo-Ping directed this hilarious eighties relic starring a super-young Donnie Yen way before he became DONNNNIEEEE. The Yen Master is Eddie, a young dude who loves to breakdance and screw around, while Yuen Woo-Ping shows up as a street hawker and secret kung-fu master who befriends Eddie. The two romance May Lo and Wong Wan-Si while Dick Wei fumes in the background about how Eddie won't fight him. Dick also bites his biceps and prances around in skin-tight exercise outfits, which could be the most awesome and frightening image ever. Donnie's pink polo shirt says it all: the eighties ruled.
52 (TIE). THE DIARY OF A BIG MAN (1988), directed by Chor Yuen - 49.5 points - LoveHKFilm Review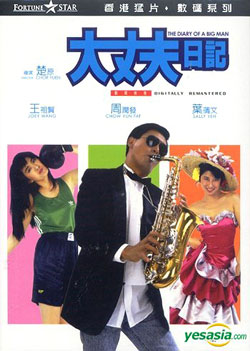 Chow Yun-Fat is at his hilarious best in this Chor Yuen-directed screwball classic that makes bigamy into a fun and lovable pastime. Chow plays Chow Ting-Fat, a stockbroker who's so in love with Joey Wong and Sally Yeh that he marries them both and enters into a sitcom situation supreme. Fast, frantic and full of hilarious moments, like the super-famous musical number "Very Nice!", sung by the maraca-shaking, saxophone-playing Chow himself. Too bad they don't make them like this anymore.
Said musical number from DIARY OF A BIG MAN:

51. MY LUCKY STARS (1985), directed by Sammo Hung - 51 points - LoveHKFilm Review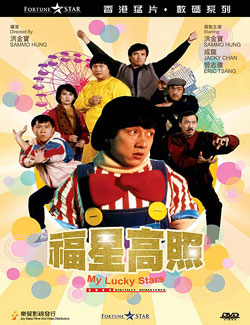 What makes MY LUCKY STARS worthy of a spot on this list? Site reader Jake cites: "Jackie Chan, Sammo Hung, Lam Ching-Ying, Richard Ng, a young Eric Tsang and gratuitous innuendo about young Eric Tsang's small penis." Yeah, that about sums that up, though you should also throw in Charlie Chin, Stanley Fung and Sibelle Hu as butt-kicking cop Miss Woo. Eric Tsang replaces John Sham from WINNERS AND SINNERS but who cares about continuity? As Jennifer Ng says, "All star cast, long cameos from Jackie and Sammo, good fight scenes - it's like an action version of CHASING GIRLS but actually good." She seems to get it.
49 (TIE). SHAOLIN TEMPLE (1982), directed by Cheung Yam-Yin - 51.5 points - HKMDB Page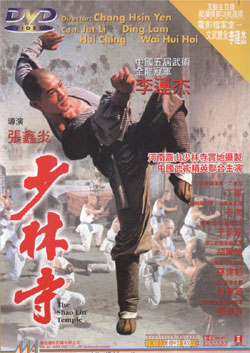 A standard martial arts movie lifted by authentic wushu athletes, SHAOLIN TEMPLE tells the story of a young man who takes refuge in the Shaolin temple, where he trains to exact revenge on the evil bastards who killed his father. This umpteenth Shaolin-themed martial arts drama might have been forgotten if not for the sparkling debut performance of some martial arts acting kid named Jack Lee or Jim Li. One look at the fellow and you could tell that one day he would be killed in a Hollywood sequel by a couple of old guys named Mel and Danny. Phil Gillion says that SHAOLIN TEMPLE is "Still easily one of the best Jet Li movies." Oh yeah, his name was Jet. He was awesome in THE MUMMY: TOMB OF THE DRAGON EMPEROR.
49 (TIE). DREADNAUGHT (1981), directed by Yuen Woo-Ping - 51.5 points - HKMDB Page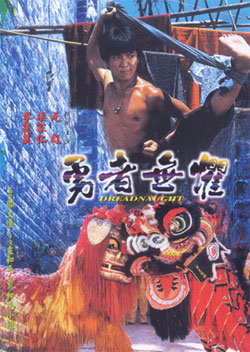 Yuen Woo-Ping and his brothers in the Yuen Clan deliver one of the essential kung-fu comedies of the early eighties with DREADNAUGHT, featuring a nifty one-two punch of a young Yuen Biao (Say, do you think there's ever been a more underrated martial arts actor than Yuen Biao?) and elder statesman Kwan Tak-Hing, essaying his signature role of Wong Fei-Hong one final time. Adam Laidig calls DREADNAUGHT "The last great kung-fu flick from Golden Harvest Studios when they were still using the old school playbook and the the most even-keeled of Yuen Biao's few headlining performances." Also, it has lion dancing.
48. RETURN TO THE 36TH CHAMBER (1980), directed by Lau Kar-Leung - 53.5 points - LoveHKFilm Review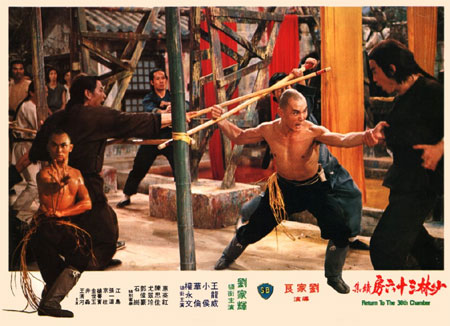 Gordon Liu returns to the 36th Chamber in, uh, RETURN TO THE 36TH CHAMBER, the sequel to the super-popular 1978 Shaw Brothers classic 36TH CHAMBER OF SHAOLIN. But RETURN is no 36TH CHAMBER REDUX, as director Lau Kar-Leung uses the sequel to pay tribute to the original film while sending it up at the same time. Changes or not, RETURN kicks ass because that's what Lau Kar-Leung movies do. Site reader Nick Orwin says, "It may be sacrilege to prefer this to the original, but RETURN TO 36TH CHAMBER was my first real kung-fu film. I prefer it in every regard." We're sure that he's not alone.
47. AH YING (1983), directed by Allen Fong - 55.5 points, 1 first place vote - HKMDB Page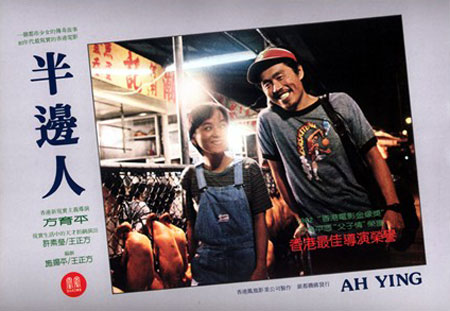 Few Hong Kong films are as acclaimed as Allen Fong's AH YING, an authentic and low-key look at Hong Kong people as they undergo real, lived-in change and not the sudden emotional upheaval of manufactured melodrama. Says Tim Youngs, "What makes Allen Fong's gentle docudrama truly shine, beyond absorbing scenes of community, family and the film scene, is the charming performance by its newcomer star." Based in part on the real experiences of lead Hui So-Ying who, by the way, still works in Hong Kong film. She has a supporting role in Ann Hui's A SIMPLE LIFE.
46. ACES GO PLACES (1982), directed by Eric Tsang - 56 points, 1 first place vote - LoveHKFilm Review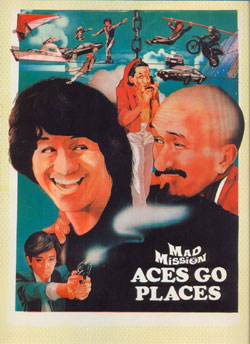 The "Best Partners" live in ACES GO PLACES, the seminal Lunar New Year laffer that launched an entire franchise. Cat burglar King Kong (Sam Hui) and cop Baldy (Karl Maka) are the odd couple partners who fight crime, spar over minor issues and assuage the temper of female cop "Hot Tongue" (Sylvia Chang, at her most fetching and feisty). There's little here to take seriously, but Sam Hui and Karl Maka are an ace comic duo and the stunts and set pieces still entertain years later. The theme song is infectiously hummable too.
45. IN THE LINE OF DUTY 4 (1989), directed by Yuen Woo-Ping - 57.5 points - LoveHKFilm Review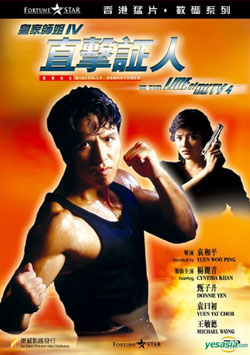 It's Yuen Woo-Ping again and he's got that Donnie guy with him. IN THE LINE OF DUTY 4 is yet another cop action movie, but what a cop action movie it is! Cynthia Khan and Donnie Yen provide the brawling and kung-fu kicking, which is as brutal and hard-hitting as anything that came out at the time. Site reader Sean calls this "very much a product of the eighties and that's what makes the movie so awesome. There is literally an action scene almost every 5 minutes, and they are all impeccably choreographed as well." Another reason this movie is awesome: it's got Michael Wong. 'nuff said.
44. WILD SEARCH (1989), directed by Ringo Lam - 58.5 points - LoveHKFilm Review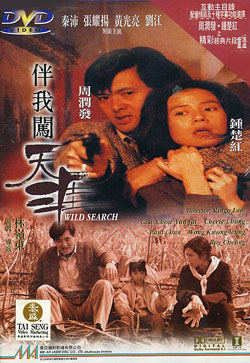 Less heralded than other Ringo Lam films, perhaps because it has less tension, violence and overacting. Scratch that: WILD SEARCH has Roy Cheung, which is an overacting guarantee. Cheung plays the baddie in this remake of Peter Weir's WITNESS, with Chow Yun-Fat as an urban cop who follows a young girl to the countryside after she witnesses a murder. Site reader "2046″ calls WILD SEARCH "Massively underrated with Chow Yun-Fat's best, most subtle acting." It might also be Chow's frequent screen partner - the luminous Cherie Chung - who brings out his best.
43. HONG KONG 1941 (1984), directed by Leung Po-Chi - 61.5 points - LoveHKFilm Review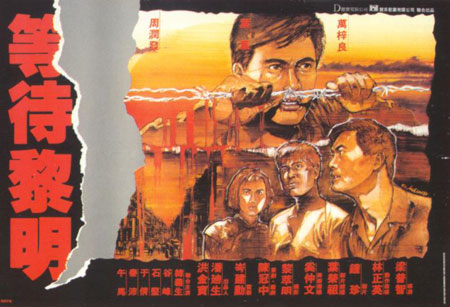 Les Wong calls HONG KONG 1941 "a serious drama with none of the usual HK crap thrown in," and that's exactly what it is plus a whole lot more. Fay (Chow Yun-Fat again!) betrays his best friend Keung (Alex Man) and Keung's fiancee Nam (Cecilia Yip) by working for the Japanese in 1941 Hong Kong - and there's a chance Nam may dump Keung for Fay, which would make Fay an epic betrayer without peer. Not to worry, Fay is actually a super-awesome, totally-righteous character who charms the audience, and it's all thanks to Chow Yun-Fat's insanely charismatic performance that it becomes possible. Chow won a Best Actor Award at the Golden Horse Awards for HONG KONG 1941, pre-dating his BETTER TOMORROW acting wins by 2 years.
42. NOMAD (1982), directed by Patrick Tam Ka-Ming - 62 points, 1 first place vote - HKMDB Page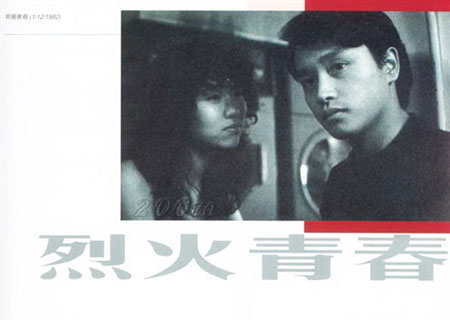 Patrick Tam made seven films in the eighties and five of them are on this list. NOMAD is his third film, a lost youth melodrama about four youngsters (Leslie Cheung, Cecilia Yip, Pat Ha and Ken Tong) who while away listless days dreaming of life elsewhere, anywhere but Hong Kong. Unfortunately, reality - in the form of the Japanese Red Army(!) - comes crashing in upon them. NOMAD explores aimless and free-spirited youth without delivering the all-encompassing self-important message that modern filmmakers are wont to do, and Tam's atmospheric direction gives his young and very talented cast (like that Leslie Cheung guy) space and air to breathe. Hard to see in its proper director's cut - if you have (like at a film festival) count yourself lucky.
41. WINNERS AND SINNERS (1983), directed by Sammo Hung - 63 points - LoveHKFilm Review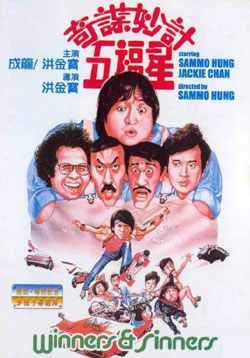 Site reader Snowblood calls WINNERS AND SINNERS "the epitome of eighties comedy" and that sounds about right. The first in the long-running LUCKY STARS series of populist laffers, WINNERS AND SINNERS has action, stunts and stars, from Sammo Hung to Stanley Fung to Charlie Chin, John Sham, Cherie Chung and also Jackie Chan. But forget all those people: let's talk about Richard Ng, who may have scarred untold millions with the drawn-out gag where he "hypnotizes" his friends into thinking he's invisible, then runs around naked in front of them to test his awesome mentalist skills. Obviously he's a crappy hypnotist, but whatever, the scene is comedy gold. Not much of an actual film, WINNERS AND SINNERS still has charm, laughs and unpretentious, unabashed good times. One should not overlook good times.
Next time: We slow this down to only ten films per entry, with Numbers 40-31. Chow Yun-Fat has been gaining a foothold, while Wong Jing has disappeared from the list and PEKING OPERA BLUES still hasn't shown up. Will it rank higher or lower than HOW TO PICK UP GIRLS? Obviously it'll rank higher, but pretend suspense is so much fun.