March 16th, 2012
Only 40 films left in our Top 100 Hong Kong Films of the Eighties countdown! Last time, Chow Yun-Fat wasn't too pleased with his poor showing, with only four of his films appearing between numbers 100-61 of this list. However, numbers 60-41 revealed four more Chow appearances, meaning he's now leading the pack with 8 total films.
He's happy, obviously.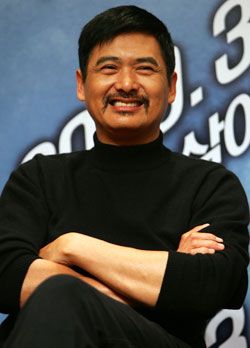 "Excellent! This list has begun to meet with my approval!"
However, Sammo Hung is hot on Chow's heels with six films - and even seven if you count his cameo in YES, MADAM! Considering that Sammo directs, produces and handles action on many of his own pictures, one could argue that he's got an advantage on Chow "I only act" Yun-Fat.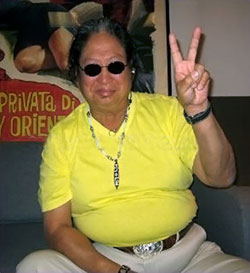 "Suck it, Chow!"
Other actors or directors getting lots of burn on this list are Jackie Chan, Eric Tsang, Yuen Biao, Yuen Woo-Ping and Patrick Tam with five films each. Wong Jing peaked at two (three if you count SEVENTH CURSE) so he's not doing so hot. Jet Li? Three films and done. Tsui Hark has three films too, and he probably has a few more chances coming up.
Oh, and if you're just joining us, please go back to read the previous updates first so that you can put all this random stat counting into context. If you haven't figured it out by now, this is a countdown of the Top 100 Hong Kong Films of the Eighties as determined by over 130 random and not-so-random individuals who either read LoveHKFilm.com or chanced by via a spam link. People voted, I tallied the votes and the world spun as usual on its axis.
Previous updates:
Numbers 101-81
Numbers 80-61
Numbers 60-41
Let's hit the jump for Round Four of Chow Yun-Fat versus Sammo Hung!
40. TIGER ON THE BEAT (1988), directed by Lau Kar-Leung - 63.5 points - LoveHKFilm Review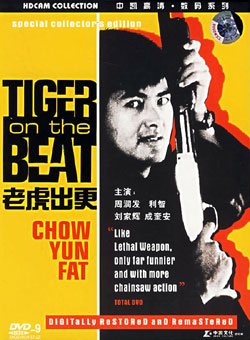 Lau Kar-Leung directs one of his few modern pieces, and the Shaw Brothers martial arts maestro delivers cop action gunplay with an extra choreographed kick. Chow Yun-Fat and Conan Lee team up as mismatched cops in this LETHAL WEAPON-like action comedy, with Chow handling the gun action (the shotgun on a string is a nice touch) and Conan delivering the eye-popping stuntwork and brutal fisticuffs. Together, the duo take on nasty bad guy Gordon Liu, whose weapon of choice is a chainsaw. Actual story is no big deal, but TIGER ON THE BEAT has more than enough Hong Kong action panache to compensate.
39. TIGER CAGE (1988), directed by Yuen Woo-Ping - 64.5 points, 1 first place vote - LoveHKFilm Review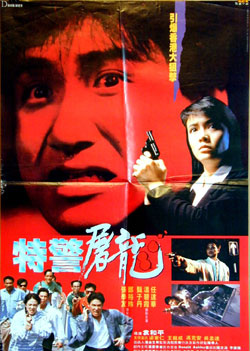 With TIGER CAGE, fight choreographer supreme Yuen Woo-Ping brings hard-hitting and tough action to what should be a routine cop corruption thriller. The story of a bunch of happy cops (led by Carol Cheng, Leung Ka-Yan and Simon Yam) torn apart from within their own ranks, TIGER CAGE pulls no punches to get a rise out of its audience. Also starring Jacky Cheung, Ng Man-Tat, Irene Wan and DONNNNIEEE, who gets to show off some great moves and also some unexpected pathos. Followed by two sequels, one with Donnie and one with Michael Wong(!).
38. THE MILLIONAIRE'S EXPRESS (1986), directed by Sammo Hung - 66.5 points, 1 first place vote - LoveHKFilm Review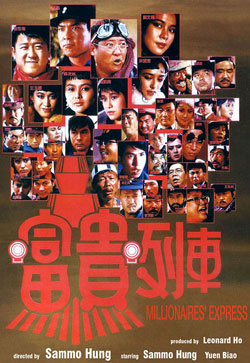 Sammo Hung's MILLIONAIRE'S EXPRESS is a mixture of Hong Kong zaniness, old-Hollywood studio filmmaking and kick-ass action movie. Sammo directs and stars in this ensemble piece about a lovable rogue (Sammo) who plans to derail a millionaire-carrying express train - all so they can use their money to turn around the fortunes of a down-on-its-luck desert town. No 100-word synopsis could do justice to this film's multi-story plot or the enormous amount of familiar faces and Hong Kong stars who appear (Like Yuen Biao - hey, has there ever been a more underrated martial arts actor than Yuen Biao?), and the nimble stunts and hard-hitting fights have to be seen to be believed. One of Hong Kong Cinema's most enjoyable films, from this decade or any other.
37. DUEL TO THE DEATH (1983), directed by Ching Siu-Tung - 79 points, 1 first place vote - LoveHKFilm Review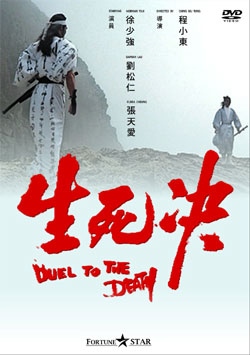 Ching Siu-Tung gets his Asian action on with directorial debut DUEL TO THE DEATH, a classic swordplay fantasy about a centuries old martial arts war between Japan and China, and the politicking, ass-kicking, flying ninja and other weirdness that goes along with it. Damian Lau and Norman Tsui Siu-Keung are the two contestants in the titular duel, but the unquestioned star is Ching Siu-Tung, who puts the energetic, exciting action on the screen. Grady Hendrix says about the film; "Ching Siu-Tung read martial arts pulps alone in his room for years as a child, and this was the first chance he got to put a lifetime's worth of stored-up, pre-adolescent martial arts fantasies onscreen. The result is like uncorking a bottle of cinematic champagne."
36. SCHOOL ON FIRE (1988), directed by Ringo Lam - 81 points, 1 first place vote - LoveHKFilm Review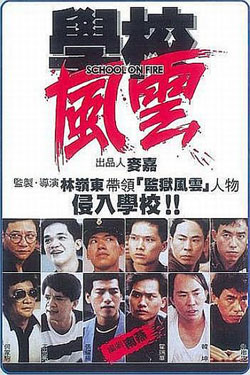 Says Sean, "Ringo Lam has made some bleak films but this one may be the most downbeat of them all. Everything that happens just feels so raw that it almost seems like a documentary at times." Sean is right - Ringo Lam's school-set drama is so intense and immediate that it feels remarkably real, and this is despite scenes where a guy gets impaled on the school fence and a girl sets fire to the school library, screaming "I'll never go to school again!" Roy Cheung overacts as a menacing triad and Fennie Yuen is a fresh-faced, ultimately ruined schoolgirl, but it's Lam Ching-Ying and Damian Lau who hold SCHOOL ON FIRE together with unassuming veteran presence. As punishing and as rewarding as Hong Kong Cinema gets.
35. DANGEROUS ENCOUNTER - 1ST KIND (1980), directed by Tsui Hark - 87 points - HKMDB Page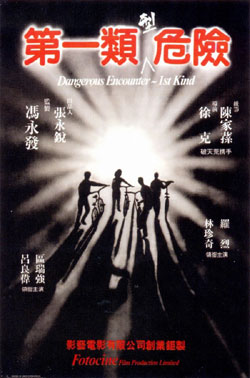 Adam DiPiazza questions, "Does the artistic merit of the film justify the animal cruelty scenes in the opening minutes? Probably not, but it justifies DANGEROUS ENCOUNTER - 1st KIND's a position on my list. Tsui Hark is often compared to Steven Spielberg, but this film finds him closer to Nagisa Oshima." The still young Master directed this violent and astonishingly dark look at kids who let a little mischief take them too far, from blackmail to bomb scares to a bloody shootout with Caucasian arms dealers in a graveyard. Martin calls this "Angry and vital filmmaking," and he's aboslutely right. Probably Tsui Hark's darkest and most uncompromising film since, well, ever.
34. THE YOUNG MASTER (1981), directed by Jackie Chan - 90 points - LoveHKFilm Review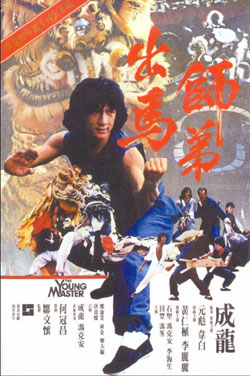 Jackie Chan found his stride with THE YOUNG MASTER, taking a none-too-special plot about a lovable scamp looking to atone for the treachery of his brother (Wei Pak) and injecting it with the lively personality and comic charisma that would become synonymous with the Jackie Chan brand. Chan shows charm, versatility and toughness in numerous action sequences, from a thrilling lion dance to a funny prop-filled fight sequences to a knock-down brawl with Korean fighter Whang In-Sik. Aric Mannion says, "YOUNG MASTER just might be my Number 1 film. It was Jackie Chan's directorial debut, the one that started it all, and his signature style and unique vision was apparent even back then."
33. SPOOKY ENCOUNTERS (1980), directed by Sammo Hung - 91 points - LoveHKFilm review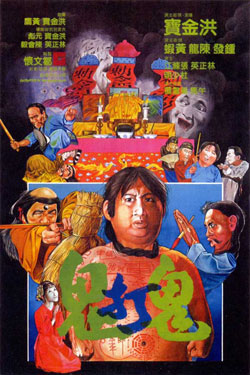 Not to be beaten by brother Jackie Chan, Sammo Hung clocks in one rung above Chan's YOUNG MASTER with seminal horror-comedy SPOOKY ENCOUNTERS. Besides helming the film, Sammo shows off his amazing physical acting skills thanks to the story's supernatural hook, which finds Sammo's character possessed by various spirits. A variety of fighting styles, a wildly creative "possessed hand" sequence and even some genuine creepiness makes this a standout entry in one of Hong Kong's most unique genres. Nick Orwin calls the film "Weird and infectiously funny. SPOOKY ENCOUNTERS is the best of the kung-fu meets ghosts/vampires/monsters films. Sammo is, of course, amazing." Of course.
32. MY YOUNG AUNTIE (1981), directed by Lau Kar-Leung - 92.5 points - LoveHKFilm Review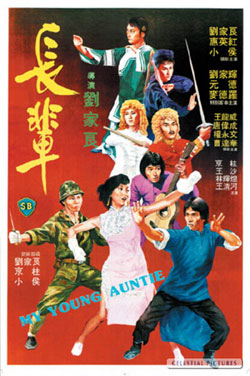 Many people love MY YOUNG AUNTIE, so we'll just let them sing its praises. Says Juan, "Lau Kar-Leung's humorous kung-fu movie about a clash of cultures strikes at the core of Hong Kong culture. Kara Hui is the kung-fu obsessed tomboy who has to deal with sexism and what it means to act "like a female," highlighted by an entire scene in which she has to kick ass while wearing a dress and high heels. Hsiao Ho is the testosterone-filled teenager who's recently arrived from America, and wields a basketball, a crazy English vocabulary, and an American helmet and uniform to represent Hong Kong's constant struggle with Western influence. Meanwhile, Lau Kar-Leung is lost between both worlds and fighting an age gap, but a few gray hairs aren't enough to stop him from handing it to Wang Lung-Wei in the final showdown. And there's no shortage of the expert action choreography that typified Lau's work while at Shaw Brothers." Snowblood says simply that MY YOUNG AUNTIE is "a kung-fu film that wants to be a musical. It just sings."
31. ON THE RUN (1988), directed by Alfred Cheung Kin-Ting - 97 points, 2 first place votes - LoveHKFilm Review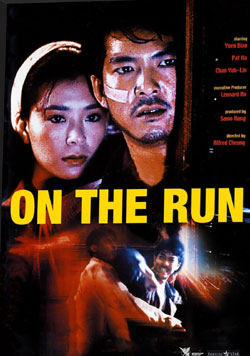 Who knew Alfred Cheung could direct a movie like ON THE RUN? Usually displaying a lighter touch, Cheung goes unexpectedly dark with this grim, blackly funny thriller about a cop (Yuen Biao) and a stern hitwoman (Pat Ha, looking like the deadliest mom ever) trying to elude some hilariously nasty bad guys, led by a self-effacing Charlie Chin. Richard calls this a "A Hong Kong Style neo-noir thriller. Not everything is perfect in terms of craft maybe, but emotionally this is one of the strongest HK films ever made." Nick Orwin says ON THE RUN is "Miserable, pessimistic, misanthropic and completely electric. I still can't believe this film exists." These guys know what they're talking about; ON THE RUN kicks audiences in the face while stomping on their genitals, and the imprint it leaves is long-lasting. Yuen Biao: seriously, this guy IS the most underrated martial arts actor ever.
Next time: Numbers 30-21, featuring one more Shaw Brothers film and a whole lot of Golden Harvest. Sammo Hung seems to be ahead of Chow Yun-Fat at this point, but Chow's still got some aces to play. Some BIG FREAKING ACES. Also, no PEKING OPERA BLUES yet! Maybe next time it'll finally show up.