December 27th, 2012
Our third installment of the BEST HONG KONG FILM PERFORMANCES reveals the Gold Performances, meaning we'll finish this up in 2 more posts: one for the Best Actor/Actress and runner-ups, plus a final post for Best Hong Kong Film Performance Ever. Yeah, we're stretching this out.
Before we get to the Gold Performances, it's been noted that the these awards have been male dominated. That's not much of a surprise. English language coverage of Hong Kong film is largely genre-oriented, and vocal or active genre film fans are largely male — just check out your favorite genre film website and note how many writers, editors and commenters are men. It's like a sausage party out there on the Interwebs.
That said, if this lady doesn't get some recognition soon there will be hell to pay: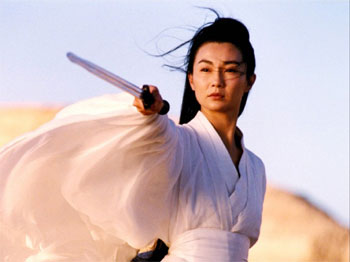 "Fix this. NOW."

We're working on it. But really, you should try appearing more movies. It could up your chances.
As usual, you may want to check out previous results before you get to this one. Sadly, you won't find any Stephy Tang or Shawn Yue performances there. Spoiler: neither will be mentioned on this or later posts. Our apologies to the FEEL 100% 2003 alumni.
Previous updates:
- Honorable Mentions
- Bronze and Silver Performances
Hit the jump and go for gold.
Best Hong Kong Film Performances
Gold Performances (14-16 votes)
Anita Mui as Fleur in ROUGE (1986) - 14 votes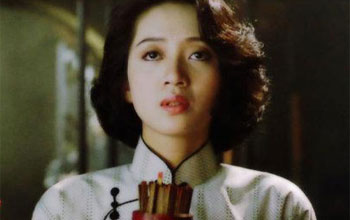 The late, great Anita Mui signature performance in Stanley Kwan's ROUGE, earning a Best Actress Award at the Hong Kong Film Awards. Says KL, "As the brokenhearted female ghost, Mui redefines ghost roles on screen. No flying, just quietly searching for her lover. No supernatural feats, only forlorn gazes. The effect is both poignant and haunting even after 25 years." Leslie Cheung is her co-star but Mui owns him and also the film.
Tony Leung Chiu-Wai as Chow Mo-Wan in IN THE MOOD FOR LOVE (2000) - 15 votes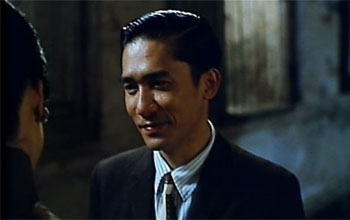 Wong Kar-Wai really brings out the best in Tony Leung Chiu-Wai. Or, maybe Tony Leung Chiu-Wai is just that great an actor, and that's why Wong Kar-Wai always uses him. Leung gives a trademark flawless performance in Wong's timeless romantic drama, as a writer who gets revenge on his cheating spouse by brooding, commiserating with the divine Maggie Cheung, and well, pretty much doing nothing. But how many actors can do nothing as compellingly as Tony Leung Chiu-Wai? Really, there are very few.
Maggie Cheung as Li Qiao in COMRADES, ALMOST A LOVE STORY (1996) - 15 votes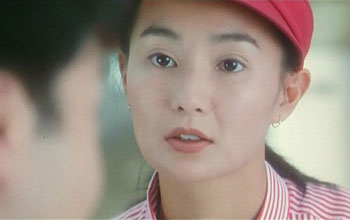 Stem that riot, because Maggie Cheung finally makes the list with her performance as a Mainlander who finds love in Peter Chan's COMRADES, ALMOST A LOVE STORY. Cheung is the most celebrated actress in Hong Kong Cinema history, so identifying her greatest accomplishment in COMRADES is difficult. We'll go with her final scene, where she smiles at Leon Lai and basically lights up the entire world. There may be stars in the sky that shine less brightly than Maggie Cheung does in COMRADES, ALMOST A LOVE STORY.
Anthony Wong as Tung in BEAST COPS (1998) - 16 votes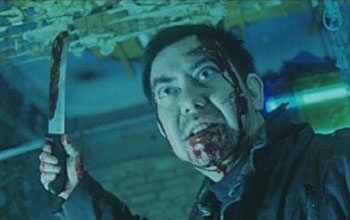 The early nineties wild man of Hong Kong Cinema has since matured, and this 1998 cop soap opera is the perfect bridge between Anthony Wong's "crazy bastard" and "man of integrity" phases. As corrupt cop Tung, Wong showed remarkable range and complexity, easily earning the bloody, drug-crazed freak-out that caps Gordon Chan and Dante Lam's neo-classic. Wong is so good in BEAST COPS that he even makes co-star Michael Wong tolerable. There can be no greater accomplishment.
That's it for the Gold Performances. Tune in next time when we give away a Best Actor and Best Actress Award, with runner-ups for each category. All told, there are only 5 performances left to mention. Ekin Cheng is running out of chances!