March 20th, 2012
Hey, it's the next installment in the Top 100 Hong Kong blah blah blah blah. I've been doing this for over a week now and I'm sure you're all as bored as I am. Let's cut straight to the funny photo: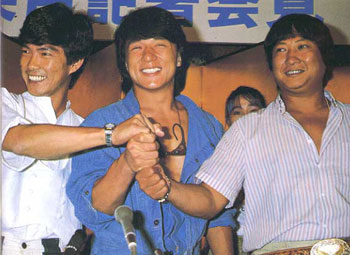 "It's our time to take over this list, brothers!"
Okay, not a funny photo but don't they look so happy? Not like this guy: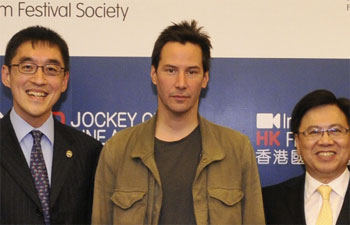 "How did I get here? I remember a bench and a sandwich."
So yeah, if this is your first installment in this list go back and look at the previous entries with Numbers 100-21. You'll be happier, I'll be happier and hopefully so will Keanu.
Previous updates:
Numbers 101-81
Numbers 80-61
Numbers 60-41
Numbers 40-31
Numbers 30-21
Jump!
20. DRAGONS FOREVER (1988), directed by Sammo Hung - 198 points, 1 first place vote - LoveHKFilm Review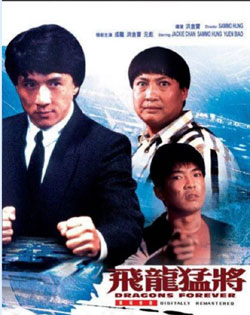 It's about time that one of the revered "Three Brothers" films showed up on this list. DRFP says about DRAGONS FOREVER, "The last movie on which Jackie Chan, Sammo Hung and Yuen Biao worked together is also one of their best. There's just enough of everything and it's all good, be it the fighting, the storyline or the comedy." Grady Hendrix says DRAGONS FOREVER is "Jackie Chan, Sammo Hung and Yuen Biao captured at their best and preserved for all time. Watching too much of this movie at once leads to a joy overload." Another opinion: DRAGONS FOREVER is the film that Yuen Biao very nearly steals from his two more famous brothers. Yuen Biao's fighting may not be as strong or powerful as his brothers' but in DRAGONS FOREVER, his stunts and comic acting greatly impress. Really, with the most serious expression possible: Yuen Biao is the most underrated martial arts actor ever.
We won't talk about Yuen Biao's underrated-ness anymore, but here's his fight vs. Billy Chow in DRAGONS FOREVER:

19. LONG ARM OF THE LAW (1984), directed by Johnny Mak - 204.5 points - LoveHKFilm Review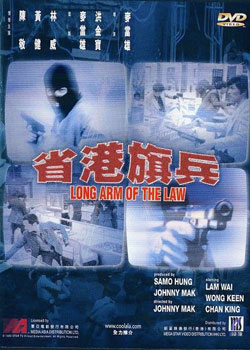 Years before Johnnie To would claim the crime genre for himself, Johnny Mak made LONG ARM OF THE LAW, an unflinching, uncompromising thriller about mainland thieves planning a jewlery heist in Hong Kong. More than just a crime procedural, the film examines the forces that drive the thieves to break the law, plus their disconnect with Hong Kong and also the amoral, potentially cruel Hong Kong cops who seek their capture. LONG ARM OF THE LAW never moralizes, and thus realizes its power as a hyperstylized document of greed, corruption, longing, dreams and cruel, cruel truth. Recently noted as one of the Hong Kong Film Archive's 100 Must-See Hong Kong Films. Martin says, "I only recently saw this genre-defining classic and was completely blown away by it. I just could not fault it in any way. See it. Hugely influential." Ditto times one hundred.
18. THE PRODIGAL SON (1981), directed by Sammo Hung - 210 points, 3 first place votes - HKMDB Page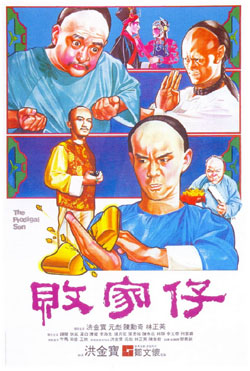 Whoops, maybe we should talk about Yuen Biao's underrated-ness again because it's time to talk about THE PRODIGAL SON. Layabout Leung Chang (Yuen Biao) thinks he's the toughest hombre in town, but his rich father has been fixing all his street fights. When Leung Chang is shown up by Peking Opera "actress" Leung Yee-Tai (Lam Ching-Ying), Leung seeks Yee-Tai as his new master. Co-starring Sammo Hung and also directed by Sammo Hung (He does everything!), PRODIGAL SON is pure HK Cinema, meaning a multi-genre bag that switches tones at the drop of a hat - and it does so without ceasing to entertain. Nick Orwin says, "Not many films made outside Hong Kong could balance the pathos, action and jokes of THE PRODIGAL SON without capsizing. The middle third, which is almost a sitcom starring Lam Ching-Ying and Sammo Hung as bickering brothers who live next door to one another and squabble over Yuen Biao, is tremendously entertaining." Also of note: Frankie Chan's turn as the villain, plus the simple fact that this is a Yuen Biao starring role. Hey, that Yuen Biao: has there ever been a more blah blah, etc. You know the rest.
17. POLICE STORY 2 (1988), directed by Jackie Chan - 219.5 points - LoveHKFilm Review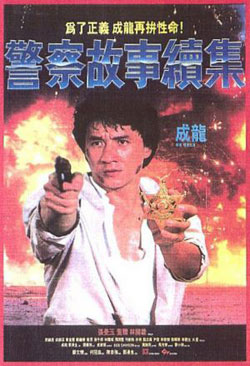 Hey, some people prefer POLICE STORY 2 to POLICE STORY. Despite the fact that the original Jackie Chan cop action-comedy has insane stuntwork, POLICE STORY 2 ups the ante with expert, intricate choreography that perfectly demonstrates Jackie's signature mise-en-scene-utilizing brand of action. Nick Orwin says, "Not as tight as the first, Jackie's sequel is still a killer showcase for his approach to action cinema. The fight in the playground is a real highlight - nuanced, exciting, and faster than you thought was possible." Also, you simply must love a film where legendary cinema pervert Charlie Cho has his glasses broken three separate times. Three more reasons why POLICE STORY 2 can be compared favorably to POLICE STORY: Maggie Cheung, Maggie Cheung and Maggie Cheung. Sure, Maggie was also in the original, but when she smiles in POLICE STORY 2, she positively glows. Too bad POLICE STORY only ranked #104 in this reader vote.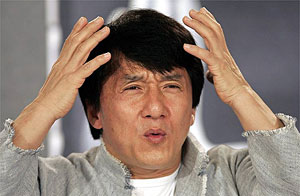 "What the–? You people are more useless than Jaycee!"
Just kidding.
16. WHEELS ON MEALS (1984), directed by Sammo Hung - 225 points, 1 first place vote - LoveHKFilm Review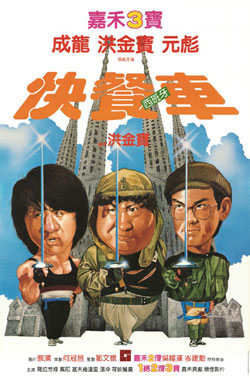 Even more Three Brothers action, only this time they're in Barcelona and have former Miss Spain Lola Forner along for the ride. Jackie Chan and Yuen Biao run a fast food van in Spain and befriend lovely Lola, who plays a pickpocket. Unfortunately, bad guys are after her, and so is Moby (Sammo Hung), a private dick who's as tough as he is large. What does this plot mean? Who really knows? The main point of this Hong Kong confection is action, hijinks and adorably sloppy production values, like having everyone in Europe speak Cantonese or having Blackie Ko play a Spanish biker. Richard says that WHEELS ON MEALS is "a movie I could watch a thousand times. Simply never boring due to the great chemistry of the cast involved, the excellent action and Barcelona as an 'exotic background.'" Richard also cites the high-impact, brutal knockdown between Jackie Chan and Benny "The Jet" Urquidez - and he should because it's one of Jackie Chan's best fights ever.
15. PRISON ON FIRE (1987), directed by Ringo Lam - 227 points, 1 first place vote - LoveHKFilm Review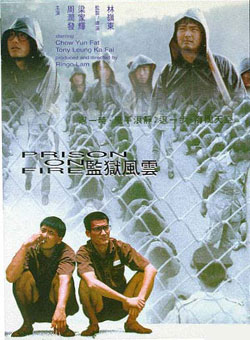 Site reader KL calls PRISON ON FIRE "Hands down, the best prison film I've ever watched," and that sentiment is not uncommon. Director Ringo Lam is at his strongest with this intense and gritty portrait of Hong Kong prison life. Lo Ka-Yia (Tony Leung Ka-Fai) is sent to the slammer for manslaughter and gets a crash course in prison life and politics. But Lo also finds camaraderie with the charismatic and pragmatic Mad Dog (Chow Yun-Fat) and for a time, life in prison is agreeable. That is, until things go bad - and when they do, Mad Dog goes with them. Says Grady Hendrix, "CITY ON FIRE is a better all-around movie, but this is the pure essence of Chow Yun-Fat, uncut, with a street value of one billion dollars. Nothing made him look looser, warmer and more life-affirming than pairing him onscreen with Tony Leung Ka-Fai, the world's biggest tightass." Chow Yun-Fat was nominated for Best Actor for his performance as Mad Dog, but he lost to himself in another film. It might show up later on this list.
14. ZU: WARRIORS FROM THE MAGIC MOUNTAIN (1983), directed by Tsui Hark - 249.5 points, 1 first place vote - LoveHKFilm Review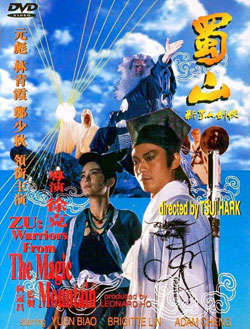 Weird and wild kung-fu fantasy that's incredibly dated by today's standards, but has imagination and vision to spare thanks to its ringmaster, the ever-unfathomable Tsui Hark. An all-star cast, including Adam Cheng, Brigitte Lin, Sammo Hung, Yuen Biao, Norman Tsui Siu-Keung, Mang Hoi and Moon Lee, take part in this rather generic-sounding plot about the quest for a couple of twin swords that are the only objects capable of defeating a nigh-unstoppable evil. Tsui's imagination does the rest, with astounding visuals, criss-crossing comedy, chintzy visual effects, high-flying martial arts, delicious romanticism and a pace that could generously be called breakneck. Still superior to its 2001 remake-sequel THE LEGEND OF ZU, despite the latter having new-fangled CGI, Ekin Cheng and Ekin Cheng's hair.
13. A BETTER TOMORROW II (1987), directed by John Woo - 259 points, 2 first place votes - LoveHKFilm Review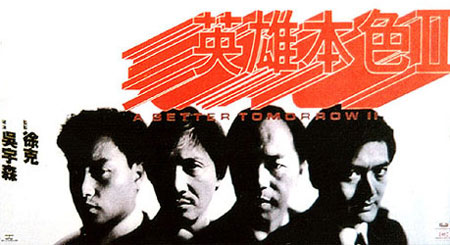 A BETTER TOMORROW was a massive, massive success so of course there had to be a sequel. THe problem: Chow Yun-Fat's iconic Mark Gor was dead. The solution: bring Chow Yun-Fat back as Ken, Mark's US-based twin brother! Sean calls A BETTER TOMORROW II "Quite possibly the most ridiculous sequel ever but it works. Dean Shek's overacting is quite the sight and the final action scene is vintage John Woo. The best scene though can be summed up with only one phrase though: 'Eat the rice!'" Sean refers to a famous moment in the film where Chow Yun-Fat accosts Italian gangsters in New York for daring insult his Yang Chow Fried Rice. Honestly, the nerve of those rice-insulting Italians - but let's face it, BETTER TOMORROW II is not much of a film, and entertains because it so gleefully embraces its ridiculousness AND because its final action scene is John Woo-choreographed craziness times a thousand. Martin calls the finale "Probably the 10 minutes of film I have seen more times than any other!" Join the club, Martin.
12. ROUGE (1988), directed by Stanley Kwan - 272.5 points, 2 first place votes - LoveHKFilm Review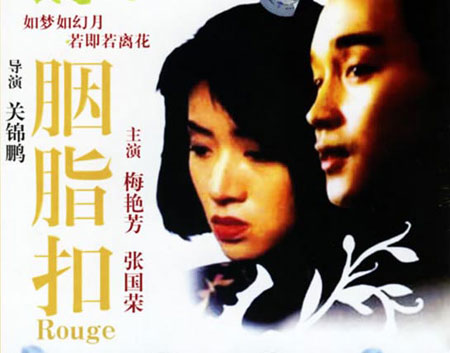 Grady Hendrix says that ROUGE is "still Stanley Kwan's best movie, still heartbreaking, still smart as hell," and who are we to argue? Lauded and award-winning at the time, ROUGE has only grown in resonance, and it's all because of the film's stars. Leslie Cheung and Anita Mui, both Hong Kong Cinema superstars who left us before their time, turn in marvelous performances in this atmospheric, sensual and suffocating romantic drama. KL says that "the film's strength lies in its subtlety of forlorn gazes, minimal words, playful but doomed courtship, and smoldering chemistry between the two leads. Leslie Cheung is impeccably cast, but it is Anita Mui who elevates ROUGE to its classic status." Twenty years later, Mui's beauty, poise and melancholy still profoundly affect. Stanley Kwan and Leslie Cheung do undeniably sublime work, but the enduring spell cast by ROUGE belongs mostly to Anita Mui.
11. MR. VAMPIRE (1985), directed by Ricky Lau Koon-Wai - 281.5 points, 1 first place vote - LoveHKFilm Review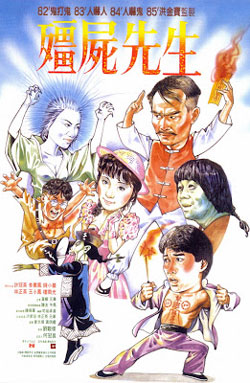 Lots of people like MR. VAMPIRE, and they should. Case one: this Sammo Hung-produced classic is the quintessential kung-fu horror comedy, with action scenes and cultural detail that prove both clever and exhilarating. Case two: Mr. VAMPIRE has Lam Ching-Ying, who totally rocks as a vampire-busting Taoist priest who's wise, venerable and also ass-kickingly athletic. KL calls MR. VAMPIRE, "A priceless treasure to fans of the late, wonderful Lam Ching-Ying. I can watch it again and again." Snowblood says the film is a "genius mix of elements; it's funny, action-packed, romantic… even scary!  And Adam Laidig calls it "A perfectly synchronized genre-bender that practically gave birth to the vampire subgenre that ultimately became late star Lam Ching-Ying's namesake in the final portion of his extensive career." Also: Ricky Hui, Moon Lee, Chin Siu-Ho, Pauline Wong and Yuen Wah as one of the hopping undead. Hong Kong has made a zillion films like MR. VAMPIRE and most have been forgotten. But not MR. VAMPIRE.
Next time: Ten movies left, so we'll annoy you and only reveal numbers 10-6! Man, we're such bastards. Do you think PEKING OPERA BLUES will finally show up? I got good money riding on it.