Wednesday, December 26th, 2012
Before we continue our countdown of THE BEST HONG KONG FILMS EVER, we're pausing for a message from our sponsor: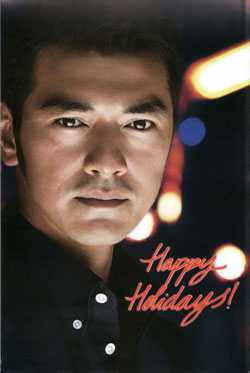 "Merry Christmas and Happy New Year from Brand Takeshi."

Onwards and upwards. This is Day 5 of THE BEST 200 HONG KONG FILMS EVER, and we're slowing down ever-so-slightly to 20 films per post. That'll continue until we reach number 20, after which we'll go 10, 5 and 5. We've planned this down to the last detail. Except for figuring out the BEST HONG KONG FILM EVER. We'll decide that using a coin toss the day after tomorrow.
Don't forget to read from the beginning if you're just joining us.
Previous updates:
Numbers 200-171
Numbers 170-141
Numbers 140-111
Numbers 100-81
Time to jump for Jesus! Or his secular equivalent!