March 12th, 2012
Wow, I never thought I'd get this TOP 100 HONG KONG MOVIES OF THE EIGHTIES list started. Some people have been waiting awhile.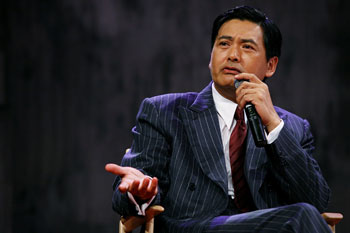 "What's taking you so long? I have to start DRAGONBALL 2 next week!"
Chow Yun-Fat has a lot invested in this list, because it's the eighties and he worked on a lot of Hong Kong films. That all ended in the nineties, when he left Hong Kong to make THE CORRUPTER and REPLACEMENT KILLERS. You know the rest of the story.
For those just joining us, this is LoveHKFilm.com's Top 100 Hong Kong Films of the Eighties, as voted upon by actual site readers. Each sent in a list of 10-20 favorites, after which we tallied the votes according to some needlessly complex numerical formula. The cold stats: 135 readers voted, 239 films were nominated and 226 films made the final list. The 13 film differential is due to nominated films that were disqualified, e.g. A CHINESE GHOST STORY 2, which came out in 1990 and does not count in the vote.
From here on, we'll be counting down all the films from Number 100 down to Number 1. This is the first installment of our countdown, meaning I'll be updating this blog every 1-2 days to deliver the next 10-20 movies on the list. I figure we'll get the whole thing done in about a week. If you're impatient, you can always travel forward in time to see how it turns out. When you get back to the present, let us know.
Afterwards I'll print the full list so you can see just how popular or unpopular the films you selected are. No matter what, I guarantee that Jackie Chan's THE PROTECTOR didn't make the list.
A note: This list has 101 films because two films ended in a dead heat for #100. There are tie-breakers built into the scoring system, with first-place votes and number of total votes helping separate films that receive equal points. However, in the case of #100 and #101, both films have the same amount of points, the same amount of first-place votes (i.e., zero), and the same amount of total votes. Yep, math is hard.
Let's get this thing going!