January 1st, 2010
We're finally here. The Top 3 films of our reader-selected Top 50 Hong Kong Films of the Decade are listed below. Sorry to drag this thing out an extra day, but I decided to split the Top 3 from the rest of the Top 10 because of the sheer disparity in points and votes between these three films and the rest.
An illustration via nifty statistics: the #4 film KUNG FU HUSTLE had 219 fewer points than the #3 film. 20% of all available points were given to the top three films. Also, the top three films received 45% of all first-place votes. Most shocking of all, Johnnie To has nothing to do with any of them.
In case you're new and want to read up on the previous 47 films, you can do so here:
Numbers 50-41
Numbers 40-31
Numbers 30-21
Numbers 20-11
Numbers 10-4
Oh, and sorry for the post with the fake Top 3. Actually, I kind of like PLAYBOY COPS.
Let's get this over with:
3. SHAOLIN SOCCER (2001), directed by Stephen Chow - 500 points, 10 first place votes - LoveHKFilm Review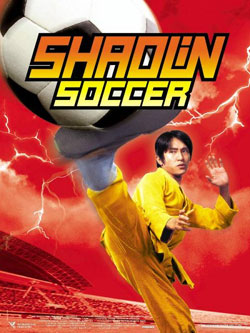 Winner of multiple statues including Best Picture, Best Director, Best Actor and probably Best Craft Services at the 21st Hong Kong Film Awards, SHAOLIN SOCCER is a landmark Hong Kong film, becoming the territory's top-grossing local movie during its theatrical run (only TITANIC had grossed more at the time). Besides being award-winning and money-making, the film is very, very good, perfectly mixing Stephen Chow's sardonic comic style with a thrilling sports story, state-of-the-art CGI, and some startlingly effective emotional moments. With SHAOLIN SOCCER, Stephen Chow ceased being Hong Kong Cinema's best-kept secret and launched on a career that would inspire raving from film geeks worldwide. The unfortunate coda: he made only two more films over the next nine years.
2. IN THE MOOD FOR LOVE (2000), directed by Wong Kar-Wai - 512 points, 25 first place votes - LoveHKFilm Review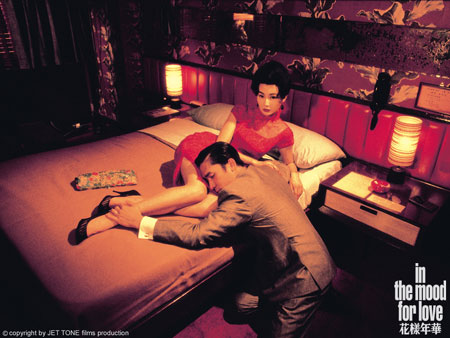 Wong Kar-Wai arguably reached his peak with his 2000 masterpiece IN THE MOOD FOR LOVE, a romantic drama that took all things Wong Kar-Wai - rampant voiceover, non-linear narratives, situations infused with suffocating longing - and actually used them less, concentrating on only two characters instead of his usual large popstar cast. The result is a far more affecting and accessible work that captures its restrained characters and their why-can't-they situation beautifully. IN THE MOOD FOR LOVE is funny, sad, heartbreaking, maddening and sublime, and its as much due to the actors as their celebrated director. With this film, Tony Leung Chiu-Wai and Maggie Cheung made a case for themselves as the greatest screen couple in Hong Kong Cinema history. It's possible to deny them that title. But it's not easy.
1. INFERNAL AFFAIRS (2002), directed by Andrew Lau Wai-Keung and Alan Mak Siu-Fai - 879 points, 35 first place votes - LoveHKFilm Review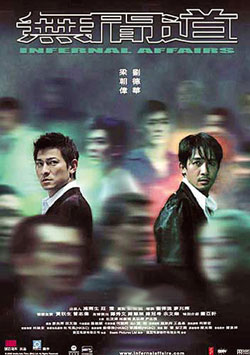 All other films had best get out of the way, because INFERNAL AFFAIRS just owned them. Andrew Lau and Alan Mak's crime thriller received 879 points, a full 367 more than its closest competitor. That is an obscene margin of victory, turning this "Best of the Decade" vote into a full-on blowout. Whereas SHAOLIN SOCCER and IN THE MOOD FOR LOVE duked it out until the very last day for second place, INFERNAL AFFAIRS took charge on day one and never looked back. As for the movie itself, it grossed $55 million at the Hong Kong box office (at the time, trailing only SHAOLIN SOCCER and TITANIC), won multiple Best Picture awards, spawned two popular if not acclaimed sequels, and got remade by Martin Scorsese as an Oscar-winning film called THE DEPARTED. When giving it a first-place vote, LoveHKFilm reader Lord Garth said "Yes, it is that good." Obviously, many people agreed.
And that's it! I hope you've enjoyed this Top 50 Hong Kong Films of the Decade vote despite the shameless destruction wrought upon all other films by INFERNAL AFFAIRS. Johnnie To was the big winner with 12 films (13 if you count the To-produced HOOKED ON YOU) making the Top 50, though even Mr. To could not crack the Top 3. I'm sure he doesn't mind.
Again, thanks to everyone for participating! In a few days, I'll post a full list of all the films that were voted on, plus maybe a few fun stats. I had a lot of fun putting this together and look forward to doing it again, though I do wonder how I'll find the time. In the future I hope to write some film reviews too.
Happy New Decade!