December 31st, 2009
1. In the Mood for Love (2000)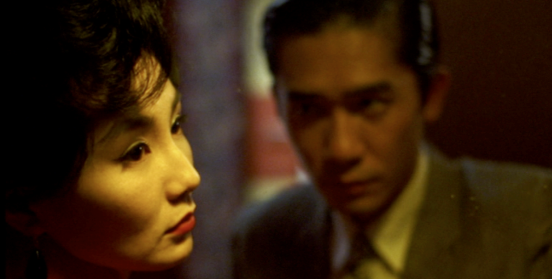 Maggie Cheung and Tony Leung Chiu-Wai are In the Mood for Love
Did you honestly think I would pick My Wife is 18? Well, I didn't. If it's any consolation, Wong Kar-Wai's In the Mood for Love does deal with a seemingly inappropriate relationship of its own — a budding romance between a man and a woman who just so happen to be married to other people. But then again, their respective spouses are having affairs — with each other, no less – so the line between what's right and what's wrong gets more than a little hazy as the story unfolds. The two wounded lovers (played by Tony Leung Chiu-Wai and Maggie Cheung) end up forming a peculiar sort of friendship, borne out of a mutual pain and a fervent desire to both understand and hopefully come to grips with their spouses' cruel betrayal. The results of their experiment are nothing less than movie magic. In the Mood for Love is a rare movie romance where entire pages of dialogue can be conveyed in a single look and the "real action" may just reside somewhere between the lines (or edits, as it were).
Although there's no need to elaborate, I saw In the Mood for Love – like many of Wong Kar-Wai's other films — at a particular crossroads in my own life. What I can say is that my undergraduate university advertised a free screening, and when I saw the name Wong Kar-Wai, I immediately recognized him from that wonderful film of his, Chungking Express. If the wording of that sentence sounds a little strange coming from a Hong Kong film enthusiast, let me remind you: like my unfamiliarity with both Category-III skin flicks and Stephen Chow comedies, I was also practically Wong Kar-Wai illiterate at that time. I think some of those same books that I read about Hong Kong cinema suggested his films were pretentious, and taking them at their word, I pretty much avoided his work — that is, until Chungking Express showed up on the shelf of the foreign film section of my local Hastings (it's a video/books/music store).
In any event, I went to the theatre by myself, not knowing a single thing about the plot or what to expect. Nowadays, with the advent of internet, it has become very easy to spoil a movie — either we have movies spoiled for us or we actively seek out spoilers due to unbridled enthusiasm and curiosity for a certain filmmaker's work. Well, going in completely ignorant of what In the Mood for Love would entail turned out to be a pretty good move.
When I walked out of the small theatre after the lights came up, I have to admit that I didn't know what to think. The film held my attention throughout, as the characters, the music, the rhythm, and the idiosyncratic editing style just washed over me.  I couldn't really articulate anything. All I really knew was that I liked it. I eventually bought the Criterion Collection DVD (on sale for $20! Score!) as soon as I saw it in stores, and through multiple viewings I came to understand why it had affected me so. Heck, I even liked the deleted scenes!
If you couldn't already tell, this is quite possibly my favorite Wong Kar-Wai movie EVER and probably the best film the critically-acclaimed auteur will ever make, although 2046 came close. I still hold out hope that he can again craft something as wonderful as In the Mood for Love, a beautiful film that improves with every subsequent viewing. Credit must also go to William Cheung Suk-Ping, Christopher Doyle, Lee Ping-Ban for the film's look, as well as Tony Leung Chiu-Wai and Maggie Cheung for delivering career-defining performances that are sure to be remembered for a very long time. I mean, after all, Tony Leung has become so associated with Wong Kar-Wai, that My Blueberry Nights suffered considerably in his absence.  Without "Little Tony," the film was WKW-lite. Like Kurosawa without Mifune, it just ain't the same. On a similar note, it's a damn shame Maggie Cheung retired from acting. She's a rare talent among actresses in Hong Kong cinema and is sorely missed.
As I hope my comments show, I firmly believe that In the Mood for Love is a shining example of the very best that Hong Kong cinema has to offer. Without reservation, I'd recommend it to anyone as the top Hong Kong film of the decade. Really, it doesn't get any better than this.
*     *     *
Here's a recap of the top 25, but now expanded to a full fifty top picks:
1. In the Mood for Love (2000)
2. Shaolin Soccer (2001)
3. Needing You… (2000)
4. Crouching Tiger, Hidden Dragon (2000)
5. Red Cliff (2008/2009)
6. 2046 (2004)
7. Kung Fu Hustle (2004)
8. The Heavenly Kings (2007)
9. Hero (2002)
10. Infernal Affairs (2002)
11. Time and Tide (2000)
12. July Rhapsody (2001)
13. Chinese Odyssey 2002 (2002)
14. Infernal Affairs II (2003)
15. Invisible Target (2007)
16. One Nite in Mongkok (2004)
17. Lost in Time (2003)
18. SPL (2005)
19. Election (2005)
20. Election 2 (2006)
21. My Mother is a Belly Dancer (2006)
22. Love on a Diet (2001)
23. The Eye (2002)
24. Connected (2008)
25. CJ7 (2008)
26. Fearless (2006)
27. Just One Look (2002)
28. Colour of the Truth (2003)
29. House of Flying Daggers (2004)
30. Running on Karma (2003)
31. Dumplings…Three Extremes (2004)
32. My Name is Fame (2006)
33. My Wife is 18 (2002)
34. Fulltime Killer (2001)
35. Visible Secret 2 (2002)
36. Exiled (2006)
37. The Beast Stalker (2008)
38. The Protege (2007)
39. Throwdown (2004)
40. Run Papa Run (2008)
41. Curse of the Golden Flower (2006)
42. Infernal Affairs III (2004)
43. Breaking News (2004)
44. My Left Eye Sees Ghosts (2002)
45. Warlords (2007)
46. Sausalito (2000)
47. Initial D (2005)
48. Shinjuku Incident (2008)
49. Secret (2007)
50. The Duel (2000)
While I'm at it, I thought I'd throw out some additional "Honorable Mentions" (listed below in alphabetical order). I'm not ashamed to say I dug all these films, but for one reason or another, I just couldn't bring myself to put 'em in the top fifty. For some titles, the reasons behind that hesitation might be obvious; for others, not so much. For instance, I didn't know what to do with Three — "Going Home" and Eros — "The Hand" since they're both short films, and even though I liked it better than some of the films in the top 25, Ashes of Time Redux is not really a new movie, but more of a tune-up of a 90s model picture, complete with a new paint job.
If your favorite movie isn't listed here or anywhere else on my list, chances are that a) the movie completely slipped my mind or b)  I simply haven't had the opportunity to see it yet. My sincerest apologies. This whole process reminds me a lot of an epigram that concludes one of the film's on this list:
He remembers those vanished years. As though looking through a dusty window pane, the past is something he could see, but not touch. And everything he sees is blurred and indistinct.

Honorable Mentions:
Ashes of Time Redux (2008), Bullets of Love (2000), The Detective (2007), Divergence (2005), Dragon Tiger Gate (2006), Dry Wood, Fierce Fire (2002), Eros — "The Hand" (2004), The Eye 2 (2004), Eye in the Sky  (2007), Fat Choi Spirit (2002), Fighting for Love (2001), The Floating Landscape (2003), Good Times, Bed Times (2003), Hooked on You (2007), I'll Call You (2006), Ip Man (2008), Leave Me Alone (2004), The Mad Detective (2007), New Police Story (2004), Perhaps Love (2005), Re-Cycle (2005), Rule #1 (2008), Running Out of Time 2 (2001), So Close (2002), Sound of Colors (2003), Summer Holiday (2000), Three — "Going Home" (2002), Tokyo Raiders (2000), Turn Left, Turn Right (2003), Turning Point (2009), Wo Hu (2006)
*Whew*
Well, that's it. I hope you enjoyed this stroll down memory lane. Let me know what you think! It's been a fun decade. Let's all hope for a wonderful new year of Hong Kong cinema and a helluva decade to come! HK filmmakers, don't let us down!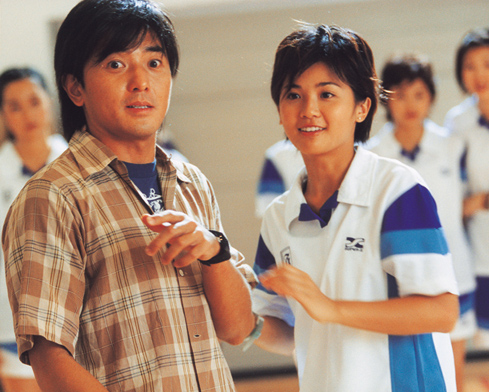 Prediction: Wong Kar-Wai will direct one of these two in the next decade. Or not.