Sunday, March 21st, 2010
It's put up or shut up time as we enter the Top 20 of our Top 100 Hong Kong Films of the Nineties. Basically, everything that appears from here on out had better be a nearly-unassailable classic, or we'll have a lot of explaining to do. Already people are jockeying for position: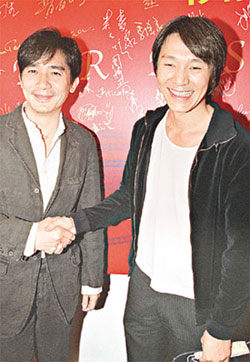 "Man, we are so going to own this Top 20!"

For the record, right now Tony Leung Chiu-Wai has 5 films in the Top 100, and Stephen Chow has 14. Tony does have some hole cards, though.
As explained in every single entry in this series, this list was selected by actual LoveHKFilm readers who took the time to send in their picks for their favorite Hong Kong films. Judging by the results, you can learn a lot — not only about who reads this site, but also about the general state of international Hong Kong Cinema fandom. Generally, we all watch too much Stephen Chow, plus we have stopped appreciating such fine artists as Carol Cheng, Ekin Cheng and Sammo Hung. Everyone out there, where is your sense of history?
Oh yeah, if you're just joining us, please check out the previous entries first so you don't ruin the surprise of finding out that the number one film is INFATUATION:
Numbers 100-81
Numbers 80-61
Numbers 60-41
Numbers 40-31
Numbers 30-21
Enough talk, it's time to see what shows up for numbers 20-11!