Tuesday, July 6th, 2010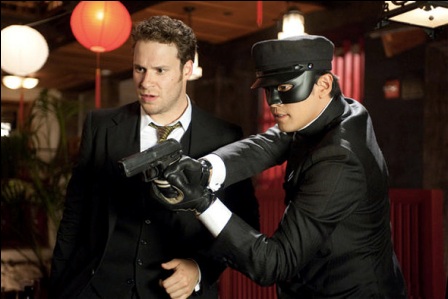 Seth Rogen as Britt Reid and Jay Chou as Kato in The Green Hornet (2011)
I'm honestly surprised that The Green Hornet has finally been made. For a while there, it looked like it'd never see the light of day. The film has had a long, tortuous production history. In the 1990s, there were vague rumors of an impending film involving George Clooney, but the most concrete development came when Kevin Smith (Clerks) wrote a screenplay in 2004. However, Smith got cold feet about helming the film himself and backed out of the director's chair (although he did later adapt the script into a comic for Dynamite Entertainment).
Without Smith's involvement, the project then languished in development hell until we got the surprising news  that Stephen Chow would both direct and star in the new film, alongside Seth Rogen, who would play against type as Britt Reid, the titular Green Hornet. But soon enough, Chow was off the project as both actor and director due to "creative differences" and announced he would be instead pursuing a different superhero film with Jack Black (!). More delays ensued.
And then, Michel Gondry, director of The Eternal Sunshine of the Spotless Mind, came aboard as director and Taiwanese actor-singer Jay Chou was cast in the role of Kato. Still more delays ensued when Sony decided to post-convert the film to 3-D, which isn't a good sign if it's true what people have been saying about post-converted 3-D films like Clash of the Titans and The Last Airbender (i.e. the 3-D sucked).