Thursday, October 21st, 2010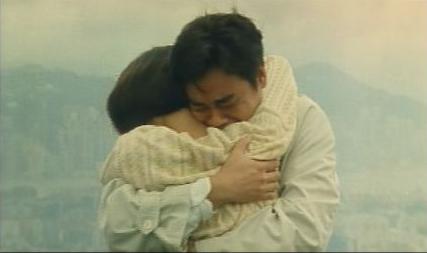 Lau Ching-Wan and Anita Yuen in C'est La Vie, Mon Cheri
With a few exceptions, it's somewhat difficult to conceive of a scenario in which a person sees the absolute wrong movie at the wrong time in his or her lifetime. But conversely, it is wholly possible to pinpoint a moment in one's life when the right film was seen at the right time — a movie that was not only good, but spoke to the viewer personally, perhaps even in reference to something that happened in their own lives sometime in the past or may have been happening at that very moment.
I've written previously on this site about how some of Wong Kar-Wai's films have had just such an effect on me. While I've asserted that Wong Kar-Wai has his finger on the collective pulse of disaffected twenty/thirtysomethings everywhere, I also feel strongly that his films often prove to be particularly moving if seen at the right moment in one's life — especially at a moment of transition or loss. But this is not a trait solely reserved for the cinema of WKW; I find this true of other films from other filmmakers as well. Despite differences in language, nationality, geography, and/or epoch, movies can be transcendent viewing experiences. Not to sound pretentious or sappy, but to me, this speaks to the very power of cinema, of literature, and of art — the power to move people.
Several weeks ago, I had the opportunity to watch Derek Yee's 1993 film, C'est La Vie, Mon Cheri. I have been a fan of Yee's directorial work for quite some time now, but this film — I'm embarrassed to say — was one of those movies that simply got away from me. Unless you're just plain awesome like Kozo, there are very few people in this world who have seen every Hong Kong film that's ever come out since the early 1980s. Whether we're talking about movies or books or music, there are gaps in everyone's knowledge, as "expert" as we might claim to be at times. I have no problem admitting that. Whether it's missing out on Moby Dick or  Bob Dylan or this award-winning Derek Yee film, we only have so much time to go around, so it's bound to happen. But still, we persevere.