March 10th, 2011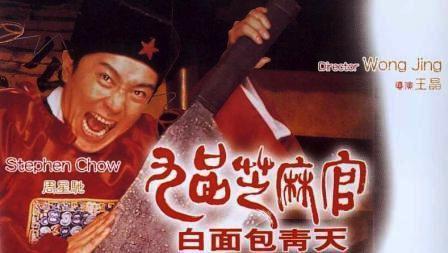 Just the other day, it occurred to me that 1990s era Stephen Chow films are a lot like eating at McDonald's. To those of you out there who despise Ray Kroc's ubiquitous fast food franchise, my comparison may sound like I'm criticizing the most prolific period of the famous comedian's acting career. But I'm not. This may come as a shock to my more health-conscious, organic-only, vegetarian-meet-vegan friends, but I actually like eating at McDonald's…on occasion. Yeah, it ain't  fine dining, and it's certainly not good for you, but if prepared right, it sure can be really, really comforting.
Now, if you're someone who frequents this eating establishment, then you're aware that 99% of the time you know exactly what to expect from your order — whatever the quality, there will be no real surprises. In the hands of a particularly efficient and conscientious staff, your food will taste fantastic, complete with crisp, perfectly salted fries and an extraordinarily refreshing ice cold Coca Cola to wash 'em down with. In the hands of a lazy, incompetent group of workers, however, you're likely to be stuck with soggy, bland fries and some seriously watered down soft drinks. The meal is the same, but the taste can differ, depending on who's preparing the food.
I think the same can be said of Stephen Chow's prolific film output during the 1990s. You'll get exactly what you're looking for in most of his films from that era, but — depending on the filmmakers involved — the final product will vary in quality. His movies may not always be high art and some may indeed be the cinematic equivalent to "empty calories," but when all is said and done, I think Chow's comedy stylings amount to nothing less than comfort food for the soul.
And I guess the McDonald's comparison is pretty apt, if you consider his career, as Stephen Chow has not only hawked food for McDonald's, but even given us a hilarious musical parody in God of Gamblers 3: Back to Shanghai (Man, I wish I had a clip!). But the real reason for my extended fast food metaphor involves my recent viewing of the Wong Jing-directed, Stephen Chow comedy, Hail the Judge (1994)
The film operates as a kind of comedic send-up of the famous historical figure turned fictional hero Judge Bao Zheng. However, in this version, Chow portrays Judge Bao Lung-Sing, an unscrupulous descendant of the legendary magistrate. After an opening sequence that establishes the depths of his corruption, Sing soon comes to realize the error of his ways when he hears a rape case involving the beautiful Chi Siu-Lin (a very sympathetic Cheung Man). While it seems like an open-and-shut case due to Chi's convincing testimony, numerous witnesses, and plenty of corroborating evidence, the rapist (Collin Chou) uses his father's connections to hire "Mirror" Fong Tong-Kan (Lawrence Ng), the Johnnie Cochrane of the Qing Dynasty.
Bribes, threats, and Fong's linguistic manipulations of the legal code successfully put the victim on trial instead, eventually resulting in Siu-Lin being sentenced to death. Unwilling to allow this miscarriage of justice to stand, Sing embarks on a quest to clear her name and turn the tables on both the crooked lawyer and his corrupt benefactors. And like a novice kung fu student looking for a sifu, Sing finds an unlikely mentor in an ill-tempered brothel madam (Yuen King-Tan), whose skill at verbal sparring is a martial art in itself.
Joining Stephen Chow and Cheung Man are a variety of familiar faces. Ng Man-Tat plays Chow's comical nephew (!) and Elvis Tsui Kam-Kong delivers a fearless comedic performance as a similarly corrupt and all-too-crazy judge, while Christy Cheung and Ada Choi show up briefly to suggest possible romantic pairings with Chow's character. The cast is rounded out by many Stephen Chow regulars, including the perpetually cross-dressing Lee Kin-Yan.
Although Hail the Judge can be a tad episodic and meandering, Wong Jing provides capable direction (although the torture scenes involving Cheung Man, as Kozo notes in his review, are a bit much) and  there are likable performances throughout. I can't remember the best McDonald's meal I ever had, but I remember how it made me feel. In a lot of ways, Chow's 1990s film output works the same way — it's disposable entertainment, but no less entertaining.
*    *    *