Saturday, January 15th, 2011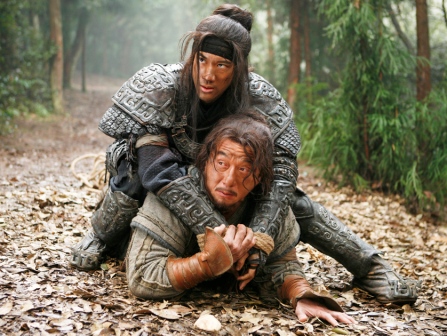 "Err…it's not what it looks like." — Leehom Wang and Jackie Chan in Little Big Soldier.
For quite a while now, Jackie Chan has seemed pretty cognizant of the need to re-invent himself as an actor in order to stay relevant to a contemporary audience. He's made it clear in interviews that he knows he's getting older, and he can't keep (and hasn't kept) playing the young romantic lead doing the same death-defying stunts with any degree of believability. Over the years, Chan has made several attempts at reinvention as a dramatic actor, but he's always reverted back to the comfortable "Jackie Chan-type" character in Hong Kong and American films. More recently, he's tried to walk on the dark side as reluctant crime lord in The Shinjuku Incident and tried to act his age as the Sifu in the recent remake of The Karate Kid. But in my view, the most successful attempt at reinvigorating Chan's career was 2010's Little Big Soldier.