Tuesday, October 26th, 2010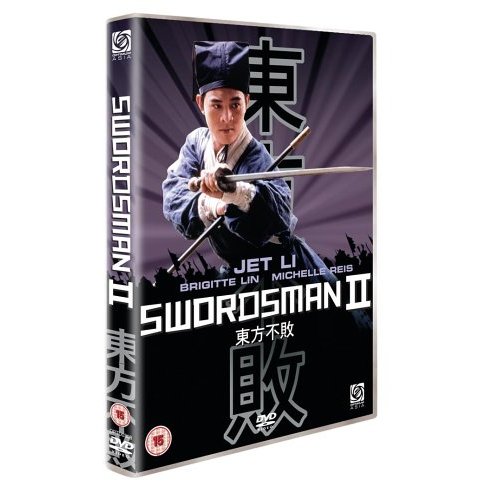 Today's retro review is one my favorite Hong Kong films of all-time — the Tsui Hark-produced, Ching Siu-Tung-directed Swordsman II (1992). Although I'm quite fond of the first film, this winning sequel improves on its predecessor considerably, largely due to a compelling story, great action, and the (mostly) all-new cast. The film stars my favorite actor of the 1990s, Jet Li (replacing Sam Hui), Rosamund Kwan (replacing Cheung Man), and Michelle Reis (replacing Cecillia Yip). By far the biggest addition to the cast is the singular Brigitte Lin Ching-Hsia, who takes on the challenging role of  Asia the Invincible, a character who is quite possibly the most memorable villain of 1990s Hong Kong cinema — spawning a sequel of "his" own and a handful of parodies, too.
For me, this is a movie of introductions. Not only was Swordsman II the very first wuxia film I ever saw, but it was also the first film I'd ever seen to feature a transgendered character. What stands out now nearly twenty years(!) later is the portrayal of Asia, who while remaining a "villain" in the traditional sense is also very human and sympathetic. He/she also happens to possess superhuman powers, badass martial arts skills, and Brigitte Lin's striking good looks — all qualities that have helped insure the character's cinematic immortality for some time now.
Swordsman II was an early review of mine for LoveHKFilm.com; whatever I lacked in skill or style, I hopefully made up with humor and enthusiasm. Funnily enough, Swordsman II was the first review I ever wrote to get quoted on a DVD; in this case, Optimum Asia's UK DVD. At the very least, my parents seemed to get a kick out of it.
Anyway, for Hong Kong cinema fans, this is another must-see flick.