Tuesday, November 30th, 2010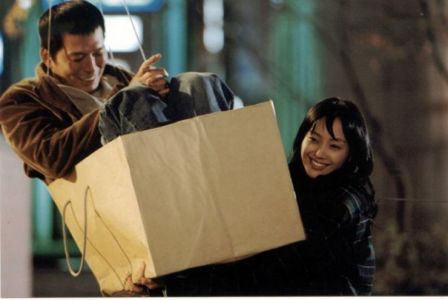 Jung Jae-Young and Lee Na-Young in Someone Special
The phrase "A Woman I Know" is the direct  translation of the title of a Korean film known more commonly under its official English moniker, Someone Special. Not only that, these words end up becoming a key piece of dialogue spoken a couple times in the film, culminating in a sort of tipping point for the onscreen relationship between our two main characters. But let's back up a second; I'm getting ahead of myself here.
I first saw Someone Special at the Doris Duke Theatre in Hawai'i sometime in 2005, I believe, as a part of a locally-run Korean Film Festival. I didn't know what to expect going into the screening, but when I came out, I was all smiles. Of all the Korean films I've seen, Someone Special ranks as one of my sentimental favorites.
The film begins with an idyllic scene in which a presumably happy couple walk hand-in-hand through the park. If the voiceover is to be believed, the two of them are most certainly about to proclaim their undying love for one another. But to the surprise of our hero, Dong Chi-Sung (Jung Jae-Young), his girlfriend is less than pleased with how their relationship is going. She casually and quite abruptly  dumps him. In retaliation, Chi-Sung erupts in that completely mental way that only Korean men can do, giving us a meltdown scene that is too hilarious to describe in words.