Monday, January 3rd, 2011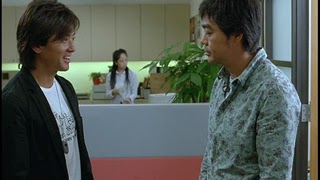 One of these men may be the greatest actor of his generation.
In Laurence Lau's 2006 film, My Name is Fame (read Kozo's review), Lau Ching-Wan stars as journeyman actor Poon Kar-Fei, a committed artist who has found it increasingly difficult to nab all the plum roles, critical accolades, and/or celebrity status that seemed destined for him after bursting onto the scene with an award-winning debut oh-so many years ago. Just as his career is reaching its lowest ebb, our hero crosses paths with Faye Ng (Mandarin-speaker Huo Suyin, who's dubbed over — sometimes distractingly — in Cantonese), a young ingenue from the Mainland who seeks guidance from her idol. Relegated to work as an extra, Faye dreams of making it big in the Hong Kong film industry, but doesn't seem to have a clue on how to achieve that goal.