Monday, February 7th, 2011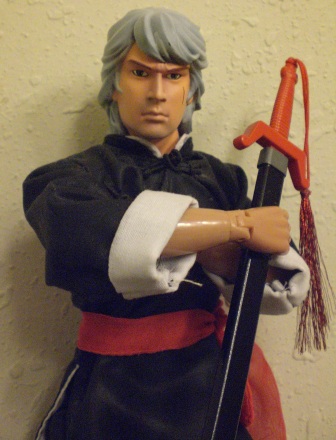 Can you tell I'm a fan of A Man Called Hero? While I know there's a lot of new and interesting toys on the market, this regular column will also be dedicated to the various Hong Kong cinema-related action figures I own, and — for good or for ill — a large portion of those toys include characters featured in A Man Called Hero and Storm Riders.
From what I can gather, Dragon Models, Ltd. created this now decommissioned figure of Hero Hua Ying-Hung sometime around 1999, which you can find listed under the name of "A Man Called Hero," "Chinese Hero," and even "Oriental Hero." I own the figure pictured on the right, which is based on Ma Wing-Shing's popular comic book, but apparently there were at least three more versions of the figure created. One looks exactly like mine, except with a different hair color and costume (pictured below). The other two share a dramatically different head sculpt.
In conjunction with the 1999 movie A Man Called Hero, Dragon Models released two editions of the figure that bore the likeness of the film's star, Ekin Cheng — an "old version" dressed in the same black wardrobe as the one I own and a "young" Ekin dressed in a brown-colored costume. From what I've seen, the box for both the comic and movie versions of Hero Hua appear practically identical. Too bad a scale version of the Statue of Liberty playset was unavailable for purchase.