Sunday, January 2nd, 2011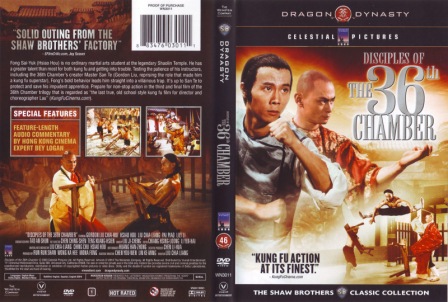 While browsing that same Wal-Mart in which I saw the Indonesian flick Merantau sitting on the shelf, I noticed that Disciples of the 36th Chamber had been released on US DVD. Unlike their DVD releases of Return to the 36th Chamber and Return of the One Armed Swordsman, which quoted my reviews by name and as "LoveHKFilm.com," Dragon Dynasty chose not to utlilize my review for their back cover art and website link.
That's probably because I hated it. I mean, can you imagine picking up a DVD and seeing these quotes?
"Extremely disappointing third entry in the 36th Chamber of Shaolin trilogy"
"Hsiao Hou […] plays quite possibly the most annoying Fong Sai-Yuk in the history of Hong Kong cinema"
"Disciples of the 36th Chamber is a lackluster sequel, and that's putting it mildly."
I don't think that would help sell more copies.
As a side note, I remember contemplating buying a copy of Ong Bak in Singapore, and the one I picked up — purportedly a Mainland Chinese DVD, I think — had pull quotes from a BAD review of Iron Man on the back cover! It said something disparaging about Jon Favreau. Poor guy.