Sunday, July 18th, 2010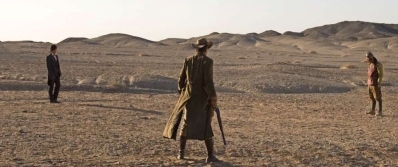 For reasons I am at a loss to explain I have been on a Western kick for several months now. I've read Louis L'Amour's A Man Called Noon (meh), Ernest Tidyman's High Plains Drifter (ok), Forrest Carter's The Outlaw Josey Wales (good), and Cormac McCarthy's Blood Meridian (awe-inspiring). In terms of films, I started out watching Spaghetti Westerns I'd never seen before — Death Rides a Horse, The Big Gundown, Django the Bastard, My Name is Nobody, If You Meet Sartana Pray for Death, Keoma, and The Stranger and the Gunfighter. I then proceeded to revisit some American Westerns like Unforgiven, High Plains Drifter, The Searchers, Rio Bravo, Silverado, Tombstone, and The Quick and the Dead. I even treated myself to the highly entertaining PS3 game Red Dead Redemption, of which I've finally completed 100% of the various missions.
Now, I know none of this has anything to do with Hong Kong cinema. And I probably should have been spending all that time watching the HK films gathering dust on my shelf (Eight Diagram Pole Fighter is still waiting for me), but when I have a passion, I follow it through to the very end — and in a very thorough fashion.
To tell you the truth, I also wanted to watch something that had nothing to do with my research — Asian American lit and film/detective fiction — and nothing to do with my quasi-professional interests either — Hong Kong and Asian cinema. But wouldn't you know it? Both of those interests seeped into my pursuit of a good Western.