Monday, January 24th, 2011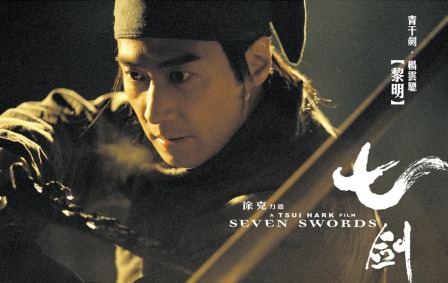 Despite my professed love for Hong Kong cinema, sometimes a movie slips through the cracks. For some odd reason, I never got around to watching Tsui Hark's 2005 wuxia epic, Seven Swords, even though I've owned the movie since it was first released on DVD quite a few years ago. I gave the movie a try one weekend when I lived in Hawaii, but I seem to remember being somehow vaguely put off by the look of the film (or, more likely, the running time of 2.5 hours when I had a master's project to finish) and moved on to other Hong Kong movies that had captured my interest in a way Seven Swords didn't.
Recently, I had a chance to finally watch Seven Swords, and in retrospect, I wish I hadn't waited so long, as Hark delivers a mostly entertaining, if overstuffed swordplay epic. It's not one of Tsui's best, but it's a film that's rousing in small passages, coasting on a handful of intriguing characters and some stellar wuxia iconography that it never quite capitalizes upon.
You can read Kozo's full critique of the film here, while I share my thoughts below.