July 18th, 2010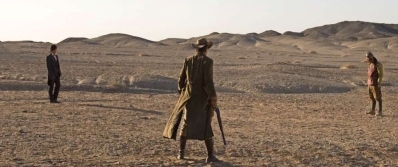 For reasons I am at a loss to explain I have been on a Western kick for several months now. I've read Louis L'Amour's A Man Called Noon (meh), Ernest Tidyman's High Plains Drifter (ok), Forrest Carter's The Outlaw Josey Wales (good), and Cormac McCarthy's Blood Meridian (awe-inspiring). In terms of films, I started out watching Spaghetti Westerns I'd never seen before — Death Rides a Horse, The Big Gundown, Django the Bastard, My Name is Nobody, If You Meet Sartana Pray for Death, Keoma, and The Stranger and the Gunfighter. I then proceeded to revisit some American Westerns like Unforgiven, High Plains Drifter, The Searchers, Rio Bravo, Silverado, Tombstone, and The Quick and the Dead. I even treated myself to the highly entertaining PS3 game Red Dead Redemption, of which I've finally completed 100% of the various missions.
Now, I know none of this has anything to do with Hong Kong cinema. And I probably should have been spending all that time watching the HK films gathering dust on my shelf (Eight Diagram Pole Fighter is still waiting for me), but when I have a passion, I follow it through to the very end — and in a very thorough fashion.
To tell you the truth, I also wanted to watch something that had nothing to do with my research — Asian American lit and film/detective fiction — and nothing to do with my quasi-professional interests either — Hong Kong and Asian cinema. But wouldn't you know it? Both of those interests seeped into my pursuit of a good Western.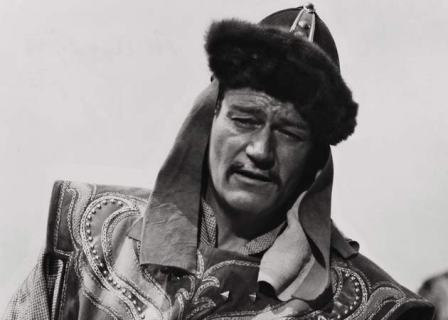 East Meets West: John Wayne as Genghis Khan
While we're all aware of how Western cinema has taken inspiration from Asian influences — The Seven Samurai became The Magnificent Seven, Yojimbo became A Fistful of Dollars, etc. — I'm also interested in a different kind of Asian-American film connection. I've started to become intensely interested in 1) American-made (or Italian-made) Westerns that feature Asian characters and 2) Asian films that appropriate the look, themes, and general feel of the American Western.
Since I believe both Western and Asian cinemas have explored self-generated ideas of The West and The Orient, I call these films "Oriental Westerns." As  a budding  scholar of Asian American history and lit, I use the term "Oriental" quite consciously, fully aware of the negative implications the term carries in the United States for Americans of Asian descent. But in doing so, I want to emphasize the mutually inclusive myth-making projects of different national cinemas in imagining their own pasts and that of the Other.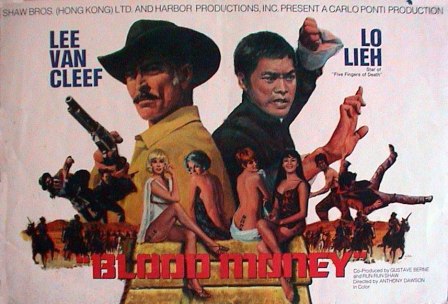 Blood Money, aka The Stranger and the Gunfighter
Prior to Kozo's unexpected, but well-deserved break from LoveHKFilm.com, I submitted a review for a curious Spaghetti Western/Shaw Brothers mash-up entitled The Stranger and The Gunfighter. While I call it a "Eastern Western" in my review, I think "Oriental Western," despite any negative connotations one might draw from it, might be more appropriate. The film stars Spaghetti Western staple Lee Van Cleef and Shaw Brothers legend Lo Lieh in a movie that predates Shanghai Noon by twenty-six years. I then finally saw the "spicy Thai Western" known as Tears of the Black Tiger and completed a review I'm readying for LoveHKFilm.com's eventual relaunch. I've done a bit more research and put together a list of titles:
Walk Like A Dragon. Dir. James Clavell. Perf. Jack Lord, Nobu McCarthy, James Shigeta, and Benson Fong. Paramount Pictures, 1960.
Red Sun. Dir. Terence Young. Perf. Charles Bronson, Toshiro Mifune, Ursula Andress, and Alain Delon. National General Pictures, 1971.
The Fighting Fists of Shanghai Joe. Dir. Mario Caiano. Perf. Chen Lee, Klaus Kinski, and Gordon Mitchell. Beacon Films, Inc., 1972.
The Stranger and the Gunfighter. Dir. Antonio Margheriti. Perf. Lee Van Cleef, Lo Lieh, and Julian Ugarte. Champion Films, 1974.
The Return of Shanghai Joe. Dir. Bitto Albertini. Perf. Klaus Kinski, Cheen Li, and Karin Field. C.B.A. Produttori e Distributori Associati, 1975.
Tampopo. Dir. Juzo Itami. Perf. Tsutomu Yamazaki, Nobuko Miyamoto, and Ken Watanabe. Itami Productions, 1985.
Peace Hotel. Dir. Wai Ka-Fei. Perf. Chow Yun-Fat, Cecilia Yip,and Lau Shun. 1995.
Once Upon a Time in China and America. Dir. Sammo Hung. Perf. Jet Li, Rosamund Kwan, and Xiong Xin-Xin. China Star Entertainment, 1997.
Tears of the Black Tiger. Dir.Wisit Sasanatieng. Perf. Chartchai Ngamsan, Stella Malucchi, Supakorn Kitsuwon, and Sombat Metanee. Five Star Production, 2000.
Shanghai Noon. Dir. Tom Dey. Perf. Jackie Chan, Owen Wilson, and Lucy Liu. Touchstone Pictures, 2000.
Shanghai Knights. Dir. David Dobkin. Perf. Jackie Chan, Owen Wilson, and Donnie Yen. Touchstone Pictures, 2003.
Sukiyaki Western Django. Dir. Takashi Miike. Perf. Hideaki Ito, Masanobu Ando, and Shun Oguri. Sony Pictures Entertainment, 2007
The Good The Bad The Weird. Dir.Kim Ji-Woon. Perf. Song Kang-Ho, Lee Byung-Hun, and Jung Woo-Sung. CJ Entertainment, 2008.
After I finish my dissertation and turning that into a book, this "Oriental Western" idea will likely be the next project I tackle, unless I write one of those Hong Kong cinema books I've been itching to try. In any event, there's a long road ahead of me before I get to tackling The Oriental Western.
Essentially, I'm calling dibs on a book idea that I won't commence in another five to ten years. And like calling "shotgun," it's a binding, iron-clad ruling. So there. Don't rip me off.
If you can think of any other titles that fit the bill, please let me know in the comments section!