January 3rd, 2011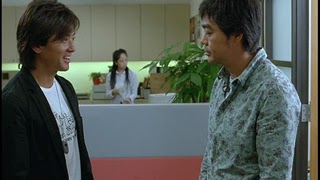 One of these men may be the greatest actor of his generation.
In Laurence Lau's 2006 film, My Name is Fame (read Kozo's review), Lau Ching-Wan stars as journeyman actor Poon Kar-Fei, a committed artist who has found it increasingly difficult to nab all the plum roles, critical accolades, and/or celebrity status that seemed destined for him after bursting onto the scene with an award-winning debut oh-so many years ago. Just as his career is reaching its lowest ebb, our hero crosses paths with Faye Ng (Mandarin-speaker Huo Suyin, who's dubbed over — sometimes distractingly — in Cantonese), a young ingenue from the Mainland who seeks guidance from her idol. Relegated to work as an extra, Faye dreams of making it big in the Hong Kong film industry, but doesn't seem to have a clue on how to achieve that goal.
Eventually, Kar-Fei becomes her reluctant mentor, helping Faye hone her craft and work her way up in the often cutthroat film business. As one might expect, the two fall in love along the way — but thankfully, it doesn't seem forced at all, and is practically secondary to the teacher-student relationship the two share. Faye lights a fire under Kar-Fei, and not just in a romantic sense. Eventually, he decides he needs to quit moping around and get back to work. Yep, it's high time to "take back what he lost" — although unlike other HK films, he goes about it without brandishing two pistols or becoming an ace card shark. How does he do it? ACTING! GENIUS! (it's marginally funnier if said in Jon Lovitz's voice)
All in all, My Name is Fame is an enjoyable send-up/expose of the Hong Kong film industry and boasts a lot of funny in-jokes. The film hints at delving into darker territory when Faye agrees to do an erotic film for Gordon Chan (!) that requires plenty of nudity and sex scenes. The suggestion is that if the movie is a hit with the critics, she'll be an A-list actress, but if it bombs, she'll be relegated to Category-III status forever. Drama-wise, not only is it a big gamble for a newbie actress to attempt, but there's also Kar-Fei's budding feelings for her to contend with — so clearly, the situation as a whole has the potential to be really, really messy for everyone involved.
Even so My Name is Fame avoids practically every possible "dark" turn you could imagine considering the set-up, and quite honestly, I'm glad it did — to go that route would, in itself, been a cliched move. Still, it would've been nice if the film had a bit sharper (harder?) edge at times. Basically, the film's moral amounts to "hard work is its own reward." Despite the movie's simplistic credo, some really wonderful performances by Lau Ching-Wan and Huo Suyin, not to mention the film's consistent, often meticulous focus on the in's and out's of the moviemaking business, save My Name is Fame from being just some cheesy, one-note message movie. In sum, it's definitely one of the standout HK films of 2006. (2007/2011)
Final Grade: A-
DVD Special Features:
The DVD includes an English-subtitled "Making Of" Featurette and three trailers: Dating a Vampire, We Are Family, and Isabella. There's also two trailers slapped onto the beginning of the DVD: Isabella (again) and Love at First Note.