Wednesday, January 20th, 2010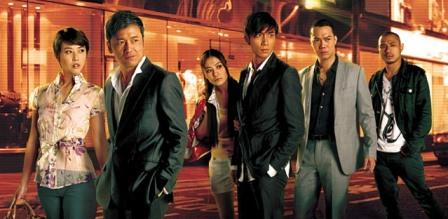 When I visited Singapore in the summer of 2009, I was delighted to have the opportunity to watch English-subtitled Hong Kong movies in theaters. One of those films that I went to see during my trip abroad was Turning Point, a 2009 undercover cop flick helmed by the prolific and underrated director, Herman Yau. Mostly out of the loop when it comes to the day-to-day pop culture of Hong Kong, I was surprised as heck that Young and Dangerous veteran Michael Tse was featured prominently on the poster alongside Anthony Wong and Francis Ng. More surprising to me was that not only was it a starring role for Tse, but that Turning Point was created expressly for him — that is, his character was meant to be the film's primary draw. How the heck did this happen?
Well, as many of you might know, Turning Point is a prequel/spin-off of a popular TVB show called E.U. ("Emergency Unit"). Michael Tse played a supporting role as Laughing Gor, a triad heavy who ended up stealing the show out from under the leads and becoming the most popular character in the process.
Upon learning this, I really wanted to see the original show, and while television and DVD stores in Singapore proved fruitless, I hit the jackpot in Genting, Malaysia, as one of the stores (in a casino, no less) had an official DVD set of the entire series. Running thirty episodes, I was a little skeptical that I would be able to muster the strength to start, let alone finish watching the series. After all, my previous commitments to certain Korean dramas have always been a chore even if I actually liked the shows in question. To be honest, shortened series like Dexter and Curb Your Enthusiasm are more my speed.
Well, I had some free time, and on a whim, I popped in the first disc (five episodes) and have been watching them on and off for the last few days. I don't know when I'll complete my viewing, but I'm definitely gearing up to write a full review once I finish the series. But until that time, I thought I might share some initial thoughts about the program that may eventually form the basis for a more formal critique of the show. Some of you may have seen Turning Point, but not E.U., so maybe I can help fill in some of the gaps.