October 29th, 2009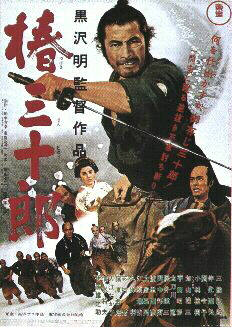 Well, I finally finished my 300th review for, appropriately enough, Akira Kurosawa's Sanjuro.I know it's not the best-written review I've ever put out, but I did the best I could. I've always found that it's much harder to review movies that you really love than it is to critique films that you really hate. In fact, I had to write my review of the 2007 remake, Tsubaki Sanjuro, first (to be published later) to really get a handle on what I wanted to say about the original.
Anyway, the review has been a long time coming. Originally, I was hoping to get it done before my 30th birthday (Sanjuro means "thirty years old"), but grad school got in the way, so the review is almost a full year late. In fact, when I first started writing for LoveHKFilm.com I was churning out reviews at such a prodigious rate, I thought I'd actually be close to a 1,000 reviews by now. Oh, how life gets in the way of silly ambitions.
Anyway, as Kozo says on the main page, I'm dropping the "Sanjuro" moniker in favor of my real name, Calvin McMillin. When I joined the site, internet handles were all the rage (for example, there were movie reviewers like Moriarty at AICN and Smilin' Jack Ruby at CHUD.COM) but nowadays, the need/desire for that kind of anonymity no longer seems necessary — at least for me, anyway. And besides, Rotten Tomatoes already lists us by our real names.
Well, it's been a lot of fun writing these 300 reviews; here's hoping I do at least 300 more!