May 9th, 2010
I just had to interrupt my self-imposed hiatus to call attention to the most recent and rather brilliant episode of Community. For those of you unfamiliar with this NBC comedy, the premise involves a lawyer named Jeff Winger (The Soup's Joel McHale) who is forced to attend community college when questions arise about the validity of his undergraduate degree. At Greendale Community College, he befriends a ragtag group of students, played by an wonderful ensemble cast that includes Chevy Chase, Gillian Jacobs, Donald Glover, Danny Pudi, Yvette Nicole Brown, and Allison Brie.
At this point, you may be wondering just what the heck any of this has to do with Hong Kong cinema, but I think if you take a good look at the image and the video I've embedded below, you'll know immediately why the episode in question is relevant to a site called LoveHKFilm.com.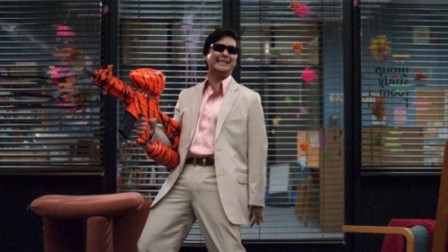 Ken Jeong — probably best known from the box office smash, The Hangover — plays the school's wacky Spanish teacher, Señor Chang. In last week's episode, "Modern Warfare," Greendale holds a campus-wide paintball tournament, and Chang shows up as the ringer, doing his best Mark Gor/Jeff/Tequila Yuen impression in the process. The pop culture references are flying fast and furious, as Community parodies everything from John Woo movies to Fox's smash-hit, musical-comedy Glee… with hilarious results. Speaking of "fast and furious," the episode was directed by two-time Fast and the Furious director Justin Lin, who also helmed Community's equally funny Halloween-themed episode.
Okay, enough talk. Do yourself a favor and check this out.
*It's come to my attention that this episode may not be available outside the U.S. Sorry, folks.