July 27th, 2010
"What's your dissertation about?" That's a question I get asked fairly often when people learn I'm working towards my PhD in literature. With that in mind, I thought I'd use Ronin on Empty to address that very question. Usually, I like to play things close to the vest for fear that someone might steal my idea or some other similiar paranoid thought. But seeing as how I'm pretty far along in the project, and I'm actually declaring myself here "in print," you'd have to be one bold bastard to try to rip me off. So, for those who are interested, here's my dissertation concept: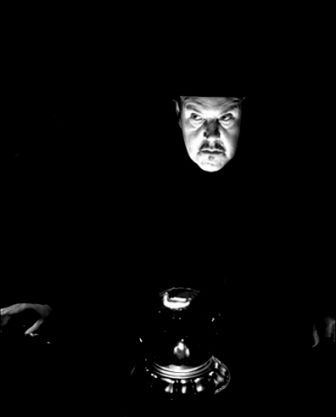 Who is Charlie Chan, and why does he remain such a controversial figure? Created by Earl Derr Biggers in the early 1920s, the Honolulu-based Chinese detective appeared in six widely popular mystery novels. And beginning in 1931, the Fox Film Corporation spearheaded the creation of an even more successful "Charlie Chan" film series – running nearly fifty movies in total – first starring Swedish actor Warner Oland and later American actors Sidney Toler and Roland Winters in the title role. Beloved by Depression-era viewers nationwide and hailed as a progressive depiction of a Chinese character amidst a sea of crass Orientalist stereotypes, Charlie Chan was far from the controversial figure he is today. Since the late 1960s, revivals of Chan, particularly on the silver screen, have drawn protests and condemnation from the Asian American community. Despite the tremendous success of the character prior to the end of World War II, Charlie Chan eventually lost his status as a beloved matinee icon, as his name alone became a kind of shorthand for the racist stereotyping of Asians in the popular American imaginary. In less than a half-century's time, Chan has gone from celebrated hero to an object of scorn and ridicule. What accounts for his precipitous fall from grace? And how is it that an ostensibly moribund character such as Charlie Chan can persist in his refusal "to go gentle into that good night"?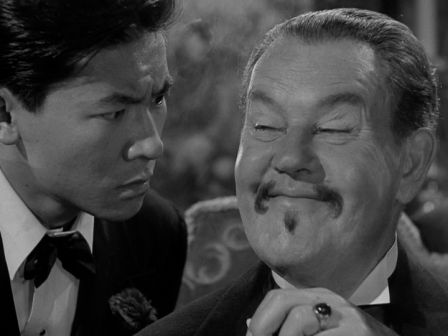 Jimmy Chan (Victor Sen Yung) and Charlie Chan (Sidney Toler)
This dissertation investigates and attempts to explain the enduring presence and figurative transformations of the fictional detective Charlie Chan in Asian American discourse. By examining this perpetually controversial figure, I hope to clarify the antagonistic relationship with Chan's specter that exists in a variety of Asian American works, ranging from literature to film to even literary criticism, with a special emphasis on the emerging subgenre of Asian American detective fiction in the late twentieth/early twenty-first century. Drawing on the work of Jacques Derrida, Stuart Hall, and Sigmund Freud, I argue that Charlie Chan is a spectral figure, and it is this "ghostly" quality which allows a number of racial stereotypes to be articulated onto this once popular, now infamous cultural icon, an occurrence which further demonstrates the way in which both Chan's very name and image can conjure up a complex web of associations for modern audiences. While Charlie Chan may indeed be "dead" in terms of popularity and general public awareness, my research shows that for many Asian American writers, critics, and activists, he remains a perpetually haunting and largely controversial figure. As a result, the Asian American writers and filmmakers covered in this study find themselves seemingly locked in a kind of continually unfolding drama with the uncanny specter of Charlie Chan.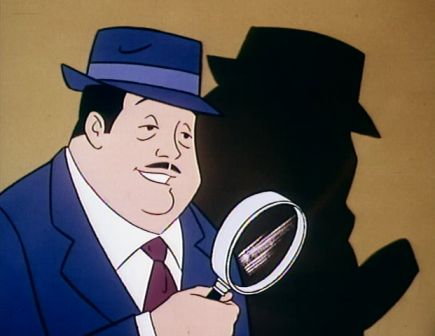 Charlie (Keye Luke) in The Amazing Chan and the Chan Clan
And yet, while this character is often reviled and quickly dismissed as a racist caricature, I argue that it is important to recognize that "Charlie Chan" is not a singular person or event, but rather the sum total of six novels, nearly fifty Hollywood films, a sixteen episode Hannah-Barbera cartoon series, and countless other cultural artifacts – many of which have been lost to the proverbial sands of time. Thus, even though Chan is frequently spoken of as a character with a fixed identity, my preliminary work indicates that he is a collectivity of differing "performances" or "figurations," ones that I argue can be both racist and progressive, each a product of its era.
In this dissertation, I will trace the development of the literary and cinematic representations of the Asian American detective in tandem with the spectral hauntings of Charlie Chan on Asian American discourse. In the first chapter, "Specters of the Past; or Charlie Chan Carries On," I will do a close reading of the body of work featuring Chan, with an emphasis on the novel, film series, and real-life person upon whom the character was based. Historically situating Earl Derr Biggers's creation and the subsequent film series in the aftermath of Chinese exclusion laws, US/China geopolitical confrontations and alliances, and the racist anti-Chinese stereotypes prevalent in the early twentieth century, I hope to provide a rationale for the huge chasm that separates Biggers's positive self-assessment of his work and the largely negative way in which his character has been received in post-1968 Asian Americanist critique and cultural production. In this section, I will turn to Stuart Hall's concept of articulation as a way to understand how a character like Charlie Chan could accrue both racially progressive and racially offensive associations with differing readerships and viewing audiences. Further, I will use Freud's notion of the uncanny to provide a possible answer for why Charlie Chan has maintained such a hold on Asian American literary discourse, continually serving as a stand-in for a perpetually haunting racist imaginary – even if this character is much more complicated than his "scapegoat" status would suggest.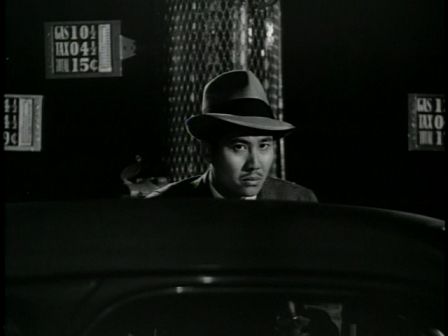 Keye Luke as James Lee Wong in Phantom of Chinatown

In the second chapter, "Chinatown Revisited," I will look at a number of American crime films that challenged popular misperceptions of Asians in the larger culture and went so far as to cast Asian American actors in leading roles instead of engaging in the controversial practice of "Yellowface" – the hiring of white actors as Asian characters, as was the case with the Charlie Chan films. The works covered in this study include Robert Florey's Daughter of Shanghai (1937), starring Anna May Wong and Philip Ahn; Phil Rosen's Phantom of Chinatown (1939), starring Keye Luke; Samuel Fuller's The Crimson Kimono (1959), starring James Shigeta; and Wayne Wang's arthouse hit, Chan is Missing (1982). This chapter will historicize these films within the context of the often Orientalist representations of Asians in classic Hollywood cinema while also providing a close reading of these Asian American detective films by looking at how each re-signifies Asian American subjectivity in the shadow of Charlie Chan.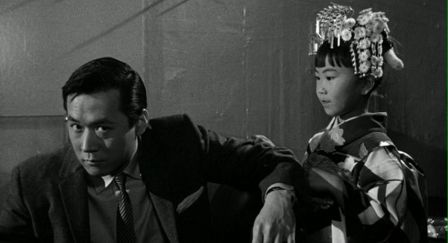 James Shigeta as Joe Kojaku in The Crimson Kimono
In chapter three, "The Rise of the Asian American Detective," I analyze the relatively recent phenomenon of Asian American writers utilizing the detective genre for their own cross-cultural purposes. At the turn of the twenty-first century, a handful of Asian American writers emerged – including Dale Furutani, Gus Lee, and Leonard Chang – who chose to address Charlie Chan both directly and indirectly through their own examinations and repudiations of specific Asian stereotypes related to emasculation, perpetual foreignness, and exoticism, while at the same time attempting to transcend the conventional, quaintly outdated notion of an "Ethnic Detective," a character whose ethnicity is more or less a novelty rather than a lived reality. Placing a specific emphasis on the hardboiled detective story, I will expose its unquestionably American character and discuss how this tradition holds a crucial importance to Asian American iterations of the genre. Because the Asian American detective takes his cues not from the intellectual sleuths of the classical detective story as Chan did, but from the tough guy protagonists of the hardboiled detective genre, I view this appropriation of the hardboiled form as a strategic maneuver to reframe Asian American masculinity through the use of recognizable genre conventions.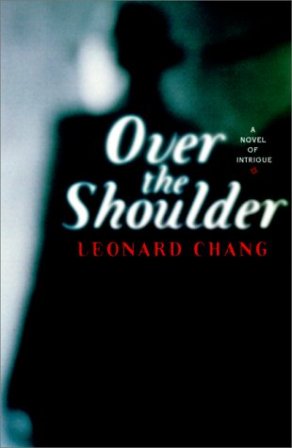 The first novel in Leonard Chang's Allen Choice Trilogy
In the epilogue to this dissertation, I will focus on several works that fell outside the initial scope of this project, as they emerged only in the last eight years: Don Lee's Country of Origin (2004), Ed Lin's This is a Bust (2007) and Snakes Can't Run (2010), and Henry Chang's Chinatown Beat (2006) and Year of the Dog (2009). In addition to discussing these crime novels by male authors, I will also highlight the rise of Asian American detective fiction written by women. Examples include Nina Revoyr's Southland (2003); Suki Kim's The Interpreter (2002); Francine Lin's The Foreigner (2008); and Naomi Hirahara's The Summer of the Big Bachi (2004), Gasa-Gasa Girl (2005), Snakeskin Shamisen (2006), and Blood Hina (2010). This epilogue will not only allow me the chance to shed light on the latest iterations of a fast-growing subgenre, but also give me the opportunity to suggest further avenues of inquiry for future research.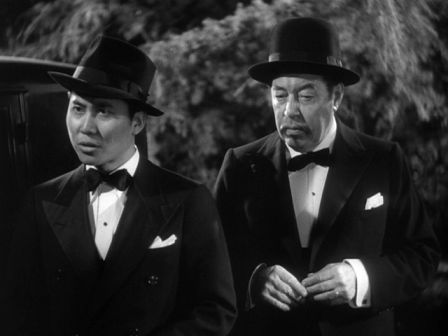 Lee Chan (Keye Luke) and Pop (Warner Oland)
Although Charlie Chan appears frequently in Asian American cultural discourses, no existing study has attempted an in-depth historical and critical analysis of the character. Further, there have yet to be any full-length scholarly treatments of detective fiction written by Asian Americans.* This dissertation, therefore, serves not only as the first substantial critical examination of a body of work I term, "Asian American Detective Fiction," but also as the first critical inquiry into the Asian Americanist fascination with the uncanny specter of Charlie Chan and his surprisingly pervasive influence on Asian American literary and filmic production. Through an analysis of these various attempts by Asian American writers to exorcise the portly "Oriental" detective from American popular culture, I hope to make a significant intervention in my field and provide insight not only into the novels themselves, but also into the historical, ethnographic, and cultural realities that these works cite, re-signify, and critique. By studying these various attempts to write back against the ghost, I hope to illuminate – once and for all – the long shadow Charlie Chan has cast on the Asian American cultural landscape.
_______________________________________________________
* Hopefully, Yunte Huang's forthcoming book will not makes this all for naught.
**I may add a chapter on the Sons of Chan, Charlie Chan ancillary materials, and similar novels written in the wake of the book and film series. It's still early.