April 9th, 2009
To my deep dissatisfaction, I missed seeing Ashes of Time Redux on the big screen when it was shown at one of the arthouse theatres here in Santa Cruz. In fact, the damn thing lasted all of ONE WEEK, a turn of events which proved hugely disappointing to me when I looked up showtimes online only to find that the film had been replaced with some piece of crap indie flick. Thankfully, Ashes of Time Redux eventually made its way to DVD on March 3, 2009, and I was pretty stoked on seeing it from the comfort of my own home.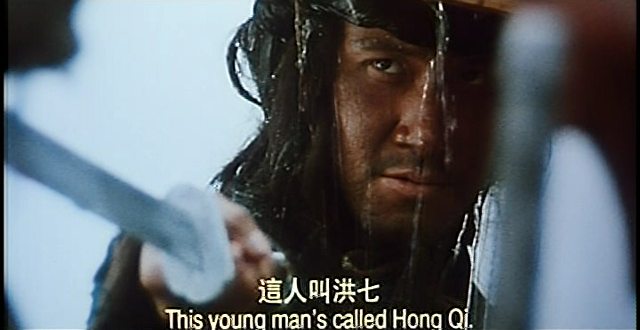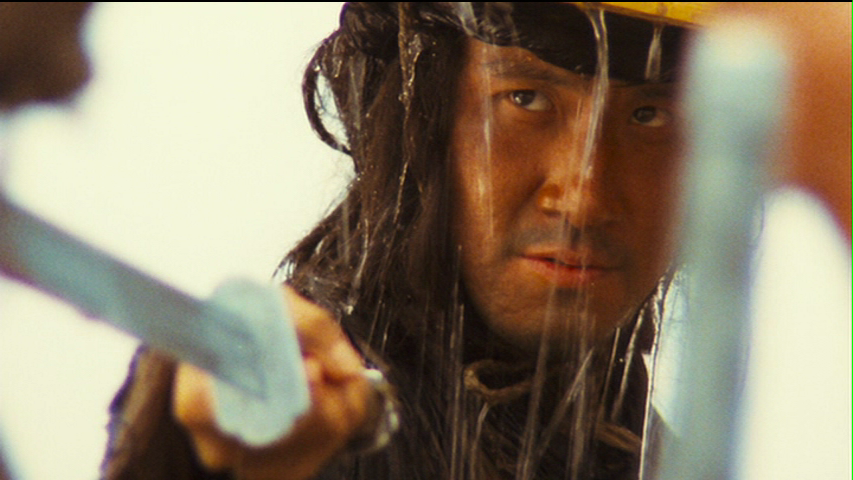 Ashes of Time (left), Ashes of Time Redux (right)
However, in the midst of a sea of essays to grade, term papers to write, and various assorted responsibilities to attend to, I postponed a viewing of Wong Kar-Wai's re-edit until my Spring Break vacation. I had the full intention of reviewing the movie for LoveHKFilm.com, but as fate would have it, Kozo beat me to the punch. In some ways, this actually turned out to be a good thing. For one, I agree with pretty much everything Kozo said in his very well-written and insightful review, so it's not like I had something better to contribute. And two, as I tried to compose my thoughts on the film, I realized that reviewing a restored and/or re-edited film – rather than a wholly original work – is, in some ways, a thankless task. Basically, even if you try to review the film on its own merits, one's critique eventually breaks down into an exercise in "contrast and compare." And really, isn't that what fans of the original movie actually want – What's different about the new movie? What's cut out? Did he put anything in? Did Wong Kar-Wai ruin his own movie?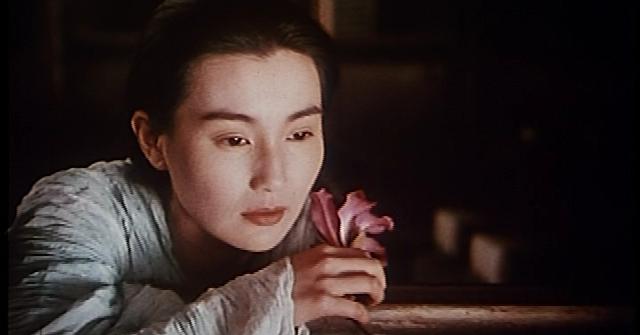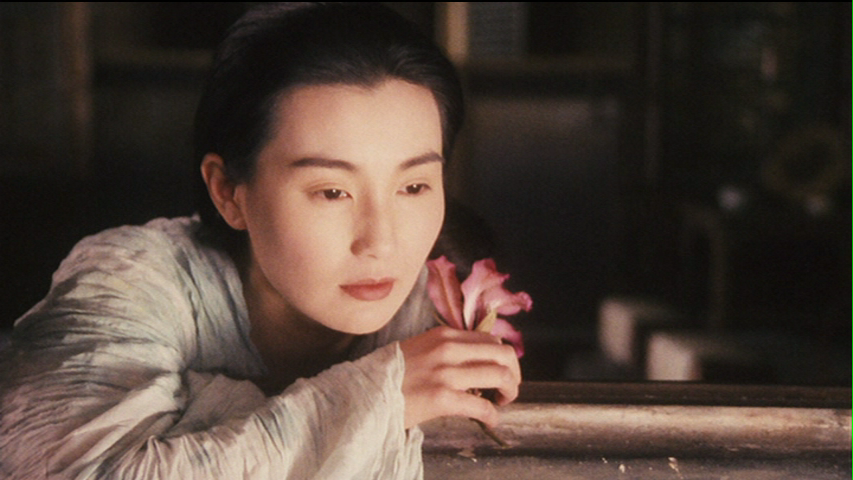 Ashes of Time (left), Ashes of Time Redux (Right)
In a lot of ways, these pressing concerns make a discussion of Ashes of Time Redux more suitable to the blog format, in the sense that a) I don't necessarily have to be as focused as I would be in a review, b) I can post screen captures for comparison, c) I can talk about the film in a way that might not be appropriate for the review format, and d) I can make more jokes.
So, where to begin? Well, when I first heard about Ashes of Time (1994) way back when, a lot of the reviews that I encountered said that it was confusing, convoluted, and even pretentious. Granted, these reviewers seemed to be solely enamored with films focusing on kung fu, gun battles, and/or naked chicks, so in hindsight, they weren't necessarily Wong Kar-Wai's target demographic. Not knowing much about Hong Kong cinema at the time, I sorta believed these critics and held off watching the film. It took seeing Chungking Express for me to decide to seek out this film. And when I finally saw Ashes of Time on DVD, I had a decidedly different reaction than those so-called HK film fanboys. I loved it. Instead of being confused, I found the movie to be rather straightforward – I mean, it has voiceover narration for crying out loud!  And as far as I can tell, the motives of all the characters are revealed either immediately through voiceover or gradually to complement the rhythm and structure of the film. What's confusing about that? The only things that are potentially puzzling are the Sammo Hung-choreographed fights that begin and end the movie. Remember Leslie Cheung battling Lau Shun in a barn towards the beginning? Or Leslie duking it out with Jacky Cheung toward the end? Well, for the Redux, Wong Kar-Wai decided to delete both of those scenes, and quite a few others. Is that a good thing? Well, that depends on your attachment to these and other scenes, I suppose.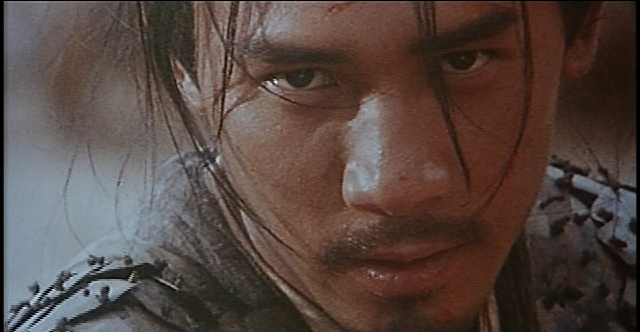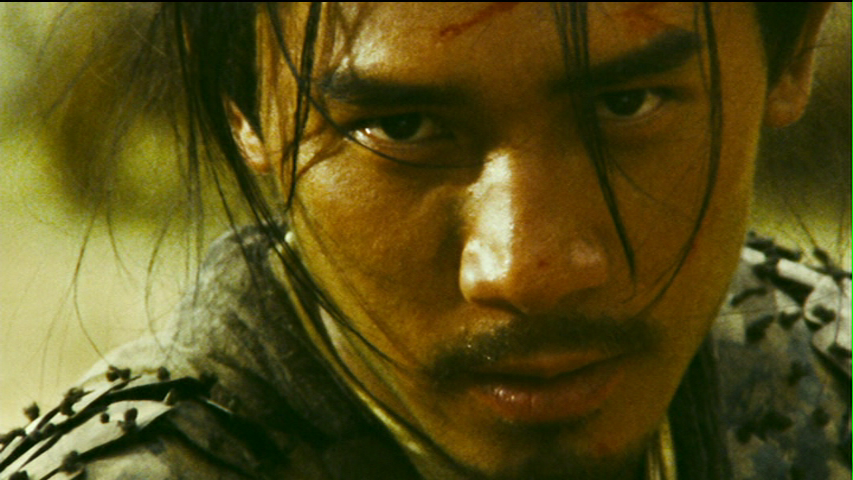 Ashes of Time (left), Ashes of Time Redux (right)
Hold the Cheese
For me, Ashes of Time Redux is a cleaner, prettier, and more tonally consistent film than its already wonderful 1994 predecessor. With a restored and reworked color palette, Ashes of Time Redux could fit right alongside not just In the Mood for Love and 2046, but more contemporary wuxia films in the post-Crouching Tiger, Hidden Dragon/Hero era. In other words, it no longer resembles a Ching Siu-Tung or Tsui Hark film from the early 1990s. In some ways, I suppose that's a real shame for more than a few viewers, but overall, I think the film is better served for it. Is it a better film? Hard to say.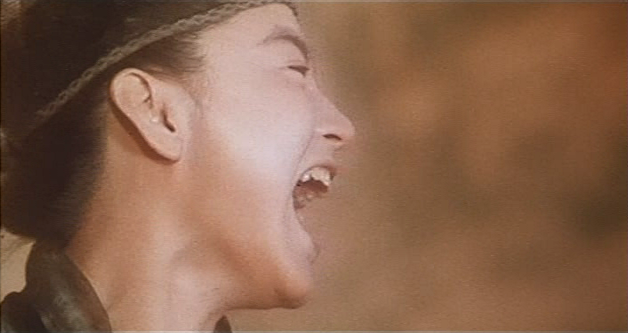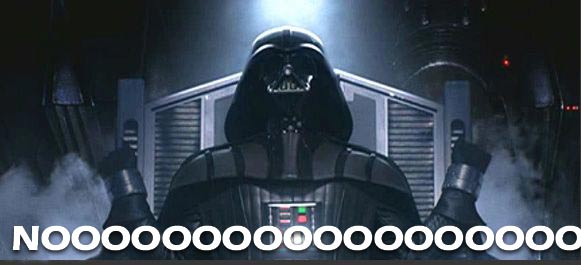 Edward Munch would be soo proud.
Aside from tweaking the colors and the image, Wong Kar-Wai's main goal seems to be lowering the film's cheese factor. Remember Brigitte Lin's cheesy as hell double scream on the lake? Well, it's gone, and I don't think anything was lost by its deletion. It wasn't out of place in the era of Swordsman II and the like, but now, the scream has the same effect as Darth Vader's "Nooo!" in Revenge of the Sith – it's ridiculous and takes you completely out of the movie. Lin fans might mourn the loss of her precious screen time, but I doubt others will.
Remixed, but not by Timbaland
As most know, Frankie Chan and Roel A. Garcia's synthesizer score has gone full orchestral thanks to the contributions of composer Wu Tong and cellist Yo-Yo Ma. I have to say, that I did not rewatch the original Ashes of Time in its entirety immediately before/after watching the Redux. For what it's worth, I did, however, fast forward through the whole thing, stopping only to compare certain scenes. While this fact disqualifies me in giving a proper critique of the music change, I can report some off-the-cuff thoughts on the difference. First of all, the new soundtrack didn't suck, and I know this because it never felt distracting or lightweight. I remember the original score as bombastic, and the new version follows suit at all the appropriate times as far as I can tell. However, during the few scenes of the original that I did stop to watch, I was struck by the fact that the original score often  felt antiquated, distracting, or just plain cheesy. Thus, I would hesitantly say that there's nothing wrong with the more respectable sounding Redux soundtrack. I'm not saying it's better since I didn't compare it note-for-note. It just doesn't suck.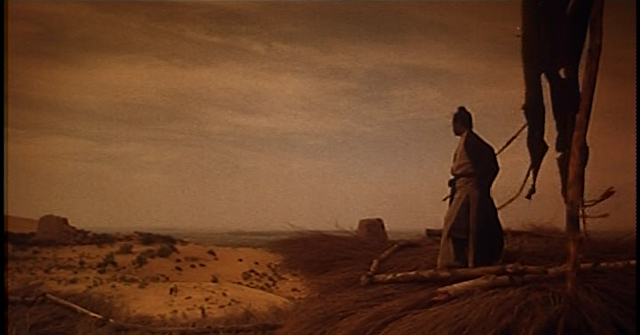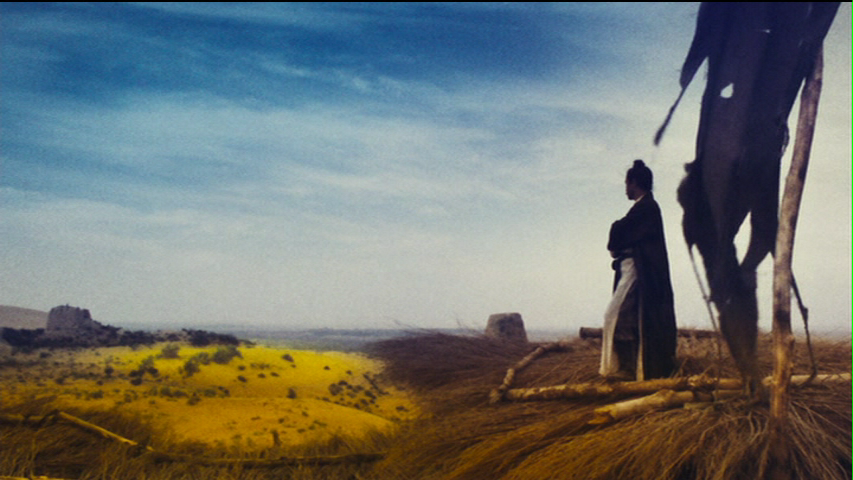 Ashes of Time (left), Ashes of Time Redux (right)
The Cruelest Cut
Imagine for a second if Wong Kar-Wai decided to do Days of Being Wild Redux. Really, aside from some changes in the color palette, I'd imagine he'd only delete one scene – Tony Leung's cameo at the end of the film. For those in the know, that was supposed to lead into the aborted Days of Being Wild sequel, footage of which I would love to see someday if it still exists. But for those going in to the movie cold, that scene makes absolutely no sense whatsoever. By all rights, the film should've ended with the sound of the phone ringing in that empty telephone booth before cutting to black. That would have been an awesome final moment if WKW had chosen to do it that way, perfectly visualizing one of his pet themes — love is all a matter of timing. Now, would I recommend Wong Kar-Wai actually go back and recut the film to suit my whims? Well, I'm not sure. Even though it's completely baffling in context, I'm strangely partial to the Tony Leung scene because a) I know it exists so I'd always be bothered by its absence if it were cut out b) I like Tony Leung and it was nice to see him, even for only a couple minutes, and c) if he stays in the film, I can keep pretending that he's playing a young Chow Mo-Wan from In the Mood for Love and 2046. For me, that little scene — despite kind of screwing up the movie's perfect rhythm and confusing the hell out of audiences, particularly non-Chinese — suggests that there exists a movie that is beyond the movie that we just watched, and we'll likely never see it.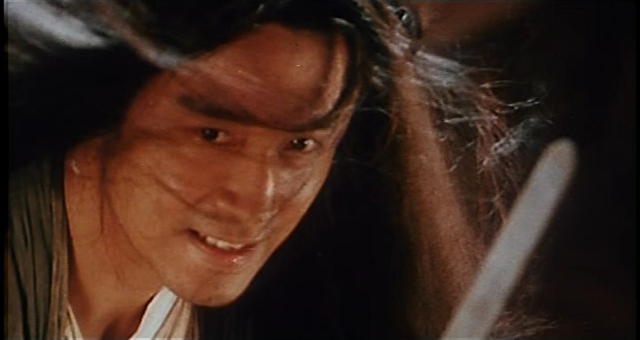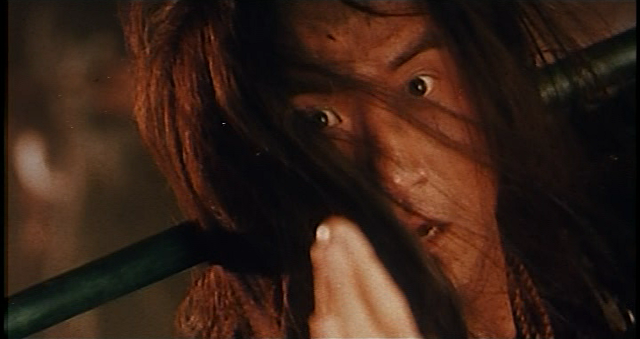 Movie within a Movie: Ashes of Time 2: Legend of the Condor Heroes
Having said all that, I sort of view the fight scenes at the beginning and end of Ashes of Time in a similar vein. As most know, the film is meant as a kind of prequel to Jin Yong's novel Eagle Shooting Heroes (not to be confused with Jeff Lau's parody) in which WKW speculates on what could have possibly led Huang Yaoshi and Ouyang Feng to become the very, very bad men that they are in the original novel. What I liked about the two fight scenes is that they basically showed you a window into the future, a window into what I presume to be key events in The Eagle Shooting Heroes. I don't know for sure because I've never read the damn thing, but it certainly feels like it's possible. Now I don't really mind that the scene with Lau Shun was cut (although I'm curious if he was supposed to be someone important), but while watching the Redux, I really missed the moment in which Hong Qi (Jacky Cheung) recognizes that the man he has been fighting was his "friend," a now malevolent-looking Ouyang Feng (Leslie Cheung). Certainly, this is covered in the Chinese text that concludes Hong Qi's story in the body of the film, but actually seeing a glimpse of that encounter – in some ways, a glimpse of a film that doesn't exist– was really cool. So, while the movie might be tighter due to this deletion, I do miss that little indulgence.
Watching at Home
Aside from having an image of a Japanese katana(!) on the disc, the Ashes of Time Redux DVD is pretty nice, as there are two really interesting extras: 1) Born From The Ashes: The Making Of Ashes Of Time Redux, which has interviews with Wong Kar-Wai, Christopher Doyle, Tony Leung, Charlie Yeung, and Carina Lau, and b) a rather long interview with Wong Kar-Wai conducted by J. Hoberman of the Village Voice, which is pretty interesting. There's also a trailer for the Redux.
Now I don't know how much money Sony is willing to spend on the eventual Blu-Ray release, but I would hope that they might include all these extras, plus an original Hong Kong trailer, maybe a slightly longer documentary, and would it be too much to have the original Ashes of Time included? I wouldn't mind even if it was the print used for the Mei Ah version with burned-in subtitles. It would just be good for archival purposes. If not, how about some (remastered!) deleted scenes with optional diretor commentary? It's just a thought.
Anyway, that's my two cents on Ashes of Time Redux. What did you think about the new movie?