September 27th, 2010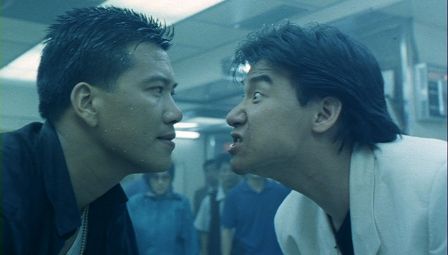 Round 1, Fight! Alex Man vs. Jacky Cheung in As Tears Go By
[Periodically, Ronin on Empty will be taking a look back at some Hong Kong cinema classics, albeit with a specific emphasis on "Great Moments" — i.e. classic scenes that no Hong Kong cinema fan (old or new) should miss. Of course, "classic" will not only entail super-cool, gobsmacking moments, but also the downright ridiculous stuff, too. The numbers — #1, #2, etc. — are not indicators of ranking, but merely a way to keep a running tally of how many "great moments" we can list here. Readers are welcome to send in their own fave scenes as well.]
From Ronin on Empty reader "Jason" comes a personal film pick that he wants to add to my ongoing "Great Moments in Hong Kong Cinema" column. Jason writes:
The confrontation between Tony (Alex Man) and Fly (Jacky Cheung) at the end of Wong Kar Wai's "As Tears Goes By" deserves to be the next greatest moment. The movie also marked the directorial debut of one of the greatest HK director, and the rare collaboration of two of the biggest "teen wong" of HK.
Ask, and ye shall receive.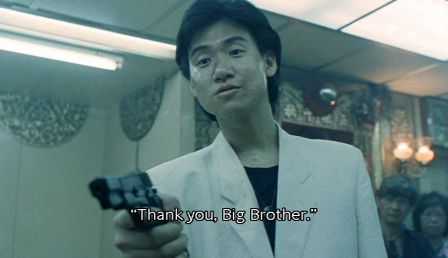 Bathed in blue tones, this intense face-off is a long time coming for these two characters. The plot of the film centers on a young triad named Wah (Andy Lau) who seems to have found an avenue of escape from "the life" when he meets the pretty Ngor (Maggie Cheung). Unfortunately, his "little brother" Fly keeps getting into trouble, eventually rubbing fellow triad Tony the wrong way. A volatile explosion involving the latter two isn't just possible; it's inevitable. Since the moment happens so late in the film, I don't wish to spoil too much. Let's just say that the scene in question is the culmination of a lot of bad blood and hurt feelings between the two.
You can read my full review of As Tears Go By here, and in lieu of the actual scene, here's a trailer for the film: