October 27th, 2010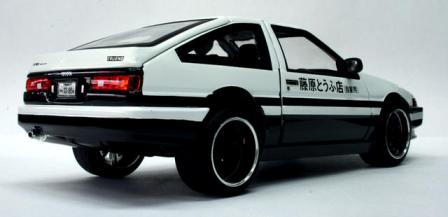 Back in 2005, I took a trip to Singapore to attend an academic conference and visit my relatives on my Mom's side of the family. During the visit, I took the MRT to the IMM Building at Jurong East and got a nice surprise. There, sitting in the lobby was Takumi Fujiwara's Toyota Trueno AE86. If that doesn't mean anything to you then you're probably not familiar with Initial D, a Japanese manga and anime series, which was turned into a 2005 Hong Kong film, starring Jay Chou as the tofu delivery boy-turned-God of Racing, Takumi Fujiwara. Never mind that Jay's not Japanese.
Anyway, the car on display was one of the actual cars used in the filming of the live-action Initial D movie. I think another car might have been on display as well, but as I was only just getting into the anime series, I probably paid it little attention. Unfortunately, I didn't have a camera with me to record the experience, and I'd left my prehistoric cell phone back in the United States so no camera phone pic either. Even more frustrating, I found out that the stars of Initial D were coming to Singapore for the premiere, but by that time, I'd already be long gone for the good ol' U.S.A.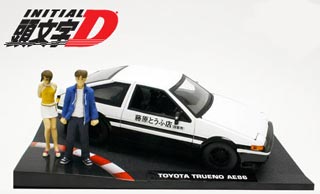 Action Figure Re-enactment of My Initial D Encounter
Awhile back I wrote about spotting the twin blades of the Storm Warriors in a Singapore mall (that time I brought a camera and took crappy pics, too!), and that got me to thinking. To save this blog post from being a complete waste of space, I have to ask — have any of you folks out there seen any cool props/costumes/vehicles from Hong Kong (and other Asian) films? If so, let me know in the comments.
And hey, if you wanna talk about your Batmobile or DeLorean encounter or a trip to Planet Hollywood instead, that's okay, too. Now let us all indulge in the communal guilty of pleasure of Jigga-Jigga-Jay Chou's rapping on "Piao Yi," the theme song for the Initial D film. Enjoy!