October 19th, 2010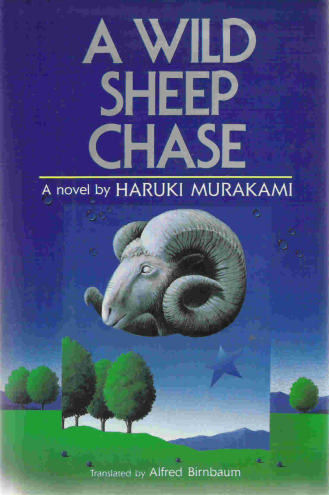 "With the job out of the picture, I felt a surge of relief. Slowly, but surely I was making things simpler. I'd lost my hometown, lost my teens, lost my wife, in another three months I'd lose my twenties. What'd be left of me when I got to be sixty, I couldn't imagine. There's no thinking about these things. There's no telling even what's going to happen a month from now" (Murakami 175).
We now come to the third, but not-so-final installment of Haruki Murakami's "Trilogy of the Rat" — A Wild Sheep Chase. The English title, an invention of translator Alfred Birnbaum, provides a clever hook to an ever-so-engaging novel. Published as Hitsuji o meguru bōken in 1982, Wild Sheep Chase was later translated by the aforementioned Birnbaum in 1989 for the Kodansha English Library. I have that copy, which is split into two volumes; the Vintage paperback; and a first edition hardcover I found for a small sum in a dusty old bookstore in Santa Cruz, CA.*
A Wild Sheep Chase begins with the death of a woman that the protagonist knew back in college. In those days, she had a reputation for being promiscuous, and at one point, she was even casually involved with the narrator. However, upon learning of her death, he cannot recall her name, referring to her only as "the girl who would sleep with anyone." After the narrator returns home from the funeral, we discover that his home life is in disarray, as he's in the process of getting a divorce. He tells his old friend, the bartender J, that it's lucky they didn't want kids. He says:"I don't really know if it's the right thing to do, making new life. Kids grow up, generations take their place. What does it all come to? More hills bulldozed and more oceanfront filled in? Faster cars and more cats run over? Who needs it?" (105). Hope doesn't exactly spring eternal with this guy.
In no time, he finds himself dating a call girl-turned-model, who is known for her two best assets. No, not those — her ears. They are, in the narrator's estimation, the most beautiful ears he's seen in his entire life and they possess near magical properties. Weird, eh? But as mysterious as his new gal pal is, what our hero really longs for is a sense of sustained normalcy. He soon tells his new girlfriend, "Most people, they're trying to escape from boredom, but I'm trying to get into the thick of boredom" (43). However, like any hardboiled dick, he soon finds himself right in the thick of trouble…with peculiar results.
The plot finally gets rolling when Boku (this is how Jay Rubin calls him; it means the informal "I" in Japanese) publishes a photograph of a sheep with a strange birthmark. It attracts the attention of a mysterious Man in Black, who sends the narrator on a quest to find this much-sought-after barnyard animal and discover the whereabouts of the person who sent him the photo — his good friend, the Rat, who previously appeared in Hear the Wind Sing and Pinball 1973.
This is probably a terrible comparison, but Wild Sheep Chase is The Lord of the Rings to Hear the Wind Sing/Pinball 1973's The Hobbit — a larger, more accomplished work that expands on characters, themes, and situations of its predecessor. In terms of narrative similarity, the novel most closely resembles Raymond Chandler's detective fiction, most notably The Big Sleep and The Long Goodbye, in the unnamed narrator's search for a lost friend and in his increasingly hardboiled back-and-forth dealings with the ominous Man in Black (neither Johnny Cash nor Stephen King's Randall Flagg). But the novel is no straight-up mystery tale, as it dips into a very weird metaphysical realm that feels like a slightly less ominous (and certainly less disturbing) take on David Lynch's dark fantasies, even though it precedes the man's most famous work by a few years.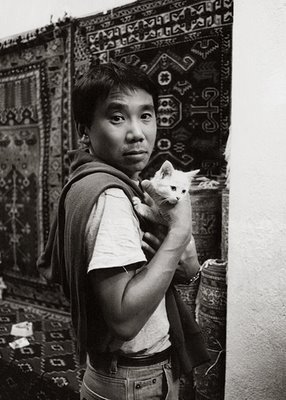 This is the actual back cover author photo on A Wild Sheep Chase. Let the jokes commence.
________________________________________________________
*By the way, when I bought my first edition copy of Haruki Murakami's A Wild Sheep Chase, I found that it was marred by this baffling dedication:
Dearest Eli,
On this, your 31st birthday, I wish you the most inspired and prolific and peaceful and loving year to date. It just keeps getting better, baby. I love you with all my heart… and much more.
Love and Kisses,
Eli