November 18th, 2010

Nicholas Tse, Shawn Yu, and Jaycee Chan share a moment in Invisible Target
[This post has been adapted from an entry first published on my previous, now defunct blog of the same name. Enjoy.]
Right after I left Hong Kong while on vacation in the summer of 2007, Benny Chan's then-recent action flick, Invisible Target, hit DVD shelves everywhere. Alas, I was unable to purchase the Hong Kong version of the film. However, a Singapore edition was awaiting me on my arrival to that ultra-clean city-state. One problem — no Cantonese language track. I don't know why Singapore insists on doing that to Hong Kong films, often excising the Cantonese track entirely. If you buy a Korean or Japanese movie, they preserve the original soundtrack, but Cantonese is for some odd reason a big no-no. Even worse is when they dub a movie like Overheard in Mandarin and then release the film with no subtitles at all! You're killing me, guys!
Anyway, I would prefer to watch the movie in the original Cantonese, and I thought I'd better wait until I returned to the United States to order it from Yesasia (the Dragon Dynasty version hadn't been announced). But day after day. I'd walk into DVD stores all around Singapore, and Invisible Target would be playing non-stop. This constant teasing and the fact that the Singaporean side of my family possessed a 42-inch plasma screen convinced me that I should just go ahead and buy the damn movie already. Even if I don't get to hear Nicholas Tse and Shawn Yue speak in Cantonese, it doesn't really matter. It's a helluva entertaining film. And as a consolation, I get to hear Wu Jing (and a couple other performers) speak Mandarin as they performed it during principal photography.
How's the movie? I can't say that it's a great film, but it's certainly one of the best action movies to come out of Hong Kong in the last few years. This is what Dragon Tiger Gate should've been, and what everybody seemed to think SPL was at the time it came out. Invisible Target has more fights, more stunts, and more action than I've seen in a long time. And like I said, it's damn entertaining.
The plot is simple: Nicholas Tse and Shawn Yu are out for revenge against Wu Jing and his band of cronies. Jaycee Chan plays an affable Dudley Do-Right who just wants to know what the hell happened to his undercover brother (played, albeit via photograph, by Aaron Kwok). People kick, punch, and basically knock the crap out of each other for the much of the 129 minute running time, and surprisingly, it never gets old. CGI-assist or not, the stunts are incredible, and it's also great to see the actors — Nicholas Tse in particular — actually get involved in the stunts, getting bumped and bruised and quite possibly nearly killed in the process. It's all for art's sake, y'know.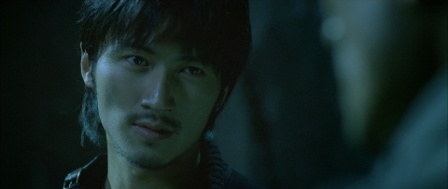 If there is a curious wrinkle to the plot, then it's this — the bad guys have their own motivation for doing what they do, and, as villains tend to do, think their totally justified in their actions. While the film seems to be leaning toward a philosophy that embraces shades of gray, ultimately, what is emphasized is that there is a right and a wrong, and in the end, the good guys must "do the right thing" to differentiate themselves from the criminals they pursue. At one point, Nicholas Tse's character — despite mourning the untimely death of his fiancee — argues that this is a righteous world and justice will be done. Guess what? In the universe of Invisible Target, he's right. Payback, as they say, is a bitch.
Nicholas Tse and Shawn Yu once again affirm themselves as the best young actors in Hong Kong today. It's not that Invisible Target is some sort of acting triumph for the duo (the script ain't exactly Shakespeare), but it certainly a stellar showcase for the charismatic Tse and Yu, who are entirely credible in their roles as badass cops. Although many might still be left with a bad taste in their mouths after Jaycee Chan's performance in Twins Effect II, the truth is he handles himself surprisingly well in the earnest nice guy role. What he lacks in acting chops, he more than makes up for in the likability department (again, something that should surprise those who never saw Chan's acting turn in 2 Young).
As they say, a hero is only as good as the villain he's pitted against, and Wu Jing is a supervillain par excellance. Wu finally capitalizes on his scene-stealing role in SPL by delivering a truly threatening antagonist for our three leading men. There isn't any real prancing and preening. Wu Jing plays his character as if he's supremely confident and comfortable in his abilities. And what abilities! The guy is simply a marvel to watch. And the final fight scene is — at least in spirit and visceral impact — exactly what the finale of Dragon Tiger Gate should've been (featuring two of the stars to boot) if it hadn't reverted to "The Donnie Yen Show" in the final act.
If you want an in-depth review, take a look at Kozo's appraisal of the film over at LoveHKFilm.com. The review can be found here. For fans of Benny Chan's Gen-X Cops, it's the spiritual sequel you were waiting for. For Hong Kong action fans, Invisible Target is a must-buy.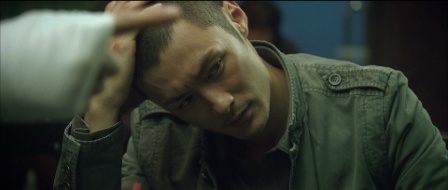 "Why haven't you seen this film?"